Archive for the 'Articles' Category
[End Page 1]
Introduction
I meet Camilla and Rolf at an independent café on a weekday morning in the El Portal area of Barcelona. Camilla is a 29-year-old American who came to Barcelona as a student, and who stayed on so that she and Rolf could pursue their relationship. She now works for a web-based start-up in a central part of the city. Rolf, a 27-year-old Swedish man, had recently moved back to Barcelona from Sweden, and was working on his master's thesis. Rolf eats a croissant filled with Nutella, and we all sip our artisan coffees. While Rolf gets on with his much-needed breakfast, Camilla begins to recount some of the early part of their story. As she speaks she glances in his direction continually, as though to check that he agrees with what she's saying. His chewing seems to go in time with reflective nodding, indicating that he has no objections so far. Camilla's glances at her boyfriend's face soon become focussed on something more than agreement though, as unbeknownst to Rolf, the Nutella is slowly spreading itself around his mouth and beyond. She giggles. 'You've got it everywhere,' she says in a gentle tone, laughing as she pulls a paper napkin from the holder to gently wipe it off. He tries to wipe it himself, but without a mirror he can't see what he's doing. She carries on with their story while she wipes, but the Nutella is still making its presence felt: 'You've got chocolate here…it's everywhere!' she laughs. He laughs too. 'Freaking Nutella,' he says. Camilla starts a sentence, 'I just wanna…' then hesitates. 'A wet-wipe?' I suggest. 'Well, that, yeah. And I wanna lick it,' and I then realise we may not be on the same wavelength. Camilla carries on with the story but, croissant devoured, Rolf is free to 'chip in at any time', as Camilla suggests. So he does, 'Well, that's not entirely correct…' he begins.
The above vignette illustrates the physicality of love relationships, how love is embodied, and tacitly understood and felt. Camilla's glances towards her partner and her desire to lick chocolate off his face highlight how proximity, intimacy, and love seem inextricable. Yet this couple, like the others in this study, spent much of the early part of their relationship living in different countries, negotiating their relationship and love for each other over distance. How, then, can this kind of physical intimacy be negotiated over distance?
During periods of absence, the couples I interviewed found ways to foster their love which often involved video calling. Amelie, a French woman living with her Spanish boyfriend in Brussels, said "we talked so much […] almost every day," and a Belgian woman said that she and her Chilean partner "always try to get the time, always a lot of time in Skype." This contact is more than simply staying in touch. Without being physically close, these couples found other ways to communicate these embodied emotions. As Juan, a Spanish man living in Brussels with his Spanish partner, said: "when I started like [pause] beginning to feel something for her […] like just for being sure, that I could write her if I wanted to, I took also my Spanish phone like with me to every place…" Using mobile phones as well as video calling allowed them to have both spontaneous contact and more sustained communication. Some couples speculated that being away from their partner [End Page 2] would have been much more difficult without technology. A Romanian woman, Annika, married to Roger, a Belgian man, commented that "we have also […] we had also Skype and phones I think. Some years ago it would be harder", and she compared this to his parents, who also had a distance relationship, as she felt that "for your parents was harder for sure […] they did it like by letters". Like Annika, other couples commented that a live video connection made them feel closer. The virtual space that video calling creates allowed for visceral connections between the distant partners.
Video communication has its limits, though. Skype might be more convenient than writing letters, but it can still be frustrating, as Annika continued, "when you want to communicate something and you're not home or [don't] have internet it's a bit difficult", and Roger agreed: "Yeah, and also you had no internet everywhere, 3G was not existing." To overcome this annoyance, they developed a system of calls. Annika asked Roger, "do you remember the communication system we were having?" and then explained, "we had missed calls. Look one, two, three. Two missed calls – call me, three missed calls – we see each other on Skype [laughing]", and through this they were able to find ways of getting around technological problems. For couples such as Charles and Emma, however, who lived in Spain and Australia respectively, a time difference of ten hours made video communication difficult. Charles reflected, "Skype, with twelve hours of time difference, I mean, I got up at seven in the morning so that Emma could call – we could talk at eight in the evening, her time." They eventually relied more on email and text because of the time difference, indicating that simultaneous communication, such as by Skype, might be more suited to similar time zones.
This paper draws on research interviews taken from my PhD research on love migrants. The aim of the broader research project is to understand how and why people move for love, and is comprised of 51 narrative interviews carried out in Barcelona, Brussels, and London in 2015 and 2016. The couples that took part were interviewed together, usually in their homes, but sometimes in a coffee shop or café which the participants chose. Most interviews lasted around 90 minutes, though they ranged from 40 minutes to four and a half hours. For this paper, I focus on comments made by a number of the couples about their use of Skype.
Skype has become popular since it was first developed in Estonia in 2003. Microsoft bought it in 2011 for US$8.5 billion, and it is estimated that there are 40 million Skype users online at peak times (Miller and Sinanan 2014, 2-3). Most, if not all, of my participants used Skype, and often they used this interchangeably with "video calling" in general, regardless of whether they were using the platform of Skype or not. My aim in this paper is to focus on one specific aspect of how romantic partners communicate via Skype: the negotiation and maintenance of emotional closeness.
A decade ago, commentators who focused on the use of internet communication spoke of the dangers that disembodied communication could have for identity politics (e.g. Hardy 2002). The concern with technologies such as email, texting, chat rooms, and Facebook then was that they allowed people to adopt online identities which were not specific to their material body. The video calling between the romantic partners which I look at in this paper is quite distinct from this, as they are already known to each other, and because Skype "conveys something of the materiality of bodies" (Longhurst 2013, 665). Nevertheless, while video calling is primarily about seeing, emotional closeness is not limited to that. As the vignette which opens this paper highlights, small, intimate acts are [End Page 3] intrinsic parts of love relationships. My main question in this paper, then, is how can seeing one's romantic partner on a screen encourage emotional connections between romantic partners? More specifically, what are the practices that romantic partners engage in when using Skype which enable them to feel emotionally connected?
In this article I will argue that the answers to these questions can be found by paying attention to the ways in which these couples used Skype. I will engage with Sara Ahmed's idea of emotions being a "thickness in the air" (2004, 10) to examine how couples, such as Camilla and Rolf, introduced above, negotiate emotional aspects of their relationship via Skype calls, and argue that a more visceral understanding of the body can help us understand how emotions are communicated and felt.
Arguing for an embodied, visceral understanding of how couples use video calling might suggest that there is a need to enhance the technology used for this with physical body substitutes. Computer engineers who have developed products intended to be held, kissed, or felt in lieu of the partner's physical body have explored this idea. "Sleepy Whispers" (Gooch & Watts 2012) is one example of this sort of technology, which is a way of sending recorded sound messages to one's partner. The device is a pillow with a speaker inside and a photo frame with a button to play the messages. This device's intended use "is that people record and send messages during the day to be listened to just before their partner goes to sleep", (Gooch & Watts 2012, 61). Once each message has been listened to, it is deleted automatically.
Another example of this sort of technology is "kiss messaging" (Saadtian et al 2014), an apparatus which apparently "provides a physical interface for transmitting a kiss between two remotely connected people" (Saadtian et al 2014, 736), named "Kissinger" by its developers, a combination of kiss and messenger. The developers describe the process of how it works thus: "Each device is paired with another and the amount of force and shape of the kiss by the user is sensed and transmitted to another device that is replicated using actuators" (Saadtian et al 2014, 736). In trials, respondents said: "Once we kissed each other by Kissinger interface, we laughed a lot because we suddenly heard an unexpected sound of motors which was funny" (Saadtian et al 2014, 744). Others said that they became emotionally invested in the object, as it was particular to the couple. There were some reservations about it however, such as the "lips" being too hard, it being embarrassing to use in public, or it provoking doubts about fidelity – as one respondent said: "I was feeling guilty kissing a robot and suggested my partner, to stop using it. This sparked a conversation between me and my partner, but at the end, we were convinced that there is nothing wrong. I could consider Kissinger as a tool to reach to my partner, not a kiss machine."
However, these, and numerous other devices like them, fall short of the experience of a real body, and become more unnerving the closer they get to replicating human appearance (Saadatian et al 2014). These devices focus on filling in the lack of the other's physical presence and attempting to replace it with another object, namely the device itself. But what I want to draw attention to, by thinking through the visceral nature of emotions, is how emotions and the body are inseparable. This means understanding that the body desires to touch and be touched, but also that our bodies are integral to our own understanding of how we feel. [End Page 4]
Theorising Emotions
Emotions have been subject to varying definitions over time and across disciplines, ranging from them being functional evolutionary systems (e.g. Darwin 2007/1872), to culturally distinct, internal states communicated through language (e.g. Abu-Lughod and Lutz 1990), to relational and embodied ways of being (e.g. Ahmed 2004). This final position, that emotions are relational and embodied, is the one I adopt in this paper. This raises interesting questions when considering how emotions might be embodied through the virtual medium of Skype. How does it create virtual spaces which link geographically separate ones?
In her influential work The Cultural Politics of Emotion, Sara Ahmed (2004) is convincing in her call for emotions to be seen as social, embodied and context dependent. Emotions "stick" to bodies that they "make and shape", as well as circulate between them (Ahmed 2004, 4). Rather than dwell on the origins of emotions or distinctions between the bodily and "intellectual" aspects of emotion, Ahmed focuses on what emotions do, thinking through both how emotions have an affect on us and how we have an affect on others. She uses the idea of "impression" to "avoid making analytical distinctions between bodily sensation, emotion and thought as if they could be 'experienced' as distinct realms of human 'experience'" (Ahmed 2004, 6), thus emphasising that the body and emotions are not separate. Her conceptualisation of emotions in this way is useful as it incorporates bodies which act upon each other.
As emotions are directed at something, be that another person, an object, a memory and so on, "they involve (re)actions or relations of 'towardness' or 'awayness'" (Ahmed 2004, 8). As such, they are relational. Highlighting the relational qualities of emotions does away with both the idea that emotions are internal states which are expressed "outwards", or that they are cultural practices which influence the individual, which creates an "outside in model" (Ahmed 2004, 9). Ahmed argues for an understanding of emotions which does not presume they are "something that 'we have'" (2004, 10), and invites us to think that "it is through emotions, or how we respond to objects and others, that surfaces or boundaries are made: the 'I' and the 'we' are shaped by, and even take the shape of, contact with others" (2004, 10). Thus, emotions are not objects which we possess internally and express externally. They are what "create[s] the very effect of an inside and an outside" (2004, 10). The objects of emotions circulate and emotions surround us like "a thickness in the air, or an atmosphere" (2004, 10). Ahmed's view that emotions are orientated and can thus be near or far away from an object, and that they can move, is useful when thinking about how space and distance play a role in romantic relationships. In the context of this paper, the stickiness of emotions can create connections between bodies which are geographically separate.
A view of love as embodied and related to sexual desire suggests that it is highly physical and therefore proximal, requiring the touching of "real" bodies. Contemporary understandings of intimacy as about disclosure (Giddens 1992), and of sex as "an expression of intimacy" (Giddens 1991, 164), suggest a "coming together" of two people to become one, where distance between romantic partners, both intellectual and physical, is eliminated. In the context of couples who live in different countries, it is interesting to consider how physical and emotional closeness might be achieved. Within the rhetoric of [End Page 5] disclosing intimacy, partners in romantic relationships must reveal every aspect of themselves until there is no space between them. Yet despite the need to reduce distance, and the embodied, physical nature of love, research has shown that intimate relationships can be negotiated and maintained over distance.
This research shows that while some live apart because they have to, others live apart through choice. Deciding to live apart can mean that neither partner has to give up work or move away from intimate relationships with friends or family. Decreasing social pressure for women to move into the man's household has afforded some women greater independence (Levin and Trost 1999), but it does not necessarily relieve them of their gendered duty to care (Holmes 2004) or alter normative gender roles. Relationships over distance can be facilitated by technology (Levin and Trost 1999), although not for all couples, as technology is unequally accessible to those with low financial means (Parreñas 2001). However, as the stories in this paper demonstrate, technology can be a useful medium to open up virtual space and foster emotional exchange and connection.
Proximity does not necessarily equate to intimacy (Thien 2005). Thus, physical closeness does not always bring about emotional intimacy. The idea of intimacy as disclosure and the "pure" relationship (Giddens 1991) has been critiqued for the romanticised view of equality that it entails (Jamieson 1999) and the fact that it assumes a stable view of the self (Thien 2005, 201). However, if we understand intimacy "to involve unstable and/or strange selves 'as others', it can be read differently such that distance does not separate in the same way, and neither does proximity (simply) bind" (Thien 2005, 201). This is useful when thinking through how emotions are experienced over video calling as this means, then, that we can understand people as emotionally desiring bodies, who need closeness, emotional and physical, sexual and non-sexual, for emotional fulfilment.
The idea of emotions as oriented has inspired Morrison et al (2013) to think in more detail about the spatiality of emotion: in particular, love. As Morrison et al (2013) point out, while there may be "emotional geographies" (e.g. Davidson, Bondi and Smith 2005), there need also to be specifically "geographies of love" because love "like any other notion needs to be held up to critical scrutiny" (2013, 506). Morrison et al speculate that specific and sustained academic engagement with love has not happened perhaps "because love continues to be a feminized topic, associated with 'private' spaces and feelings, and it is discursively constructed in, for example, popular culture as 'women's gossip'" (2013, 506). For Morrison et al, love should be considered in its own right, because "[h]ow, where and what one loves is deeply political" (2013, 506).
Ideas about emplacement, proximity, and embodiment are particularly pertinent here as ideas as to how love might be geographically emplaced and then how it might transcend geographical boundaries underpin this paper. Practices which couples engage in to show their love for each other and create closeness should be understood as emplaced, whether in a physically existing environment or a virtual one. Engagement with this might further understanding of the life-world of love in both virtual and non-virtual space. Furthermore, more attention needs to be paid to the array of everyday practices which couples use to express their love: the sexual aspects of love relationships should not be seen as privileged instances of physical demonstrations of love. Wiping Nutella off your boyfriend's chin is as important to understanding the physicality of love as the sexual realm. [End Page 6]
This echoes earlier calls from scholars who criticised the tendency for researchers to engage with practices surrounding love but to ignore love itself. Toye (2010) suggests that it is "the logic of synecdoche" which has hampered academic engagement with love; by substituting it for other terms, researchers have not fully engaged with critical reflections on love. In the field of social science, work which focuses on love has tended to this logic of substitution. For example, work which focuses specifically on love and the Internet has sought to understand parental care and authority (King-O'Riain 2015; Longhurst 2013; Miller & Madianou 2012; Parreñas 2001), sibling support (Coe 2013), intergenerational family care (Longhurst 2013), and maintaining families ties across distance (e.g. Oduor & Neustaedter 2014). Work which focuses on romantic love has looked toward sexual practices (Baker 2000; Ben-Ze'ev 2004; Meenagh 2015), infidelity, coming out, dating sites, and how sexual relationships are found and maintained over the internet (Valentine 2006). But, if, as hooks argues, "care does not mean we are loving" (2000, 8), then sex does not always mean love either.
Research on love may also have been neglected because "topics that are associated with rationality and reason" (Morrison et al 2013, 507) are more widely recognised as suitable for research, or because as Toye (2010) reminds us, "Unlike the discourse of sex, which evokes the risqué and the transgressive, the topic of love suggests a conservatism or even a denial of politics, not to mention an aura of naïvete , sentimentality and religiosity" (40). But this focus on sexual practices and a lack of attention to love suggests that love and sex can be separated. Emotional life has certainly been overlooked in academic research, but the binary opposition which has been set up between sex and love is also unhelpful. In particular, if desire, which is an important part of sex, is an emotion, then sex is part of emotional life. Interrogating sex and sexuality may originally have been intended to destabilise and unsettle heteronormative views of sex, but in the context of migration this has meant that "sexuality tends to be mapped onto the bodies of migrant sex workers, rather than being understood as something that all migrants enact" (Walsh, Shen and Willis 2008, 575), so "ordinary" sexual intimacy has been neglected. Questioning the academic separation of love from sex allows us to think through the ways that the two are related and contingent, and to develop a critical understanding of love.
Thinking through love as relational, spatial, political, and visceral, and focusing on what love does, opens up the discussion of love to critical debate. Increasing the scrutiny that academic research on love is subject to will reduce the possibility that love is essentialised or held to be placeless, mysterious, and disembodied. This in turn will enrich scholarship on intimacy, emotions, and love.
Long Calls and Emotional Atmospheres: Cohabiting Through Skype
Couples in distance relationships sometimes use Skype as a way of cohabiting. Rolf and Camilla, for example, met while they were both students on an exchange in Barcelona; however, they met at the very end of Rolf's stay and only spent a couple of weeks together before he had to return to Sweden. They were living in different countries for much of the initial part of their relationship, and used Skype to get to know each other and develop their relationship. They took turns to visit each other approximately once a month, and [End Page 7] despite missing each other and wanting to be together they found using video calls useful at the start of their relationship.
Camilla: It was actually, I thought it was really wonderful for the beginning of our relationship to be honest.

Rolf: I think you get to know each other in a different way.

Camilla: Absolutely. And we had to be creative and, um, it was I think it was wonderful. I think it was much easier that we lived apart than we would have been dating for a long time and then separated to be honest, um, because I was used to being alone and I was used to sleeping alone and so it wasn't anything out of the norm other than missing him and not being able to share experiences with him which of course I wanted but, it wasn't so difficult as it would be now probably that we've been living together like in the same city and everything.
As well as the information about cultural differences which they exchanged, they also shared more personal information through their Skype calls:
Camilla: In the very early stages of our relationship we shared some very vulnerable things with each other which again, we were not physically in the same place and we were sharing these things and it really helped both of us feel like we could trust the other person and that it wasn't something that we were just like in it for like fun.
These calls, though, were not short focused conversations, despite their planning for topics of discussion. They used Skype for extended periods of time, which allowed them to see each other going about their everyday lives. Camilla said:
Camilla: We started having Skype calls and our first Skype call was seven hours. It was insane, and I say […] 'as if like that was long!' The first one was seven hours, the second one was six hours, the third one was like eight hours. I don't even know […] what we talked about.
They described how, on these calls, they would not stay in front of the camera talking all the time, but would get on with their everyday activities.
Camilla: They were so crazy epic long because we just like carried about our lives with Skype on and I was working from home so we could do everything and just leave the computer on – 'I'm gonna go make tea', come back 'oh, I'm gonna go make a tea too.' I mean, just you could live with that person through the computer. I mean it's crazy […] I mean it's incredible. It's so incredible we did that, I mean, we just lived with Skype on really, I mean that's the best way to put it. Like, we lived our life with Skype. I would even be giving telephone [End Page 8] classes sometimes and it was on. He was studying, listening to me correct English [laughs] and things like that.
This use of video calls is sometimes called 'always-on' communication (Neustaedter et al 2015), which refers to a video connection which is left open for long periods of time, often becoming a background presence rather than a focused phone call. This type of connection has been used in work environments to assist colleague communication (Mantei et al 1991; Bly et al 1997), as a means for transnational families to stay in touch (Oduor & Neustaedter 2014), and has been documented as common practice by couples who live apart (Neustaedter et al 2015; Gooch & Watts 2012; Saadtian et al 2014, Miller & Sinanan 2014). In terms of domestic use in homes among family and people with intimate relationships, always-on communication is said to support emotional connections between participants.
For example, King-O'Riain goes as far as to call always-on video "emotional streaming" (2015, 256), such is the poignancy of the emotional connectivity for the families and couples in her study. The couples she interviewed often used Skype to capture "the ebb and flow of daily life" (2015, 10). The visual channel was particularly popular with young children as it made relatives who were geographically distant more "real" and emotional ties to them were felt "more deeply" as seeing their family members smiling and so on would change the children's behaviour. Similar ideas about visual connections and emotional closeness were highlighted in Longhurst's (2013) study of mothering over Skype in which she explores "how seeing one's child or children affects mothers' feelings towards their children" (664, emphasis in original). The mothers were able to reassure themselves of the child's wellbeing by seeing them running around, smiling, laughing and so on. Thus, the image on the screen of the mother or the child can "promote different feelings of proximity (distance and closeness)" (2013, 667) for each.
Longhurst draws on Ahmed (2004) to show how the image of the child on the screen and the computer itself are signs which have become "sticky" with emotion and affect, "'sticky' with everydayness, with missing and reconnecting with family members and friends" (Longhurst 2013, 672). Children would take great delight in showing their drawings to grandparents, who enjoyed watching the children playing and doing day-to-day activities. For particularly young children who are unable to articulate themselves, visual cues are clearly important for the adults who care for them. Vision has been privileged as superior to other senses in Western cultures, and as such, seeing provides "something of an epistemological guarantee" (Longhurst 2013, 671), and exchanging visual information like facial expressions could encourage trust and intimacy (King-O'Riain 2015, 6).
However, despite increasing visuality in some parts of life (Rose 2001, 2), it remains unclear what the relationship between the visual and the material is. Thus, as Rose and Tolia-Kelly (2012) suggest, importance should not only be given to the visual, but also "to attend to the relationships between the 'visual' and the 'material', and to explore what kinds of new thinking might emerge in that intersection" (1, emphasis in original). This is particularly poignant if we are to consider emotions not simply as discourses or practices, but as embodied and relational.
Having the video call in the background creates a space which is visual, yet does not rely solely on sight for the "atmosphere" of emotions to develop. As Rolf put it in the [End Page 9] interview, "adds one extra element, […] adds another dimension which is very important." In this case, unlike King-O'Riain's and Longhurst's examples, in which sight and visual stimulus were important, for this couple, the emphasis was on what was between the visual and the material. Camilla and Rolf were using Skype as a way to sense the presence of their partner, rather than to read their body language. This seems particularly poignant to romantic couples as it can "effectively reproduce the grounded experience of intimacy as the initial period of living together" (Miller & Sinanan 2014, 57). Always-on use, as well as creating an emotional space, allows the "fit" of social roles to be tried out and "stretches intimacy beyond the boundaries of the domestic" (Valentine 2006, 387). The long duration calls provided a window into the mundane, the everyday, which this couple saw this as an approximation of living together. As Camilla said, "We were co-habitating with Skype on."
Always-on video calls could also relate to Giddens' (1992) ideas about disclosure, with confluent love being dependent on complete openness between partners. Yet this need for disclosure could also indicate a desire to monitor the other's behaviour, to see what they are "really" doing when they are "alone". Other technologies which have been developed to assist couples who are in distance relationships have provoked jealousy rather than soothed the pain of longing. For example, a mattress which heats up when the absent partner is in bed (Goodman & Misilim 2015) is meant to make the couple feel closer to each other when they sleep apart. However, when the mattress does not heat up at night, or when the entire mattress heats up, suggesting more than one person is in the bed, the technology can provoke problems of mistrust.
While always-on communication could prompt feelings of jealousy or a need to monitor, there is much to suggest that it is used in a more positive way by couples in love relationships. Like the families in Longhurst's (2013) study, couples used Skype to share their daily lives. Whereas families used always-on communication to demonstrate visually, couples spent much of their time not looking at each other, but simply sensing or knowing that the other was there, experiencing the "thickness in the air" (Ahmed 2004) which the presence of their partner created. This may be because communication between two adults is quite distinct from communication with a young child. Despite this, Longhurst (2013) points out that older children often preferred to have no video connection when speaking to their parents as they found it could be too intense and invasive. I will pick up this idea of the video call being too intense in the next section. For now, I will consider other reasons why not all communication between adults moves toward "always-on" use.
Some couples used Skype more conventionally as "visual telephony" (Miller & Sinanan 2014). This was either through choice or because practical reasons, such as large time differences, compelled them to a more structured use. Other couples also commented that if the Internet connection was not very good they became frustrated as the connection was cutting off frequently. This draws attention to how wanting to use video connections can sometimes limit where people can connect. Needing a fast Internet connection might mean using Skype on a laptop in an Internet café, which may not afford the degree of privacy desired by couples. Being in a public café certainly would seem to inhibit "always-on" communication. So, always-on Skyping seems to require a reasonably private environment.
Skyping also requires time. Another couple experienced isolation from other areas of their life because they were trying to find time to Skype their partner. Faye, a 24-year-old Belgian woman, and Carlos, a 26-year-old Chilean man, were living together in Brussels [End Page 10] when I met them. Over the past few years of their relationship, they had spent much time apart in their respective countries and had used Skype to contact each other. They commented:
Carlos: Almost every day we Skype or by Facebook. We spend a lot of time in front of the computer.

Faye: And sometimes you really, or at least like I had some times like 'OK, I'm going to Skype this evening' and the other evening and people ask me 'oh, do you want to drink something? Or go out' 'No, no because I have to talk to my boyfriend,' and in the end you really feel like and if he's maybe not coming because of some reason and you're waiting there you look 'where is he?' and you really feel like somehow mmm depending really depending on each other and that you maybe lose other things here maybe because of the Skype all the time and that can be hard I think yeah.
This example shows how finding time to speak to one's partner meant not spending time with friends. Their comments highlight how waiting to communicate on Skype can become an isolating influence, as needing to be at home in front of the computer means that socialising with others is not always possible. Despite wanting to talk to and see each other, arranging to meet for Skype calls caused problems when one of them could not connect to the Internet or had been held up and was late for the appointment. This comment also hints at the ways that dedication to the couple relationship can cause the couple to become "social isolates" (Gerstel & Gross 1984, 67-71) because of the work that a distance relationship requires.
As Miller and Sinanan (2014) have also observed, always-on video calling shares "the intimacy of taking for granted the co-presence of the other" (55), and the intimacy is felt most greatly when there is no pressure to communicate explicitly. Therefore, having to make an appointment to see each other on Skype works against this. While for some this method is the most comfortable, allowing them to continue on with their lives in their homes with the felt presence of their partner, for others it is impractical and emphasises their separation. This is in part because using video to connect requires them to be at home where they have a reliable internet connection and privacy. The practical issue of needing a good connection mean that they are separated from other aspects of their lives, such as going out with friends.
Video calling is a visually intense form of communication which is perhaps not suited to a public environment (Miller & Sinanan 2014). Several couples felt that they could only really Skype their partner from their bedroom. The visual intensity and emotional concentration of video calls to a missed loved one seem suited to a familiar, comforting environment. Despite the spatial fluidity of Skype technology – it can be used in an internet café, on a laptop in a coffee shop, on a phone in the street – the need to use it in the privacy of one's own home makes it geographically quite specific and limited. The relationship work which takes place through this virtual medium is embedded in a geographically specific time and place. [End Page 11]
Falling Asleep and Haptic Looking
The immediacy of the image might encourage emotional connections in some ways, but the visual closeness of the experience it might also be too intense. As Longhurst's research (2013) shows, looking can seem confrontational and invasive. Whereas the young children in Longhurst's study might cry at the immediacy of seeing a family member on screen, the couples in this study found their own ways to mediate the magnitude of the experience.
For Pierre, from France, and Gabby, a Spanish woman, Skype made them very aware that they were apart.
Gabby: We became a bit too sad sometimes cuz… I don't know, you are alone, and I don't know, you hear the other person's voice and I don't know […] I think, for example we prefer to text […] we share more by text.

Pierre: …with Skype, I don't know, I found [it] useless sometimes.
For these two people, Skype was not their preferred medium for intimacy. The presence of their loved one on camera heightened their feelings of loneliness and longing for each other which provoked feelings of sadness.
Pierre: I mean we have lots of memories that we were just laying down on the sofa, just listening to each other breathing or…because we didn't feel speaking, just wanted to be together but then […] like you don't have the cool part, which is touching each other, and pffff, that's why I found it [Skype} so boring, you know.
It also limited their topics of conversation; They found, as Gabby put it, that they spoke only "about feelings and emotions" on Skype. As Pierre said, they "don't exchange much" via Skype about their daily lives. Pierre commented that Skype was "useless" as it did not allow them to share their lives. It was stifling and stilted. Communicating via text, however, meant that they could send spontaneous messages throughout the day about their activities. They usually needed to plan their Skype calls, and these often took place at the end of the day. This lack of spontaneity and the timing of the calls made them feel routine, uncomfortable, and restrictive.
It seems that the intensity of communicating in this way became a burden, as the visual immediacy was at once intense and frustrating. The presence of one's partner on the screen was "even more in one's face than co-presence" (Miller & Sinanan 2014, 55), and running out of conversation or feeling obliged to stay in front of the camera can lead to "a de-contextualized mutual staring between correspondents" (Miller & Sinanan 2014, 55). It made it uncomfortable for them to have to see each other so intensely. When the Internet connection was bad, the laboured nature of communication also made them both more acutely aware of the geographical distance between them. [End Page 12]
Having each other visually present made them feel obliged to sit in front of the computer and discuss intensely emotional feelings. They found they preferred to limit the visual channel to overcome this.
Pierre: Most of the time we don't put the camera actually. The problem is that seeing her face without touching her… then I prefer voice, her voice you know make me other feelings that I prefer, I don't know, it's soft and I can imagine her close to me when with the screen no, I know that she's not close to me, you know they are different –

Gabby: You feel more the distance.

Pierre: – Yeah, actually if I put my headphones and I'm on my bed I can touch my butt and imagine that it's her touching my butt, you know? So it's like… no but that's true… OK. So I prefer to go there and having these sensation than having the Skype.
For Pierre, seeing his girlfriend on the screen led to a heightened emotional experience which he found frustrating. Her voice was ultimately more sensual for him. This couple commented that they had engaged in sexual intimacy over Skype, so it does not seem to be a question of inhibitions or embarrassment in front of the camera. Pierre's comment about intimate self-touching reiterates the point that the line between love and sex is blurred. It indicates how the physical, relational, and emotional aspects are brought together in what Miller and Sinanan (2014, 65) have described as a "transcendent and holistic experience [which] is simply – love". Skype creates a space which is discursive, material, emotional, and visual (Longhurst 2013) which has to be negotiated in ways distinct from the physical world.
Restricting the visual image made the experience of Skype more sensual and emotional for other couples.
Camilla: We watched so many movies on Skype and it was like also like –

Rolf: Not so many.

Camilla: Like, five.

Rolf: [laughs]

Camilla: That's a lot. Well, he fell asleep. So, I watched so many movies. But even still, he would fall asleep and I could see him sleeping while I was watching the movie and it's the closest thing that you can have to being with someone is, is seeing them and at that stage of our relationship I had never seen him sleep during a movie. That was our first time. [End Page 13]
In their chapter on intimacy in Webcam, Miller and Sinanan (2014) talk about people who would make videos calls in bed. They note the intimate nature of this use, but highlight the practical problems, such as "[not] having enough light" (61), which they say hampers emotional intimacy. Miller and Sinanan imply, then, that not being able to see your romantic partner clearly over the screen is detrimental to fostering an emotional connection with them. But I want to make the case for an embodied, sensuous type of looking which relies on distorted images and might engender emotional connections.
Vision has generally been conceptualised as separate from the other senses and is still mainly studied in isolation (Bacci 2009), yet research has suggested that touch and other sensory experiences "gives richness and meaning to retinal images" (Bacci 2009, 135). Vision, then, is not an isolated channel but one which functions in conjunction with the other senses. Moreover, as Laura Marks, a film theorist, has said, vision can be form of touch (Marks 2002, vii). She argues that by not privileging sight over the other senses and positioning vision within a channel of sensory stimulation, seeing can be tactile and sensuous. This kind of tactile viewing draws on other bodily senses, so the viewer's body is "more obviously involved in the process of seeing" (Marks 2002, 2). Rather than as the eyes working in isolation, seeing is highlighted to the viewer as an embodied experience
Particular sorts of images provoke this kind of tactile viewing. Images which are distorted, blurred, silhouetted, or dissolving invite haptic looking because the images are not clear: sight alone cannot help us decipher them (Marks 2002). Therefore, other bodily organs are more obviously engaged at the same time as the eyes. These images invite an embodied response, which draws the person seeing the image toward it. When thinking about Camilla and Rolf watching a film together and then falling asleep in front of the camera, the image which they saw of each other was badly lit, perhaps out of focus at times, and maybe obscured by the image of the film. This did not cause frustration or make them put the light on. Instead, what is striking here is Camilla's feeling that seeing Rolf sleeping felt somehow special. Camilla made it clear that she enjoyed watching Rolf fall asleep, which indicates that rather than looking to see what his facial expressions were, she was looking in order to feel, not to see. As Marks points out, looking in this tactile way "encourage[s] a bodily relationship between viewer and image" (2002, 2), and in this case, Camilla's bodily feelings were stimulated by a (live) image of Rolf.
In these examples the visual becomes almost too much to bear. Rather than allowing the couples to "sink in" (Longhurst 2013) to each other's emotional atmosphere, it creates a somewhat awkward experience. It is a reminder that the on-screen image does "not deliver a flesh and blood body" (Longhurst 2013, 674), which can be frustrating and emotionally painful. By avoiding the visual channel, some couples found they were more able to relax into communication with their partner. Distorting the image through low light levels and going so close to the camera that only parts of the body or skin textures could be seen was another way of doing this. This kind of looking is perhaps most similar to how the partner's body is seen during intimate moments, such as during a kiss; the eyes are often closed or so close to the partner's body that only small areas of skin or hair are in view. [End Page 14]
Dinner Dates: the visceral body and emotion
The final example shows how Skype dinner dates fostered emotional connections. Camilla and Rolf described how when they had dinner together it was more than simply eating at the same time: they planned the dinner together beforehand, shopped for food, and chose a film to watch together. Camilla described one such dinner date:
Camilla: One of my favourite dates was when he decided that, he looked up a salmon recipe and he sent it to me, and then I looked up an Indie film and so he was in charge of the recipe and I was in charge of the film and we went and bought the ingredients separately and then we cooked our meals separately and then we sat down to have dinner in front of the computer, watching the indie film with the exact same meal. And it was –

Rolf: Well, one of us had to turn off the sound.

Camilla: You can tell he's the technical one, right? [all laugh] um but it was, things like that we're really, really nice and magical.
Technical issues of sound aside, the dates on which they prepared and ate the same food stood out in their memories as special. I asked them why it had been important for them to eat the same food:
Rolf: Well, having the same thing makes you feel like the other person is more uh…

Camilla: Like you're there as close as you can be.

Rolf: …what is the word for it? More present

Camilla: Yes, more present. Perfect. [pause] and so I think that like –

Rolf: That's important
Dinner dates are part of the canon of "romantic" activities which couples often engage in. They are also one of the ways which other intimate relationships, such as family relationships, are maintained and nurtured. As such, dinner dates are a recognisable form of emotional work (Hochschild 1983) and while Miller and Sinanan hastily dismiss Skype dates of this sort as "awkward and not overly successful" (2014, 56), a more considered engagement with this practice might reveal the visceral experience which fostered emotional closeness.
Critical engagement with the notion of "embodied experience" can move the idea beyond the body as a surface upon which emotions are inscribed, to understanding the body as a visceral entity with an interior and exterior. Johnston and Longhurst (2012) are advocates for the inclusion of sensuous and visceral aspects of life into studies of migrant [End Page 15] lives, and they ask us to consider "the senses – sight, sound, touch, smell and taste – which are a mechanism for visceral arousal" (334) in order to understand more about emotional life. Hayes-Conroy and Hayes-Conroy (2008), who Longhurst and Johnson draw on, say that attention to the "visceral realm" can "increase political understanding of how people can be moved or mobilized either as individuals or as groups of social actors" (Hayes-Conroy & Hayes-Conroy 2008, 469, italics in original). In the context of this paper, what is important about that statement is that through the visceral aspects of life, we can understand how people are moved, in terms of feelings and emotions. This is important as it shows that the body and emotional life are inextricably linked.
Preparing and eating food is a sensuous, visceral experience. Camilla and Rolf could imagine what the other's body might also be experiencing as they ate; the heat, smells, and textures of the food, in this case, oily fish. The sensing of these visceral aspects takes place within the body, that is, the internal cavity of the mouth, throat and intestines. Thus the body is engaged "not just as a surface etched with social messages but something that encompasses surface and depth, outside and inside, solids and fluids, materiality and spirituality and head and heart" (Johnson & Longhurst 2012, 335), which sees the body as a desiring, sensing entity with emotional and "carnal appetites" (Probyn 2000). This couple's intentional use of eating as a visceral practice is a way of heightening their own emotional experience through the screen. Eating in particular, as Elspeth Probyn has said, "brings our senses to life, it also forefronts the viscerality of life" (2000, 7). Thus, Camilla and Rolf were able not only to see the emotional expressions of the other through the screen, but to understand more about their own bodily experience and feelings when in each other's presence. Through these intimate uses of Skype, Camilla and Rolf, and others like them, are creating an emotional space to be together. Food is an emotional object (Ahmed 2004), and not only can it help people to feel at home it can also forge emotional connections with a new home.
For Camilla and Rolf, the always-on use of Skype to sense the other's presence, falling asleep, and the dinner dates were ways of entering into an emotion-filled home space which, via the screen, spanned geographical space. And as Hayes-Conroy and Hayes-Conroy point out in a footnote, with the exception of Elspeth Probyn, "few feminist works venture far in illustrating the visceral mechanisms of such regulation; often the body remains 'docile', awaiting the efforts of an 'active' mind" (2000, 463). Emphasising the visceral aspect of using Skype shows how the whole body is affected and engaged in "feeling" the way.
Loving in Person
Notwithstanding the ways that Skype helped some couples to feel closer, sharing physical space was still seen by several couples as the most important way of "knowing" their own feelings. Camilla and Rolf noted that despite their positive experiences on Skype, they eventually needed to live in physical proximity. Camilla said, "I wanted to know if it was gonna work in person or not," and it was this need, shared by both, which instigated Rolf's move to Barcelona. [End Page 16]
It might seem that love requires bodily knowledge both of one's self and of the other. For most couples that expressed such an idea, there was a need to be physically close. This was related to knowing how the two bodies would "fit" in the mundane of the everyday. They needed to know whether their bodies, together, could "sink" into the "comfort" of life together. As one man, Heberto, a 33-year-old Catalan male living in Barcelona, put it:
Heberto: I think that, apart from getting on well with someone, you have to touch them, you have to be next to them, you have to, you know? Give them a hug.
Emily, a 39-year-old Irish woman married to Heberto, also felt that physical proximity was necessary to really know if she was in love. She said:
Emily: Um so I think what we've done is really romantic actually and the fact that, how do you know that you love someone when you're doing it through Skype? do you know? I think it's how do you know, how do you know they're right when you're doing it through Skype cuz you can't smell their skin and when they come home from work on a bad day you don't see them you're not part of it.
As Gabriel, a Spanish man living with his French girlfriend in Brussels, succinctly explained:
Gabriel: I had the feeling that like you cannot go, I couldn't go, past a certain point of affection without being more physically close which in my case proved to be right I didn't really feel like I really loved her until […] I was actually here […] at a distance I felt like it couldn't be and […] it felt like, like, like she said… a bit shitty.
Attention to the sensuous and the non-verbal ways which couples use Skype draws attention to how important embodied knowledge is to understanding love. The body and what it "knows" is equally important as what practices and processes shape this embodied knowledge.
This highlights how when discussing love, embodied knowledge should not be reduced to the sexual. While sexual touch is an important part of many couples' lives, it is certainly not the only type of physical contact which is part of the growing intimacy of a couple's life. There are complex relationships between love and sex, both in theory and practice. As Toye (2010) has said, researchers have perhaps too often looked at sexual practices at the expense of researching love. And of course, not all sexual contact is loving or intimate. What the material from these interviews seems to suggest is that sex is not a privileged instance of embodiment. Comfort, proximity, and embodiment are not reducible to the sexual. Visceral experiences and knowledge were sought by these couples, but of types which allowed them to get to know intimate practices of their partner. The habits, gestures, and the rhythms of the partner are part of the knowledge acquired about their body. Having this familiarity shows an intimate and deep understanding of one's partner [End Page 17] and investment in the relationship (Gabb & Fink 2015). Being able to understand one's partner through their bodily gestures is an important part of the relationship work which goes on to sustain relationships.
A certain amount of this work can be done over distance, but as many of the couples in this study say, being physically proximate was necessary. Social pressure to live in geographical proximity to one's partner (Thien 2005) may be one reason why so many couples decided they needed to be close to continue their relationship; such is the extensiveness of this idea it may influence how we understand our own feelings. However, knowledge of one's own body and that of one's partner seem to be essential to emotional understanding and knowledge.
Conclusion
The ways in which these couples fostered emotional closeness over Skype all seem to involve different forms of bodily knowledge. This knowledge was incomplete, given that these exchanges were after all mediated by an Internet connection, a screen, several hundred miles of geographical distance, and, in some cases, time. What they demonstrate, though, is that, for romantic emotions to develop, bodily knowledge is important.
Bodily longing for the other is not just related to physical desire, but emotional and bodily knowledge. The interviews with these couples reveal that experiencing other bodily sensations while Skyping their partner is one way in which their emotional experience is more complete. Another way that these emotional experiences are felt is that rather than seeing a crisp, clear image of the partner, images which are purposefully distorted and partial, such as through lighting or moving closer to the camera, are crucial to these emotional connections. What does this suggest, then, about the virtual and non-virtual life-worlds of love?
Looking directly at our loved one on screen, it has been argued, might make one or both feel self-conscious (Miller & Sinanan 2014). It might be too confronting for some and too restrictive for others. As Gloria and Pietro found, their on-screen presence was too intense, making them feel obliged to discuss intense, emotional topics. Distorting the image, then, might let the visual to fade into the background, allowing more focus on non-visual aspects such as voice. Blurred, grainy, dark on-screen images "invite the viewer to respond to the image in an intimate, embodied way" (Marks 2000, 2) through an appeal to the senses. Thus, with less focus on the visual, emotions might be given more attention. Distortion, then, allows the image to become multisensory. Limiting the visual field allows the loved ones to use "memories of the senses" (Marks 2000, xi) to fill in what is lacking in this virtual space.
Using this distorted form of looking might also be part of the ritual of talking to one's partner. The intention of programs such as Skype is to give a clear image to be able to conduct, for example, business meetings over distance. Using it in such a way that the image is distorted also has a ritual quality to it, which marks this out as a special instance of video calling. It is a way that the only the couple use Skype to talk, distinct from other conversations. Rather than just a visual connection, it encourages an embodied relationship between callers. [End Page 18]
Skype stretches geographical space, bringing one's partner into one's own physical space despite geographical distance. But in doing this, it also disrupts our understanding of space. People exist both on and off screen, and video calling allows a more immediate way of communicating which also conveys something of the embodied presence of the partner. Seeing one's partner on-screen when we have not been able to see them in person for some creates a visual immediacy which is out of sync with living apart. Skype allows couples to inhabit each other's private space, which can make them feel emotionally closer. However, it can also highlight the inability to tend to each other physically, resulting in frustration and melancholy. To use Ahmed's term, the images become too "sticky", impossible to get off. For partners in distance relationships, inhabiting both material space and virtual space might become an increasingly common experience. This allows them to share not only the sound of their voice but also images, tastes, and smells, such as when they share meals over Skype.
This article has argued that emotional closeness for couples is fostered via Skype, not just by seeing the other, but also through processes of tactile, haptic viewing, and sensing the presence of the other. Emotional closeness is not only about reading the other's body as a series of signs, but trying to understand one's own emotional experience, and locating oneself in the "thickness in the air" (Ahmed 2004) which builds in everyday encounters. It has also argued that in order to "know" whether one is in love, embodied knowledge is essential. This article has offered some considerations as to how couples go about creating situations which even in a virtual environment, allow their bodies to be present and felt by the other. [End Page 19]
Works Cited
Abu-Lughod, Lila, and Catherine Lutz. Language and the Politics of Emotion. Cambridge: Cambridge University Press, 1990. Print.
Ahmed, Sara. The Cultural Politics of Emotion. New York and London: Routledge, 2004. Print.
Bacci, Francesca. Art and the Senses. Oxford: Oxford University Press, 2009. Print.
Baker, Andrea. "Two by Two in Cyberspace: Getting Together and Connecting Online." CyberPsychology and Behaviour 3.2 (2000): 237–242. Web. 2 Dec 2015.
Ben-Ze'ev, Aaron. Love on-Line: Emotions on the Internet. Cambridge: Cambridge University Press, 2004. Print.
Bly, Sara A., Steve R. Harrison, and Susan Irwin. "Media Spaces." Communications of the ACM 36.1 (1997): 1-21. Web. 23 Nov 2015.
Coe, Cati. "Transnational Migration and Changes in Sibling Support in Ghana." The Anthropology of Sibling Relations. Ed. Erdmute Alber, Cati Coe, and Tatjana Thelen. New York: Palgrave Macmillan, 2013. 123-146. Web. 15 Nov 2015
Darwin, Charles. The Expression of Emotions in Man and Animals. 1872, New York: Filiquarian, 2007. Print.
Davidson, Joyce, Liz Bondi, and Mick Smith, eds. Emotional Geographies. Aldershot: Ashgate, 2005. Print.
Gabb, Jacqui and Janet Fink. Couple Relationships in the 21st Century. Basingstoke: Palgrave MacMillan, 2015. Print.
Gerstel, Naomi R., and Harriett Gross. Commuter Marriage. London: Guildford Press, 1984. Print.
Giddens, Anthony. Modernity and Self-Identity. Cambridge: Polity, 1991. Print.
—. The Transformation of Intimacy. Cambridge: Polity, 1992. Print.
Gooch, Daniel, and Leon Watts. "Sleepy Whispers." Adjunct Proceedings of the 25th Annual ACM Symposium (2012): 61-62. Web.
Goodman, Elizabeth and Marion Misilim. "The Sensing Beds." Confectious Net. n.d. Web. 30 August 2015.
Hardy, Michael. "Life Beyond the Screen." The Sociological Review 50.4 (2002): 570-585. Print.
Hayes-Conroy, Allison, and Jessica Hayes-Conroy. "Taking Back Taste: Feminism, Food and Visceral Politics." Gender, Place & Culture 15.5 (2008): 461-473. Web.
Hochschild, Arlie. The Managed Heart. Berkeley and Los Angeles, CA: University of California Press, 1983. Print.
Holmes, Mary. "An Equal Distance? Individualisation, Gender and Intimacy in Distance Relationships." The Sociological Review (2004): 1-21. Print.
hooks, bell. All About Love. New York, NY: Harper Perennial, 2000. Print.
Jamieson, Lynn. "Intimacy Transformed?." Sociology 33.3 (1999): 1-18. Print.
Johnston, Lynda, and Robyn Longhurst. "Embodied Geographies of Food, Belonging and Hope in Multicultural Hamilton, Aotearoa New Zealand." Geoforum 43.2 (2012): 325-331. Web.
King-O'Riain, Rebecca. "Emotional Streaming and Transconnectivity." Global Networks (2015): 256-273. Print.
[End Page 20]
Levin, Irene, and Jan Trost. "Living Apart Together." Community, Work & Family 2.3 (1999): 279-294. Web.
Longhurst, Robyn. "Using Skype to Mother: Bodies, Emotions, Visuality, and Screens." Environment and Planning D: Society and Space (2013): 664-679. Print.
Mantei, Marylin M., Ronald M. Baecker, Abigail J. Sellen, William A. S. Buxton, and Thomas Milligan
"Experiences in the Use of a Media Space." CHI Proceedings of the SIGCHI Conference on Human Factors in Computing Systems. 1991. 203-208. Print.
Marks, Laura U. Touch. Minneapolis and London: University of Minnesota Press, 2002. Print.
Meenagh, Joni. "Flirting, Dating, and Breaking Up Within New Media Environments." Sex Education 15.5 (2015): 458-471. Web.
Miller, Daniel, and Jolynna Sinanan. Webcam. Cambridge: Polity, 2014. Print.
Miller, Daniel, and Mirca Madianou. Migration and New Media. London: Routledge, 2012. Print.
Morrison, Carey-Ann, Lynda Johnston, and Robyn Longhurst. "Critical Geographies of Love as Spatial, Relational and Political." Progress in Human Geography 37.4 (2013): 505-521. Web.
Neustaedter, Carman Carolyn Pang, Azadeh Forghani, Erick Oduor, Serena Hillman, Tejunder K. Judge, Michael Massimi, Saul Greenberg. "Sharing Domestic Life Through Long-Term Video Connections." ACM Transactions on Computer-Human Interaction 22.1 (2015): 1-31. Web.
Oduor, Erick, and Carman Neustaedter. "The Family Room: A Multi-Camera, Multi-Display Family Media Space." Conference on Computer Supported Cooperative Work and Social Computing , ACM 2014. 289–292. Web.
Parreñas, Rhacel. Servants of Globalization. Palo Alto, CA: Stanford University Press, 2001. Print.
Probyn, Elspeth. Carnal Appetites: FoodSexIdentities. London and New York: Routledge, 2000. Print.
Rose, Gillian. Visual Methodologies: An Introduction to the Interpretation of Visual Materials. London: Sage, 2001. Print.
Rose, Gillian, and Divya P. Toila-Kelly, eds. Visuality/Materiality. Farnham: Ashgate, 2012. Print.
Saadatian, Elham, Hooman Samani, Rahul Parsani, Anshul Vikram Pandey, Jinhui Li, Lenis Tejada, Adrian David Cheok, Ryohei Nakatsu.  et al. "Mediating Intimacy in Long-Distance Relationships Using Kiss Messaging." Journal of Human Computer Studies 72.10-11 (2014): 736-746. Web.
Thien, Deborah. "Intimate Distances: Considering Questions of 'Us'." In Davidson, Joyce, Liz Bondi and Mike Smith, eds. Emotional Geographies. Aldershot: Ashgate, 2005. Print.
Toye, Margaret E. "Towards a Poethics of Love: Poststructuralist Feminist Ethics and Literary Creation." Feminist Theory 11.1 (2010): 39-55. Web.
Valentine, Gill. "Globalizing Intimacy: The Role of Information and Communication Technologies in Maintaining and Creating Relationships." Women's Studies Quarterly 34.1/2, The Global and the Intimate, (2006): 365-393. Print.
Walsh, Katie, Hsiu-hua Shen, and Katie Willis. "Heterosexuality and Migration in Asia." Gender, Place & Culture 15.6 (2008): 575-579. Web.
[End Page 21]

[End Page 1] The field of Critical Love Studies is a vigorous and burgeoning one, drawing from multiple disciplines, with or without a feminist point of view. While its diversity of perspectives and methods is certainly a strength of the field, Lynne Pearce has pointed out "the extent to which the social sciences, literary studies and philosophy talk past one another when it comes to research on love and romance" (2015, 1). "Talking past one another" seems applicable not only to varied disciplinary methodologies in love studies but also to feminist critics' view of romantic love itself as either serving the interests of feminism or in ideological opposition to it.
It is well known that romantic love has been a contentious site for feminist politics since Mary Wollstoncraft warned women about building a marriage on its foundation. There is, for example, a long history of feminist theorists and scholars bent on demystifying love and its cultural representations: for example, Simone de Beauvoir, Shulamith Firestone, Germaine Greer, Stevi Jackson, Wendy Langford, Chrys Ingraham, Eva Illouz, Laura Kipnis, and many others. An entire tradition of feminist writing critical of popular romance in particular had a sturdy foothold for several decades from the 1970s onward.[1] But there have also been influential attempts to reclaim the positive, even transformational, aspects of romantic love, coming from psychoanalysts such as Ethel Person to social theorists such as Anthony Giddens and beyond. In recent decades, literary critics of popular fictional romances have also tended to celebrate love and its potential for equalizing gender relations (Ang 1987; Goade 2007; Regis 2003, 2011; Selinger 2007; Goris 2012).
I would argue, along with Margaret Toye, a philosopher, that "Love…needs to be taken as a serious, valid and crucial subject for study, especially by those invested in discourses of the other – most importantly, by feminist, critical and postcolonial theorists" (2010, 41). But these disagreements, not infrequently fraught with overtones of attack and defense, most often occur on the abstract level of scholarly discourse and analysis of published texts. Meanwhile, representations of popular romance in fiction and film sell better than ever, and romantic love as the sine qua non of intimate, embodied personal experience continues as a modern phenomenon of widespread and increasing importance (Illouz 1997; Ingraham 2005; Jackson 2013). The sociologist Stevi Jackson has put this disjunction well in the title of her 1993 article "Even Sociologists Fall in Love."
Addressing this disconnection between feminist perspectives and women's desires and behavior in romance has all too frequently caused division rather than enlightenment in scholarship. My own research interests have been in fictional love stories, classic and popular, a resource for understanding that in my view brings to the table exactly the nuance and emotional immediacy that theoretical abstractions about love may lack. Yet I too have been troubled by the desire to make coherent a disparity between my own view of romantic love and what I see in actual (as opposed to fictional) women's lives, as well as between what I believe and have experienced in my own.
Contradictory definitions of romantic love as either a subset of caring love marked by an ideal of care and equality in heterosexual relations, or an obstacle to, even regression from, that equality, seem challenging to reconcile. Often theorists, researchers, and critics appear to be too invested in one side or the other of these assumptions and their political [End Page 2] implications to be able to let them go. Yet I would suggest that in order to be truly "critical," scholarly research in Critical Love Studies must do exactly that. Following Stevi Jackson's observation that "Feminist critique should focus on what is knowable – the cultural meanings of love, how it is deployed or practiced in the making and maintaining of intimate relationships in specific contexts, and the social consequences of these meanings and deployments" (2013, 35),[2] I hope to follow my own path to a feminist understanding of romantic love as at once an individual transformative emotion and a social phenomenon situated in a particular time and location. Rather than argue an ideological position, I would like to look at the "problem of romance" for feminists from the inside out or bottom up, so to speak, through the lens of "thick description" in personal narrative, rather than top downward from the heady atmospheric heights of abstract ideology.
In the 1980s, a group of critics sought out a new direction for feminist scholarship in women's personal narratives as qualitative research, notably in the collection by the Personal Narratives Group in 1989 and continuing thereafter (Coslett, Lury, and Summerfield 2002; Jackson 1998; Stanley, "The Knowing Subject"; Stanley 1993, 1995; Smith and Watson 1998). In 1990, Liz Stanley argued for the writing and study of "feminist auto/biography" that would pose fundamental questions for feminism, namely "what 'feminism' should look like in life as well as in textual terms, what should be the proper relationship between feminist researchers and the 'subjects' of their research, what should be the relationship between experience and feminist theory [my emphasis]" (1990, 64). In keeping with what Stanley called a more fluid understanding of selfhood "as fragile and continually renewed by acts of memory and writing" (63), a body of work appeared on the discourse of romance in ordinary women's life stories (Burns 2000; Griffin 1982; Harvey and Shalom 1997; Hollway 1995; Langford 1995; S. Thompson 1996; Wetherell 1995).
Though my scholarly work has long been in fictional narratives of romance, I also began to study personal narrative early in my career when I assisted in a research study led by the cognitive psychologist Jerome Bruner in the mid-1980s. My method here is to re-examine a long-ago subject of this study I call Mrs. F., a woman whose narrative of enduring love shaped her life as she told it to me. Mrs. F. was a "case history" to me when I interviewed her in the mid-1980s. Here, however, I have dissolved the conventional boundary between researcher and subject, between abstract understanding and personal investment, between theory and real-life experience, by inserting my own intellectual and personal responses into the romantic story that Mrs. F told.
As the reader will see, there is a marked contrast between my own view of romance, rooted in both my feminist politics and my personal experience, and the romantic views of my research subject, Mrs. F., who had strong faith in a predestined "happy ending." My goal here is to show through example how the specificities of the Love Plot, widely available to women as the chief consumers of romance, can construct not only the experience of desiring love in the moment, but more profoundly structure the shape and meaning of a life in memory, in ways that are not either simply or categorically "good" or "bad" for women.
I have also taken the further step of offering my own story of courtship as counter-narrative. Writing a scholarly author's private experience would seem to break a fourth wall of traditional scholarship, but in fact there is well-known precedent: among others, Nancy K. Miller has written about women and sexuality in "My Father's Penis" (1991), while Eve Kosofsky Sedgwick's "Dialogue on Love" (1998) deployed a first-person narration of her own experience in therapy in order to explore a different sort of love (see also Sedgwick 1987). [End Page 3] As Liz Stanley noted, feminist autobiography is "characterized by a self-conscious and increasingly self-confident traversing of the conventional boundaries between different genres of writing" (1990, 65).
When Mrs. F. related what she remembered of her life and the place of love in it, her story, told from memory, triggered strong memories of my own later in life. In a way, it might be said that the Love Plot (or the Marriage Plot) as a concept in fiction seems to have "worked" as a guiding principle for Mrs. F., my research subject, in a way it did not for me. By adding my own story to hers, I hope to go beyond categories of "happy" and "failed," or love-as-caring versus love-as-desire. Instead, I attempt to see myself and Mrs. F. as women whose romantic hopes were subject to personal histories, social goals, and gendered expectations, while also respecting the force of love's pleasures and its possibilities for self-realization. The challenge here in telling these doubled stories, my own and Mrs. F.'s, is both personal and political: first, to understand what we mean by "love," and also what feminists – including myself as a feminist scholar – may do with that understanding.
"Life as Narrative": The Project
It is common to reread books or see beloved old films again and again and bring new perspectives to them at different stages of our lives. But it is not often that academic researchers revisit a study to which they contributed decades ago, and view the results through the differently colored lenses of personal experience. Recently, after completing a book about women and love stories, I found myself thinking in a new way about a particular woman, the subject of an exhilarating project on life stories conducted by the cognitive psychologist Jerome Bruner in the mid to late 1980s. When I was assigned to interview Mrs. F., she was about the same age I am now, in late middle age.
The point of this project, for which Dr. Bruner had a Spencer Foundation grant, was to study the ways in which selfhood is constructed through narrative.[3] My own role was to interview the subjects and then help the four other members of our research team, all psychologists, to analyze the structures of the subjects' self-narratives from a literary point of view. It was an unusual opportunity for me to learn outside my own field of literature, and, not least, tremendously interesting to see how people told their own life stories on the spot when asked to do so.
It might have seemed unlikely that I would be much influenced by Bruner's work, since it was far out of my field of expertise. When I joined Dr. Bruner's project in the 1980s, I was completing a doctoral dissertation on women and sexual love in British novels. The Bruner study I worked on for five years was not concerned with concepts of romantic love in narrative or the particular social circumstances of women, my primary interests. But I learned a great deal about the intersection of humanist understandings and social science from the pioneering work of Dr. Bruner, especially the uses to which we put language, and the way we construct the world through perception, memory, and story (Bruner 1986, 1987, 1991).
When the project was completed, the story of Mrs. F.'s life and the romance that forms her story's core continued to haunt me, and I began to wonder why. Perhaps it was because she shared some elements of my own identity: like Mrs. F., I was born and grew up in [End Page 4] Brooklyn, NY, in a white working-class neighborhood, and both of us married and had children while young. The similarity, however, ended there. Mrs. F. was not educated past high school, whereas I have an Ivy League PhD; she had not attempted a professional career, and I eventually achieved my early goal of becoming a professor; and, not least, she was, by her own self-description, long and happily married, and I am long and (more or less) happily divorced.
But it was not so much the similarity of background that drew me to Mrs. F.'s story as it was her strong and unquestioning belief in the value of love and marriage. I had a certain pride in having risen above my origins from working class to professional middle class, both in my feminist politics, and it must be confessed, in being introspective and self-aware. Yet Mrs. F. appeared to be happier in love and more successful at romance than I felt myself to be. Her narrative stands on her deep conviction that marriage is a woman's Happy Ending, the source of her security and fulfillment, through which a woman becomes truly herself. Though I felt and still feel that I began to be my genuine self only when I was alone again, I paid an enormous price for this discovery, sacrificing exactly what Mrs. F. says she gained, and never recovering it in quite the same way as when I thought I had it. This disturbed and challenged my feminist rejection of the romantic mythos: what is a happy ending, after all?
Initially, I had a surprisingly strong sense of dismay toward and distance from Mrs. F. In some way she was both unknown yet disturbingly familiar to me, almost akin to Freud's idea of the Uncanny. In Freud's theory of the disorienting mix of familiar and unfamiliar, it is the familiar that is the root of the trouble: the return of the repressed. Revisiting the case of Mrs. F. seemed a unique opportunity to confront that decades-old but lingering apprehension. What exactly did Mrs. F. remind me of, and why did I wish to avoid it?
The "Case" of Mrs. F.
Mrs. F, an Italian-American mother of four grown children and part-time worker in her husband's small business, was a member of a family who had volunteered for the research study on which I was assisting. This family was specifically chosen for no other reason than their "ordinariness" and their willingness to tell the story of their lives. The F.'s were a long-married couple in their early sixties with working class roots. Mr. F. operated a small business, and they were living in Brooklyn, NY, in a house they had owned most of their adult lives. Mrs. F. had spent most of her life as a "housewife," raising her four children full-time.
Though our research team was very little occupied with questions of gender, I could not avoid thinking about the social conditions of everyday living for women, especially those women who identify themselves with family and home. Mr. F., interestingly, spoke of his wife as not there in the real world in the same way he is:
"Uh my home life is pretty good. Uh with my wife and I – I don't think my wife was as educated as I would like her to be, although she graduated from high school. But she seems to be very bent on different things. She's too compliant; she doesn't know the real world, the way things are." [End Page 5]
At the time of this project, I was a new scholar, having spent most of my adult life until then raising three children while studying for a hard-earned PhD in literature. I was also both a new feminist and a new leftist, views that had evolved alongside my doctoral studies. My initial response to Mrs. F. was that she was a sort of woman I already knew, and not necessarily in a warm and pleasant way. But then I do not have warm and pleasant feelings about my less-than-happy lower-class Brooklyn girlhood, which I thought of (only when I had to) as peopled by many Mrs. F.'s – legions of women, in fact, all defining themselves through others, unthinkingly accepting their given role. I confess I had some discomfort with Mrs. F. based on my own predispositions: that is, her narrative seemed to press on the story I told myself about my own life.
Mrs. F. – And Me
Though Mrs F and I both came from working-class neighborhoods in Brooklyn, she had Italian roots while my family was Jewish. We were more or less secular, an anomaly in the deeply religious Irish-Italian neighborhood of my youth, where many children in my neighborhood went to Catholic school. Mrs. F. reminded me of any number of women I knew when I was growing up: hard-working rulers of the domestic space, never expected or expecting to leave the world of women and children, utterly devoted to their families and sustained by close networks of relatives and friends in their daily tribulations. For them, womanhood seemed fixed, both in the geographical space of home and as a metaphor of stability and cohesive values, while masculinity was conceived as a progression toward the open-ended world of earning money, public acknowledgement, decisive choices, "action."
My own mother did not seem to be one of these women, however: she was not at all like Mrs. F. – which is to say, the Mrs. F. in my mind. My mother was neither one of Betty Friedan's desperate housewives nor a conscious rebel. She was, however, alienated from her time and place. I knew that my mother wanted to be very different from the others on our "block," at least. As a young woman, she had emigrated alone to New York from England, as did my father, who met her at his brother and sister-in-law's home in Brooklyn. Because, like my father, she had been forced to leave school after the primary grades, she was never able to earn a decent wage when I was growing up, nor could she afford to stay home as a traditional housewife, as did Mrs. F. It seemed to me as a child that she did little else but work at one low-paying job after another, coming home to cook and clean after a long day.
But though uneducated, and painfully self-conscious about that, she read a good deal of fiction when she had the time, and had fierce, consuming hopes for her three children. My older brothers and I were going to go to college and become "somebody," meaning professionals who were respected for their work, who liked their work, and (not least) who earned more than my father did doing maintenance in the dank tunnels of the New York City subway system, a filthy, dangerous, and low-paid job he bitterly despised. I breathed the atmosphere of my mother's thwarted ambition as naturally as I did her love of fiction and her contempt for the neighborhood around us. Her body was that of a lifelong menial worker, but her head was in the middle class.
My mother did not live better than her neighbors did, but her children were going to, if she had any say in it. That emphatically included her only daughter, who was going to be, [End Page 6] just as much as her sons, the educated professional she had missed becoming. I was not going to marry the neighborhood, meaning I was meant for larger stuff than living on a street like this one in Brooklyn, bearing children and waiting at home for my husband to dole an allowance out of his working-class pocket.
Certainly one area of difficulty for me in understanding Mrs. F. was that she seemed an envoy from this neighborhood, which symbolized my childhood feeling of not-quite-belonging either to the working class or the middle-class, of being out of place. I did not know why my parents, particularly my mother, detested our home, since it was all I knew, but I sensed that something was deeply wrong with it. Though I did not yet understand the concept of class growing up, I see now that this has been enormously important to me, informing my experience of having made it into a professional caste. Even today I avoid returning to that part of Brooklyn, located literally as well as metaphorically at the very edge of the borough. Brooklyn itself is quite diverse, with a number of neighborhoods now hotly sought after by young people and families moving from Manhattan. But fashionability has not yet reached the particular area where I grew up, nor would that sweeten it for me. I still feel oddly but utterly alienated on the few occasions I have passed by the tiny attached houses with religious icons on the drab lawns, and low, bare, unattractive stores with small apartments above them on the (to me) dreary shopping streets. I cannot wait to get "home", meaning where I now want to live, not where I came from.
For me, growing up meant getting myself out of that neighborhood and into a Big City, which I did as soon as I finished my (then) free public education at a city university, the only possible choice for a girl like me who had to live at home for financial reasons. No one supported that move away from my origins more than my mother. Much later, as an academic, I learned the vocabulary and concepts that allowed me to see her as a sort of feminist: she believed, unlike many of her peers in that neighborhood, that girls had abilities equal to boys, and that women were entitled to careers that would bring status and self-respect. My mother warmly sustained her daughter's efforts to live out those ambitions: "If I'd only been a man, I could've made something of myself," she used to say, with weary frustration. At the time I only knew that she and I were a team, with the united purpose of getting me to the goal line of success, as she defined that term.
Mrs. F seemed to me, therefore, uncannily, and therefore disturbingly, a woman like my mother (situated in the same kind of neighborhood and class), but also very unlike my mother (who was not a "housewife," and did not want to be where she was). You might say that Mrs. F. was the icon of the woman I felt I could have become, had I remained in that geographic and social place: the return of the repressed.
Mrs. F Tells Her Life
Mrs. F. had anxiously indicated on the phone to me that she was afraid she would not do the right thing in the interview, the only one of her family to express that fear. Unlike other family members whose responses ran about forty pages when asked to "tell your life story," Mrs. F. produced brief associative clusters, consisting of comments, opinions, and tidbits of information, often about others: her husband's and children's characters, their "problems" and deficiencies, the possibility of "coping" with something called Trouble: [End Page 7]
"I'll start at the beginning, but roughly, childhood was half and half. I would have preferred a better childhood, a happier one…but with God's influence, I prayed hard enough for a good husband and He answered me.

I got a very good husband, a little stubborn at times, but I'll take the stubbornness for the goodness that he's got there. I had four nice children, a little, shall I say, spoiled [laughs], all spoiled because of my husband, he's very easy. If it was up to me I think I would have been a little bit more stricter, but I think on the whole they turned out with less problems than a lot of other people.

The major part of that is not being on dope…I am blessed that my kids didn't start it.

Other problems with them, you can't let that go and have them perfect.

Healthwise, up until the time I was 53, I had terrible health. After that I had a woman's operation, which I think helped me a lot, and I feel much better. I think I can cope better with things.

God bless my husband. He had a lot of patience with me, and my family. We had everything thrown at us because of my family. His family, he was only boy and he had everything from the time he was seven years old. I think the life we both had as children, I think we both wanted something different when we got married….

But I think what he went through, and what I went through, we built a better marriage on it. To a point I think we try to make our children not have too much of [the troubles] we had. I think we spoil them sometimes for the outside world. And I think that's what spoiled our two oldest children, their marriages. My daughter is with a very nice man. I would have preferred someone else, but it's up to her. My son, I'm still upset over him. It's six years that he is divorced and he just doesn't seem to pull out of it. He seems to compare other women to her, which isn't fair for him to do that, but I don't know. I really don't know, and I don't understand him now anymore. That's in general.

The only thing I can keep saying is I have a very good marriage, and hope and pray my kids will get the same type of a marriage that I had. Outside of that, I don't know. I'm happy. I'd like to be in better health now, as my husband and I are getting older, especially him, but I'll take whatever God has given me.

And that's about it. Forty years of it [marriage] and it's all in there… That's it."
And that was it. The research team could hardly believe she had nothing more to say when asked for a life story, at least until questioned in the next part of the interview. My mother, a [End Page 8] voluble talker, could have gone on about her life (and did) until the cows came home, and if I had been assigned this task of telling my own story, I probably would have self-consciously affected themes, plot, and subplots. But I did thoroughly understand Mrs. F.'s orientation around Trouble, especially her troublesome children (who both have Troubles and are a Trouble to her). My own three children's troubles still often seem like the moles in a Whack-a-Mole game of life; as soon as you smack one down, more pop up in unexpected places until you run out of time. I pictured Mrs. F. paroling her grounds daily with mallets, on the ready to attack when Trouble inevitably visited her once again. My mother was the same way, so that made three of us.
The Feminist Researcher Interprets Mrs. F.'s "Story": Gender and Romance
Mrs. F.'s husband and four children, two daughters and two sons, had each narrated their life stories more or less according to the traditional linear plot tracing maturational development. Yet strikingly, Mrs. F.'s spontaneous "life story" seemed more concerned with her family's lives than her own. If there is a unifying theme in Mrs. F.'s life-as-a-text, it is that marriage has been her lifelong work of construction, its "happiness" her safety net, its aim the carving out of a private haven in a problematic world (to paraphrase the historian Christopher Lasch).
Reading Mrs. F.'s story, short and lacking in literary detail as it was, I believed I recognized in her the women in my own Brooklyn neighborhood. That is, the home, the "inside"world, though busy and hard-working, was a separate realm from the "outside," largely male "real" world, defined as an arena of public activity that includes privilege, economic control, and authority. Mrs. F. referred to her father's word as if it were law: "It was his way or no way at all," "You didn't have a say about what you wanted or liked to do."
In her text, Mrs. F. seems to mediate between the two worlds through a connection with males and their privileged power. Pleasing a male – obeying a father, caring for her husband, praying "hard enough" to God the Father – appears often in her interview. As distant as I felt from Mrs. F.'s generation and way of life, I recognized with some distaste that inner universe populated by important men. In my own non-religious childhood, God was not one of those male figures who conferred protection and blessings, as he was in Mrs. F.'s. But as an only daughter, I was keenly aware of the deep hopes my mother, as a young woman, had once invested in finding a man to provide for her, emotionally and financially. I heard almost every day the many ways that marriage had radically failed her expectations on both counts.
My own father was not dominating in the way Mrs. F.'s father appears in her account; unlike Mrs. F, I had little sense that my father was directing what I was going to do. He was adventurous, pleasure-loving, and an admirer of beauty, both artistic and human (the female variety), while my mother was responsible and worried. She felt he had left her holding down the fort with little firepower; her early belief that his untutored brilliance would somehow later pay off in a middle-class life had not materialized, leaving her suspicious of men and their promises. This cynicism about romance contradicted the dominant narrative about femininity before the post-war women's movement. Yet her bitter disappointment came [End Page 9] from her deeply-held faith that men were supposed to provide, the unquestioned dream that happiness lay in catching the right one. She had not landed the right fish, due to her naively foolish faith in romantic love, she believed, but it went without saying that I could – and would, if I would learn from her what was good for me. It was her mission to help me so I would not suffer as she had. To my mother, a woman could not achieve the social status or personal integrity that signaled she had "arrived" unless she had both a man's job – and also a man.
The Love Plot
Most interestingly to me, in the question-and-answer part of the interview that followed the request for a "life story," an actual story finally appeared in Mrs. F.'s text, and it was preeminently a love story. Mrs. F. spoke of courtship, and, in particular, of one moment of courtship, as the high point of her life's drama: the Glass Slipper Moment when the Prince recognizes Cinderella as his one true love. This was an episode that, by its very atypicality in the life she describes, served her as an emblem of what she could be, her imaginative possible self. In Actual Minds, Possible Worlds, Jerome Bruner remarks that "the realm of meaning, curiously, is not one in which we ever live with total comfort" (64). It is this discomfort, he speculates, that drives us to utilize "the capacity of language to create and stipulate realities of its own" (1986, 64), fashioning "possible roles and possible worlds in which action, thought, and self-definition are permissible, or at least desirable" (1986, 66).
In this love story, Mrs. F. relates her parents', friends', and culture's expectations for her: "I was pressured into doing the first engagement, because all the other girls were doing that." Yet as an engaged young woman, she said, she was out with a girlfriend when Mr. F., her future husband, came in the door, and "the first time I put my eyes on him, I said to myself, 'That's the one I'm going to marry'." Later in the interview, Mrs. F. says she turned to her friend and declared, "'I'm going home with that man tonight and I'm going to marry him,'" while resolutely taking her engagement ring from her finger. In the same way, she asserts that they decided to marry when they did "'cause I wanted to be with him"; at another point, she adds, "it was just – I wanted to be with him and that was it" [my emphases].
Mr. F., by contrast, tells a different and distinctly less "romantic" story in his own interview. He says:
"And then I met my wife and we got married. And I think I should have waited a little longer to get married… I wasn't secure enough in a job… I think I got married because there was pressure from her family, 'cause she was engaged to someone else when she met me."
Mr. F. concentrates on practical circumstances, ironically naming "pressure" from family as his motive to marry, while Mrs. F. portrays herself as a romantic rebel against the social and familial "pressure" to marry another man. Mrs. F. focuses on her own agency in the question of marriage: she says that though her husband never assented "in so many words," she assumed that if he did not want to marry when she did, [End Page 10]
"…when I set the date I think he would have said, 'Let's wait awhile.' I think he would have said that."
He did not ask her not to set the date, and so she took an active role in formalizing the engagement. She relates that when he vaguely mentioned getting engaged in a year's time, she pronounced, "By next New Year's Eve we will be married." "He never argued with me," she adds sweetly.
Clearly, within the realm of love and courtship, Mrs. F. experienced herself as being entitled to and having enjoyed a good deal of legitimate power (Kitzinger 1995; Miller and Cummins 1992; Rudman and Heppen 2003) extending forward from that early moment. To Mrs. F., being in charge of love and marriage is an empowerment that is wholly expectable in a woman's life, and the romantic story serves as the legitimating force of her entire history. There is, Mrs. F. says near the end of her interview, "no greater triumph" than "finding someone" to share your life with.
In the genre of romance, "finding" the right man is often a specific point in a heroine's life that entitles her to a seemingly unbounded freedom to choose for herself. For Mrs. F., this agency is the very opposite of the rules in her own childhood and youth, where women served men's purposes and desires: "The women were taught the man is everything and that's it." Romantic mystification blurs the question of choice: she describes herself as "very surprised" when falling in love with Mr. F. ("I couldn't understand why I picked him"). Again, when she broke off her engagement to her previous fiancé, she was convinced she was doing the right thing and felt no guilt: "I haven't got the slightest idea why." Mrs. F. provides no explanation as to what she did not like about her former fiancé, what she preferred about her new suitor, or the consequences of ending the engagement. This contextual gap in the story seems not to trouble her in the least: the romantic moment is all.
In Mrs. F.'s short life narrative, her story, she says, is "all in there," referring to marriage and family. As a feminist, I wanted to identify and sympathize with her view of what made her happy. But this seemed to me less a story of "free choice" than a myth that served regressive social purposes. For me, her view of love and marriage was simply the adult version of her childhood's dictum, "the man is everything." Hers was the romance that women of my mother's era tried to have in that time and place, where finding the right man for life was everything, the key to stability, happiness, and success as a woman. I could so easily have lived out that idea, and then I would be another who recited that story.
A Different Story: My Courtship
Mrs. F.'s romantic story of courtship and marriage could not have differed more from my own. Hers is imbued with transcendent feeling that signals the emotional high point of a life, a silent certainty that determines its direction. You love a man because you "just know" that he is The One, even if you are engaged to someone else. This knowledge is magically mutual: you both "just know" that you will marry and begin a new life, whether or not the timing is practical, and what's more, it all works out for the best, the Happily Ever After of the Love Plot. Difficult matters of money, living arrangements, and family approval fall before this greater force like so many trees before the determined lumberjack's axe. [End Page 11]
In my own teenage world, romance was a powerful secret fantasy of my own (as it is for many teenage girls), in a way as private and embarrassing as sex. My mother's ideal of marriage, on the other hand, imparted over many years through conversation and gossip, was a matter of choosing a husband of reliable character and the ability to provide the best lifestyle possible. She frequently denounced romance as having led to her own ruinous mistake of marrying the wrong (i.e. "unsuccessful") man for blind love instead of security.
Getting married was not at all on my mind when I was attending public college while living at home, starting at age seventeen. My brothers had gone to school there too (also living at home, it goes without saying), so this order of things was ordained for me. Thanks to my mother's guidance and approval, I was busy trying to do well in my studies, with an eye to finding a profession that would fulfill and support me. The possibilities of graduate school and leaving New York were still open and exciting, if unnerving. At age nineteen, I had never lived or traveled alone in my life, never had a bank account, driven a car, or made a life decision on my own.
Besides doing well academically, I was finally realizing, after a long and lonely spell in high school, that I was no less attractive to males than most other girls, and that gave me a new sense of power and confidence. Just after my second year of college, I was enjoying the company and attentions of an attractive young man I met while working at a summer job. He seemed to like me a great deal; in fact, we had exchanged shy vows of (not necessarily eternal) love. This was very agreeable.
Then, one ordinary day, unexpectedly, my mother proposed marriage to me. Four or five months into my pleasant relationship with this young man, also a college student but from an upper middle-class family, she sat me down over the usual cup of tea and asked if I loved him. A quick and definitive answer was obviously required. "I guess so, yes, sure," I said, defensively – after all, he was spending a lot of time at our house, including sleepovers many weekends (in separate rooms, to be sure). In reality, I was far from sure this was the right person for me, and in fact had not given it much thought.
"So would you like to marry him?" she went on, looking alarmingly serious. "Maybe I will, but we're in college," I replied – there was a safe out! "Well, I have a way for you to get married," she announced, and swiftly outlined a plan by which two young college students could set up a household while costing their parents no more than they were already spending to support them at home. Her lively dark eyes were animated as she counted up the part-time jobs, the summer work, the efforts at frugality. Like a modern Mrs. Bennet, nothing seemed to give her more satisfaction than planning how to "settle" her daughter for life.
I could have said no. But I wanted to see how my boyfriend felt about it, to test out how much he valued me. And when I presented the idea to him, half-laughingly, he looked thoughtful, said he would ask his parents, and then they loved the idea because they had married early themselves. Suddenly it seemed less like a joke and more like an opportunity. It was the beginning of something, the first big thing ever to happen to me, a drama. I found myself spinning fantasies of setting up my – I mean our – own little place, imagining a lifetime of emotional insurance against the isolation I had felt as a high school wallflower. The greatest pleasure of all came from the idea that a man had recognized me for who I really was, had picked me… sort of. The shoe fit, and I was therefore a kind of princess, or even (what was to me far better) Elizabeth Bennet or Jane Eyre, underneath my anxiety and ordinariness. The stew of psychological insecurities and pragmatic considerations that [End Page 12] motivated all this suddenly shaped themselves into a wonderfully familiar form: I was the heroine of a new story, a romance, part of a traditional feminine narrative that would uplift me for a lifetime.
I wanted so much to be part of this story that I told myself I was in love, since it seemed required to take the next step. Before you could say Glass Slipper, there was a cheap ring on my finger (selected by my mother and me, paid for by my mother), a shabby wedding hall was booked (approved by our parents, disliked by my fiancé and me), and the next thing I knew, I woke up like Sleeping Beauty and was married for decades. As you might have guessed, this did not turn out to be the love story I imagined.
My mother's wedding proposal was in the mid-Sixties, twenty years after Mrs. F.'s courtship. It was a time when everything was about to change for girls like me, when the feminist point of view was beginning to critique the traditional narrative of love, but this was not yet available to me. I did once ask my mother why she had set her cap for me at such an early age. "I could see you needed somebody," she replied. Did I? Then too, I think she suspected that cohabitation (as sociologists call it) was in the air, and from there, abandonment and ruin.
My mother no doubt would have interpreted this situation quite differently: it was not repression or control, it was a mother's love and care. From her point of view, she was trying to protect me from the emotional and financial privation she had endured in her own marriage by reverse engineering, doing it right this time. To her, marriage itself was not the problem – it was finding the right man, fixing someone in place who was devoted to you and also made enough money to keep you secure.
I differ from both my mother and Mrs. F. in important ways that reflect living most of my adult life in the decades after 1970. But at that moment when my mother proposed marriage to me, we all inhabited the same romantic universe. My mother could envision a professional career for a woman in a way that her own parents could not, but not life without the romance of marriage. She simply could not conceive of it: for her, the world was too dangerous for a woman to navigate on her own. If you were not born a man, the next best thing was to marry one. Though my mother was a feminist heroine to me in some significant ways, her view of men and love took me down a road that felt irreversible for a long time, one I wish I had not gone along (with). For this reason, when I met Mrs. F. and heard her story decades ago, it was as important for me to distance the romantic in Mrs. F. as it had been for my mother to recuperate the losses of romance in her own life through me.
Cynical Researcher, Romantic Subject
I see consciousness as the key to my own endeavors, both personal and professional, as well as the foundational principle of my feminism. Though I was married myself when I interviewed Mrs. F., I no longer believed in the ideal of womanhood as desired object of the courting man – or afterwards, as the key-holder of the heart in the domestic space of marriage. Mrs. F.'s storied moment of romantic transcendence seemed to me an idealized and sentimental retelling of events as a drama of epic proportions simply to justify a decision made long ago. On the other hand, as a feminist and professional (the professional my mother had wanted me to become), it was very important to me to avoid positioning myself as Mrs. [End Page 13] F.'s superior in my role as audience to this woman telling the story of her life, so I consciously resisted this alienation.
But there was something unacknowledged and conflicted in my approach to Mrs. F.'s story that went beyond my political critique of the traditional woman's role, or my professional struggle to be objective, or my desire as a feminist to connect with Mrs. F. That is, Mrs. F.'s description of herself as the romantic heroine of her own story had touched a nerve in me. In coming to terms with Mrs. F.'s story, I had to come face to face with a cast-off "Mrs. F." in myself: in effect, with a troublesome version of my own life.
Seeing from the inside out what Mrs. F.'s story meant to her, her own interpretation of her life, I had to conjure up and meet halfway these "uncanny," disowned aspects of myself. First, there was the part that did not like to see myself as belonging to my own working-class background. The work of climbing out of the lower class through marrying a better-off man has always been a staple of women's stories in our culture, beginning with Samuel Richardson's Pamela. Thinking of myself as of that place meant the certainty of living under the gloomy shadow of my mother's frustration as a woman, in the milieu that shaped her eagerness to rush me into an early marriage.
Second, there was a buried piece of me that envied the way Mrs. F. had lived out the fantasy of romance and marriage that colored her life and made it cohesive. Where romance had played a secret role in my own psychic life as a second to the real-world imperative to marry, in Mrs. F.'s telling it was marvelously public, proclaimed out loud with complete confidence in its future success – even when all plot elements seemed to weigh against it (as in a Hollywood romantic comedy, where falling in love with Mr. Right while engaged to the wrong person is very common). For Mrs. F., romance had meant escaping the domination of her father and the "everybody's-doing-it" nature of early marriage in her peer group. That her romance had led to the right marriage was its final justification. This was, to her, a wonderful outcome that echoed the larger purposes of unseen forces in the universe that choose our appropriate destinies beforehand. In my view, those enabling or crushing forces are economic, cultural, and social, with individual psychology thrown in for good measure. I am sure I would have appeared coldly cynical to her, while to me, she was subjugated and self-deceived… but also, as far as I could see, happy in and with her self-deception.
Now, I certainly did not want to be Mrs. F, and never had, any more than I wanted to be a duplicate of my mother (and my mother did not want this for me either). Yet my envy of her romantic solution lived on in shadow form, within some guarded place in me, even though I had no faith in the concept of a "romantic solution" itself. Despite my feminism, I still longed, at a subterranean level, to trust in the Love Plot. Forced to think about Mrs. F.'s love story, I was confronted (and astonished) by a hidden self I had needed to leave behind so as to shape the newer and better story of my autonomous life post-divorce: a ghost of self that whispered urgently, I wish romance had worked this way for me. Yet in fact I had no way of knowing if what Mrs. F. described had been, in reality, as she had said it had. Could Mrs. F. afford to tell, or view, the narrative of love any differently, given how much she had invested the rest of her life in its ethos?
I was a much more ambitious young woman than the character Mrs. F. appears to be in her narrative, where she talks very little about the questions of class, money or education that preoccupied me. In her romantic story, all these issues are resolved with the choice of the right man. And while Mrs. F. said she was "shy" and always had difficulty speaking up in public, I make my living by speaking in front of classrooms. But in a way, Mrs. F. was more [End Page 14] determined, more of a rebel than I was, at least in her telling. I married the man my mother wanted me to, when my mother told me to, though at the time the choice felt like mine; Mrs. F., on the other hand, emphasizes her rebellion in fighting for her heart's desire. The irony is that for me, marriage (rather than romance) was both a way of formally escaping from my parents' household and grip, while also, paradoxically, submitting to my mother's final bid to be the force that controlled my destiny (for my own good, needless to say).
Though I first heard Mrs. F.'s narrative from an assumed position of my own authority, I have acquired, over the span of years, a certain humility, admiration, and eventually, sympathy for her and her story. This sympathetic understanding has also extended to my mother, who led me down a garden path that resulted in too-early marriage and eventual divorce and emotional pain. Was my mother, a generation ahead of Mrs. F, then a feminist, though she did not know the term? I would say yes, compared to other women she knew, just as Mrs. F., younger than my mother, was able to use certain key terms and concepts of feminism (though still not the word), such as "fighting for what you want," in ways she said the women of her family had not. But these insights only went so far for my mother and Mrs. F., given the burdens of their lives and times.
Looking at myself in relation to Mrs. F. and my mother, I can see that I made the leap from working-class to middle-class due to living in a different space of history from either of them, and also thanks to my mother's forward thrust of determined ambitions for me. But perhaps because my youthful desire for passionate love was repressed in the interest of marrying young and (supposedly) safely, the hope of meaning through romance, so important to both my mother and Mrs. F., clung to me as a haunting dream all the while I inched toward professional success. The story of my marriage and divorce is too complex to render here. But I can say that the Love Plot both sustained me imaginatively with its double promise of intense excitement and lifelong security, yet also constrained me with the anxieties lurking beneath the polished surfaces of its story. Today the Love Plot has continued to shadow women through the generations after mine, weaving in and out of our expectations for what love should be, now more than ever spurring envy of the glittery celebrated or fictional lives that we encounter everywhere in the public arena (Illouz 1997; Ingraham 1999, 2005).
Conclusion
I cannot renounce the working-class girl I was (and am still at heart), because it means disowning my origins, but neither can I take up Mrs. F.'s romantic view that romantic love is every woman's destiny uncritically. Unlike Mrs. F., I resist the idea that romance is mysterious; for me, romance is an expression of desire we are taught how to tell in story form, woven with threads of hope and driven by needs we only dimly sense. There is no way I can know for certain if the mythos of love "worked" for Mrs. F. as she said it did, but as Stevi Jackson advised, I can investigate how it works, the influence and persistence of its cultural forms. Having devoted much of my life as a scholar to trying to understand the Love Plot, I want to own up to the dream without being owned by it. If, as Dr. Bruner argued, we construct our world through narrative, for which culture gives us the instructions and tool- [End Page 15] kits, it follows that we can also re-construct its meaning, revising that narrative when we acquire new tools (Kehily 1995; P. Thompson 1998).
I agree with Shulamith Firestone that love itself is not the "problem" with romance, and I acknowledge that feminism can benefit from recognizing love's transformative potential for personal growth and egalitarian relations. Yet insofar as the Love Plot has been normative and gendered, I believe (like Firestone) that we should simultaneously be conscious and wary of its potential for other effects, which include the erasure of a history of oppression, and the narrowing of other possibilities, especially for women.[4] The very concept that shapes pleasure and meaning in romantic relations can also limit a life by hiding a power imbalance and renaming it as love. Additionally, I believe more study is necessary to shed light on the often-ignored question of why romance is still consumed mainly by women, in spite of its "equalizing" effects.
Is there a way for feminists to claim love that goes beyond the sentiment of virtue rewarded, that recognizes both love's capacity to limit and harm as well as to give joy, that questions the definition of a happy ending, and makes space for more transgressive sorts of romance than those rigid forms that dominated popular culture in the past? Can we transcend both denunciation and idealization to embrace love as passionate, often selfish pleasure, rather than attend only to the pretty side of love as the starter yeast for unselfish caring and commitment?
It has been a personal and political challenge to simultaneously tell Mrs. F.'s and my own (real-life) stories with sympathy, while also critiquing the love story with a political eye. As a feminist, I wish to embrace the paradoxes of love as experienced, rather than line up squarely on one ideological side or other as to whether love is "good" for women. Instead of either looking up at romance admiringly, like Mrs. F, or down at it, as my mother had, I have attempted to look at romance with awe and appreciation for its power, just as I listened while Mrs. F. narrated her life to me, and marveled at the workmanship that went into constructing that seemingly simple but quite intricate system of signs and wonders that is the love story.
There is now a large body of theory, analysis, and criticism of those forms of popular romance whose audience is mainly women, but the feminist work on romantic discourse in real women's lives begun in the mid-1990s seems circumscribed and underdeveloped by comparison. The critic Ien Ang has written that
"By taking seriously the love for romantic feeling as a starting point for engagement with 'non-feminist' women, a feminist researcher might begin to accomplish a comprehension of self by the detour of comprehension of the other, in a confrontation with other women who might have more expertise and experience in the meanings, pleasures and dangers of romanticism than herself. What could change as a result… is not what… 'we', as self-proclaiming feminists, are struggling for, but more importantly, the sense of identity that is constructed by feminism itself." (1988, 189)
Though narration of and reflection on lived experience cannot resolve every problem for feminists in addressing heterosexual romance, my hope is that a more immersive understanding through biography and autobiography may disrupt the uniformity of abstract discourses of romance, and in doing so, contribute to a more complex, nuanced, and yes, more critical (in the most generous sense) view of romantic love. [End Page 16]
---
[1] For short histories of these views, see Goade 2007; Hollows 2000; Pearce and Stacey 1995; Radford 1986; Regis 2003, 2011.
[2] See also Ferguson and Jonasdottir, "Introduction" to Love: A Question (2013), and Jonasdottir, "Love Studies" (2013).
[3] Several publications resulted from this research project: Bruner 1987, 1990; Bruner and Weisser 1991; Weisser 1996.
[4] Berlant's "Intimacy" (1998) is a provocative discussion of the problematics of contradictory desires and "polar energies," played out in the zone of intimate life. Berlant also illuminates the limitations of the public fantasy of domestic intimacy and the "life narrative it generates," excluding alternative plots (285). See also Illouz (2012). [End Page 17]
Works Cited
Ang, Ien. "Feminist Desire and Female Pleasure: On Janice Radway's Reading the Romance." Camera Obscura 6.1 16 (1988): 179-190.
—. "Popular Fiction and Feminist Cultural Politics." Theory, Culture & Society 4.3 (1987): 651-658.
Berlant, Lauren. "Intimacy: A Special Issue." Critical Inquiry 24.2 (1998): 281-288.
Bruner, Jerome. Acts of Meaning. Cambridge: Harvard UP, 1990.
—. Actual Minds, Possible Worlds. Cambridge: Harvard UP, 1986.
—. "Life as Narrative." Social Research 54 (1987): 11-32.
—. "The Narrative Construction of Reality." Critical Inquiry 18.1 (1991): 1-21.
— and Susan Weisser. "The Invention of Self: Autobiography and Its Forms." Literacy and Orality, ed. David R. Olsen and Nancy Torrance (NY: Cambridge UP, 1991): 129-148.
Burns, Angie. "Looking for Love in Intimate Heterosexual Relationships." Feminism & Psychology 10.4 (2000): 481-485.
Coslett, Tess, Celia Lury, and P. Summerfield, eds. Feminism & Autobiography: Texts, Theories, Methods. London: Routledge, 2000.
Frantz, Sarah, and Eric M. Selinger, eds. New Approaches to Popular Romance Fiction: Critical Essays. Jefferson, NC: McFarland, 2012.
Goade, Sally, ed. Empowerment versus Oppression: Twenty First Century Views of Popular Romance Novels. Newcastle, UK: Cambridge Scholars Pub, 2007.
Goris, An. "Mind, Body, Love: Nora Roberts and the Evolution of Popular Romance Studies." Journal of Popular Romance Studies 3.1 (2012). Web.
Griffin, Christine. Cultures of Femininity: Romance Revisited. No. 69. Centre for Contemporary Cultural Studies, University of Birmingham, 1982.
Harvey, Keith, and Celia Shalom, eds. Language and Desire: Encoding Sex, Romance, and Intimacy. London: Routledge, 1997.
Hollows, Joanne. Feminism, Femininity and Popular Culture. Manchester, UK: Manchester UP, 2000.
Hollway, Wendy, "Feminist Discourses and Women's Heterosexual Desire." Feminism and Discourse: Psychological Perspectives. Eds. Celia Wilkinson and Sue Kitzinger. London: Sage, 1995. 86-105.
Illouz, Eva. Consuming the Romantic Utopia: Love and the Cultural Contradictions of Capitalism. Los Angeles: University of California Press, 1997.
—. Why Love Hurts. Cambridge: Polity, 2012.
Ingraham, Chrys. Thinking Straight: The Power, the Promise, and the Paradox of Heterosexuality. New York and London: Psychology Press, 2005.
—. White Weddings: Romancing Heterosexuality in Popular Culture. NY: Routledge. 1999.
Jackson, Stevi. "Even Sociologists Fall in Love: An Exploration in the Sociology of Emotions," Sociology 27.2 (1993): 201-220.
—. "Love, Social Change, and Everyday Heterosexuality." Love: A Question for Feminism in the Twenty-First Century 14 (2013): 33-47.
—. "Telling Stories: Memory, Narrative and Experience in Feminist Research and Theory." Standpoints and Differences: Essays in the Practice of Feminist Psychology. Ed. Karen Henwood, Christine Griffin and Ann Phoenix. London: Sage, 1998. 45-64.
[End Page 18]
Jónasdóttir, Anna G., and Ann Ferguson. Love: A Question for Feminism in the Twenty-first Century. New York and London: Routledge, 2014.
Jonasdottir, Anna. "Love Studies: A (Re)New(ed) Field of Knowledge Interests." Love: A Question for Feminism in the Twenty-first Century. 11-30.
Kehily, Mary Jane. "Self-Narration, Autobiography and Identity Construction." Gender and Education 7.1 (1995): 23-32.
Kitzinger, Celia. "Feminism, Psychology and the Paradox of Power." Feminism & Psychology (1991). Web.
Langford, Wendy. "'Snuglet Puglet loves to snuggle with Snuglet Piglet': Alter Personalities in Heterosexual Love Relationships'." Romance Revisited. Ed. Lynne Pearce and Jackie Stacey. NY: NYU Press, 1995. 238-51.
Lawler, Steph. "'Getting out and getting away': Women's Narratives of Class Mobility." Feminist Review 63.1 (1999): 3-24.
Light, Alison. "'Returning to Manderley': Romance Fiction, Female Sexuality and Class." Feminist Review (1984): 7-25.
Miller, Cynthia, and A. G. Cummins. "An Examination of Women's Perspectives on Power." Psychology of Women Quarterly 16.4 (1992): 415-428.
Miller, Nancy K. Getting Personal: Feminist Occasions and Other Autobiographical Acts. New York and London: Psychology Press, 1991.
Olsen, Karen and Linda Shopes. "Crossing Boundaries, Building Bridges: Doing Oral History among Working-Class Women and Men." Women's Words: The Feminist Practice of Oral History. Ed. Sherna Cluck and Daphne Patai. NY: Routledge, 1991. 189-204.
Pearce, Lynne and Jackie Stacey, eds. Romance Revisited. London: Lawrence and Wishart, 1995.
Pearce, Lynne. "Gunnarsson, Lena. The Contradictions of Love: Towards a Feminist-Realist Sociosexuality (book review)." Journal of Popular Romance Studies 5.1 (2015). Web.
Personal Narratives Group. Interpreting Women's lives: Feminist Theory and Personal Narratives. Bloomington IN: Indiana UP, 1989.
Radford, Jean. "The Progress of Romance: The Politics of Popular Fiction." London and New York: Routledge and Kegan Paul, 1986.
Regis, Pamela. "What Do Critics Owe the Romance? Keynote Address at the Second Annual Conference of the International Association for the Study of Popular Romance." Journal of Popular Romance Studies 2 (2011). Web.
—. A Natural History of the Romance Novel. Philadelphia: University of Pennsylvania Press, 2003.
Rudman, Laurie and Jessica Heppen. "Implicit Romantic Fantasies and Women's Interest in Personal Power: A Glass Slipper Effect?" Personality and Social Psychology Bulletin 29.11 (2003): 1357-1370.
Sedgwick, Eve Kosofsky. "A Dialogue on Love." Critical Inquiry, 24.2 (1998): 611-631.
—. "A Poem is Being Written." Representations 17 (1987): 110-143. Web.
Selinger, Eric Murphy. "Rereading the Romance." Contemporary Literature 48.2 (2007): 307-324.
Smith, Sidonie, and Julia Watson, eds. Women, Autobiography, Theory: A Reader. Madison, WI: University of Wisconsin Press, 1998.
Stanley, Liz. The Auto/Biographical I: The Theory and Practice of Feminist Auto/Biography. Manchester, UK: Manchester UP, 1995.
[End Page 19]
—. "The Knowing because Experiencing Subject: Narratives, Lives, and Autobiography." Women's Studies International Forum 16.3 (1993): 205-215.
—. "Moments of Writing: Is There a Feminist Auto/Biography?" Gender & History 2.1 (1990): 58-67.
Steedman, Carolyn. "Enforced Narratives." Feminism and Autobiography. Texts, Theories, Methods. Ed. Tess Cosslett, Celia Lury and Penny Summerfield. London: Routledge, 2002. 25-39.
—. Landscape for a Good Woman: A Story of Two Lives. New Brunswick, NJ: Rutgers UP, 1987.
Thompson, Paul. "Sharing and Reshaping Life Stories." Narrative and Genre. Ed. Mary Chamberlain and Paul Thompson. London and New York: Routledge, 1998. 167-81.
Thompson, Sharon. Going All the Way: Teenage Girls' Tales of Sex, Romance, and Pregnancy. NY: Hill & Wang, 1996.
Toye, Margaret E. "Towards a Poethics of Love: Poststructuralist Feminist Ethics and Literary Creation." Feminist Theory 11.1 (2010): 39-55.
Weisser, Susan Ostrov. "What Kind of Life Do I Have?: The Gendering of a Self-Narrative." Getting a Life: Autobiography in Everyday Life. Ed. Julia Watson and Sidonie Smith. Minneapolis: University of Minnesota Press, 1996. 249-270.
Wetherell, Margaret. "Romantic Discourse and Feminist Analysis: Interrogating Investment, Power and Desire." Feminism and Discourse: Psychological Perspectives. Eds. Sue Wilkinson and Celia Kitzinger. London: Sage, 1995: 128-144.
[End Page 20]

Introduction
I was first attracted to love as a topic of research because I saw other feminist female friends as well as myself struggling with it. There was something jarring about love and feminists, because we seemed to be spending more time criticizing the stereotyped romantic narratives seen in Hollywood films rather than sharing the positive and transformative elements of our everyday relationships. Even if we had read many books and zines, discussed with our comrades, learned from our previous experiences and from those shared among feminist friends, there was still a huge sense of discontent and failure present. From first and second wave feminists we learned about the dangers and the traps of love (Beauvoir 1999; Millett 1971; Firestone 1972; Comer 1974). From other feminists and non-feminists alike we learned that love was a complex emotion (Lagarde 1990; Jónasdóttir 1993; Jackson 1993, 1999; Illouz 1997; Langford 1999; Esteban 2011) and also that other kind of relationships were possible (Easton & Hardy 2009; Barker 2012). But feminists still struggle with articulating our experience among so many contradictory narratives. Love is an issue for feminists and I am interested in exploring how feminist women construct their narratives of love in relation to dominant narratives of romantic love and feminist critical narratives of love.
I apply the concept of "nested narratives" proposed by Mary and Kenneth Gergen (1983) to the analysis of love. The Gergens refer to how different narratives available in the social framework are articulated within personal experiences in subjectivity production. Also, for Jackson "[w]e create for ourselves a sense of what our emotions are, of what being in love is, through positioning ourselves within discourses, constructing narratives of self, drawing on whatever cultural resources are available to us" (1999, 120). Like them, I would contend that we are not passive subjects in these processes, but an active part that assimilates, rejects and subverts those sociocultural contexts in which the narratives are produced (Montenegro & Pujol 2013).
My understanding of love owes much to the work of Stevi Jackson (1993, 1999) and Mari Luz Esteban (2011). They have highlighted that love is a complex emotion that requires serious and critical social research (Jackson 1993; Esteban, Medina & Tavora 2005). Jackson (1993) developed a sociological approach to love as a culturally constructed emotion. In her words, "Far from being just a personal, private phenomenon, love is very much a part of our public culture" (1993, 202). Thus, it cannot be treated as "independent of the social and cultural context within in which it is experienced" (1993, 202). Mari Luz Esteban's (2011) "amorous thought" refers to emotional, embodied, symbolic, cultural, social and institutional dimensions of love, and also considers that power relations take place in different directions. These theoretical contributions enable us to account for love as both a site of women's complicity with and resistance against patriarchal relations. In this paper, I aim to explore the resistance strategies of feminist women in order to understand how complicity and resistance work in their narratives about love. On one hand, this could tell us about the experience of women and love in Western societies, while on the other it could shed some light on how feminism works in producing subjectivity.
Resistance Strategies
A Foucauldian perspective on power indicates that power itself permeates every aspect of social life. Power, for Foucault, is not located within but invades all social relations. It is not subordinated to economic structures. Instead of acting by repression, it acts by normalization. In this way, it produces subjects, discourses, knowledges, truths and realities in a positive way. Power is found precisely in that multiplicity of networks in constant transformation. These ideas of power characterise resistance as part of the game: there is no power without resistance (Foucault 1980). Considering these ideas, Lila Abu-Lughod (1990) develops her conceptualization of resistance and reflects over the effects resistance studies have had over the theories of power. Since the 1990s, previously devalued forms of resistance have been re-evaluated: that is, "subversions rather than large-scale collective insurrections, small or local resistances not tied to the overthrow of systems or even to ideologies of emancipation." (Abu-Lughod 1990, 41). In pursuing a non-romanticized reading of resistance, she asks: what does resistance tell us about power? For Abu-Lughod (1990), theorizing resistance involves theorizing power. She proposes resistance as a diagnostic of power, a project for which we ought to attend to the complex workings of power rather than ask about those who resist. In other words, which are the implications of the resistance we, as social researchers, locate? The study of different forms of resistance will allow us to trace the different – often contradictory – workings of power intertwined in a specific context. In the narrative productions of this study, contradictions between cultures is key. Abu-Lughod relates this contradiction to glocal cultures, to the tensions arising between the global and the local. She also points out how, within this dynamic, women assume, subvert and/or reappropriate different cultural norms, either global or local. In my research addressing the experiences of feminist women in love, this helps in clarifying the relationship between a dominant culture in which participants are involved (permeated with romantic love discourses) and the feminist counterculture where they take part (where other counter-narratives emerge and gain a notorious significance).
Narrative Productions: articulating feminist narratives on love
The methodology used in this study is inspired by Donna Haraway's (1991) ideas of situated knowledges, which moves away both from non-critical positivist thinking and extreme relativism. Like Haraway, I assume knowledge is produced from a located, precarious, and partial perspective. It is the result of partial connections. In reference to the empirical research, situated knowledges can be seen as semiotic-material places resulting from the relationship between researcher and participants (Pujol, Montenegro & Balasch 2003). From this view, rather than generalizing or representing, my aim is to collect different positions on the issue.
Narrative Production methodology (Balasch & Montenegro 2003; Pujol, Montenegro & Balasch 2003; Martínez-Guzmán & Montenegro 2014; Gandarias & García 2014; Schongut & Pujol 2015) is based in the collaborative production, between researcher and participants, of a series of narrative texts addressing the topic of study. Once the participants agreed to take part in the study, we carried out one or more sessions addressing love representations, meanings and experiences. Subsequently, I textualized the most meaningful aspects emerging from the participants' narration in a clear and understandable style. In order to maximize  their  agency, I sent the participants the manuscript so they could edit it. The writing process finished with their confirmation of the final version of the text. Once I completed the process with each participant, I got a set of narratives that offer different sets of partial knowledge of love on feminist women (Montenegro & Pujol 2013, 35). These texts are called narrative productions or narratives and I will refer to them as narrative productions in this paper.
The challenge with this methodology is to reflect on this set of narrative productions, considering them theoretical starting points (Gandarias & García 2014). As Montenegro & Pujol (2013) propose, narrative productions are not treated as "pure" empirical material, which means they are not analyzed in the usual sense. The narrative productions are analyzed while being constructed, working from them rather than on them (Martínez-Guzmán & Montenegro 2010). To this end, I have focused on searching for the tensions and the common grounds emerging from the narrative productions (Fraser 2004).
Resisting Love Narratives
In this section I would like to present seven feminist activist women in order to contextualize the coordinates in which these narrative productions have been realized. Their narrative texts are part of a larger study in which ten feminist activist women participated. I selected these women according to different criteria. While they are all feminist activists living in Barcelona, their sexual identities and situations in reference to love differ considerably. I recruited participants from my own personal and political contacts and also through a variation of the snowball sampling technique, which involves asking participants to recruit new participants. I asked feminist friends to recruit possible participants too.
Libertad is thirty-three years old and comes from a city near Madrid. She moved to Barcelona five years ago. She is a sociologist and works as a researcher in gender-related issues. She has been involved in social movements since she was a teenager. She self-identifies as straight and, after a few years of being single, she is starting a new relationship.
Aram is from Barcelona and thirty-two years old. She also has a job in the field of gender equality. She started joining feminist groups in her early twenties. Her romantic trajectory has been straight until recently. Since the end of her most recent relationship, she has been thinking a lot about love.
Lidia was born in Northern Europe and raised in a Latin American country. She arrived in Barcelona in 2005 to do a Masters degree in documentary filmmaking. Since then she has been working on post-pornography as a visual artist, activist and researcher. Her activist trajectory revolves around non-normative sexual practices and gender representations, while love remains unexplored as a field for her activist work.
Rebeca is twenty-four and from a city near Barcelona. She has identified with punk and anarchism since she was a teenager. Overcoming an abusive relationship with a man led her to seek more liberating ways of establishing relationships with both men and women.
Mariona is also from Barcelona and in her early thirties. She is part of the anarchist and feminist movements. Her sexual and affective relationships have always been with feminist women.
Miriam A. and Miriam D. have been long discussing love. They are friends and met each other years ago during a workshop on romantic love. One is from Barcelona and the other comes from a different city but has lived in different places, including the UK. The first identifies as a lesbian and the other thinks of sexuality as a flexible concept. They have worked together in the prevention of abusive relationships and collaborate in several activist projects.
After the narrative productions that I have co-written with these women, I have identified various resistance strategies. First, I will address those resistance strategies that respond to mainstream narratives of love, mostly in its romantic form. Next, I will introduce those that respond to specific feminist narratives of love, which mostly are based in the feminist critique of romantic love.
Dismantling the romantic model. In what follows, I will address three resistance strategies that respond to specific imperatives of romantic love: 1) intentional singleness, which questions compulsory coupledom; 2) lover networks, responding to sexual exclusivity and temporary fixed romantic scripts; and 3) falling for the collective, which redefines the object and the "nature" of love.
Intentional singleness. It is not only heterosexuality that is seen as compulsory, as Adrienne Rich (1980) warned, but also long term relationships. Compulsory heterosexuality as a normative prescription operates through the construction and policing of various forms of "otherness" (Reynolds & Wetherell 2003), such as singleness. Furthermore, this regulation operates within a patriarchal set of relationships, meaning that women have historically been more excluded or questioned by their singleness. Thus they have been defined negatively and in terms of what is lacking (Reynolds & Wetherell 2003; Reynolds, Wetherell & Taylor 2007). Feminist research on the topic has highlighted how in the construction of women's "single" identity, negative and positive discourses are implicated. A discourse of singleness as a lack is present, while also another which redefines it as independence and self-actualization (Reynolds & Wetherell 2003). Perspectives of this kind are echoed in the narrative texts of this study. Some participants explain how they came to wilfully choose singleness after turbulent breakups.
Cuando Héctor me dejó tuve una crisis de autoestima muy fuerte. Estuve revolcándome en el fango durante meses, sintiéndome una mierda. [Más tarde], [e]mpecé a hacer cosas que nunca antes había hecho sola, como ir a conciertos o hacer una estancia en Viena. Mi proceso fue progresivo, poco a poco he ido sintiéndome mejor y sin recaídas.[1] (Libertad, p. 4)
In a similar vein, Aram explains how she happened to find out she could be fine being single:
[D]escubrí que podía estar sin novio y empecé a tener relaciones en otro formato. Amantes y encuentros puntuales. De golpe experimenté el "no-compromiso". Pasé de pensarme en relación a otro a pensarme por mí misma. No solo descubrí que podía estar sin novio, sino que además así estaba bien.[2] (Aram, p. 3)
Although both came to view singleness as a desired state, we can see some differences in their extracts. Libertad evokes elements of independency and a more extended social life as the capacity to do activities on her own and with other people. This makes her feel good because she is no longer identifying singleness as a lack but as gain. For Aram, on the other hand, wellbeing as a single woman is located in her ability to manage her sexual life and an identity of her own, non-mediated by a partner. However, both extracts share a common base: regardless of their focus (social or sexual life, identity), their achievements relate to overcoming a partner-oriented model. This movement, as Libertad acknowledges, is a long progressive way, with challenges to face. She points to social pressure as the one of most concern:
Hay mucha presión, vas a una boda y vas sola, o a otras actividades, siempre sola. A veces he tenido la sensación de que la gente me miraba sintiendo pena. Y lo más sorprendente es que yo estaba bien, estaba sola por elección. Hasta los colegas del barrio (con quienes tengo afinidad política) me cuestionaban por estar soltera. [3] (Libertad, p. 8)
In the experience of Libertad, social pressure appears as challenging, although not very constraining. Her awareness of wellbeing is not especially affected, but she finds herself constantly questioned and having to justify herself as being single, a very common experience single women share (Reynolds & Wetherell 2003). Also, it is interesting to note how the pressure comes from different audiences. It is not by chance that Libertad illustrates this questioning through mentioning a wedding. Although in Spain women are less likely to be married than their European counterparts, with those who do marry doing so later in life (INE Spain 2015), heterosexual marriage is still more accepted than other forms of relationships. For women, their early thirties is a stage in life in which friends, relatives and acquaintances may start to get married or to establish other types of long-term relationships with or without cohabitation. The wedding appears here as the ultimate representation, and indeed the ritual form, of our tendency to "couple" or to "partner" one another in an official and public way. But this questioning is not only coming from the most normative audiences, but also from politically radical circles. This is where the contradiction arises: how is it that people with whom she shares a politically radical position, are using heteronormative narratives to read her personal life? I would argue that her relationships are seen as a private issue, thus remaining non-politicized and therefore easier to evoke a dominant view.
In conclusion, I have addressed intentional singleness as a resistance strategy which responds to compulsory coupledom. This strategy consists of the redefinition and re-evaluation of singleness as a possible and acceptable way of being in the world which opens possibilities for a wider social life, an enriching sexual life and a fully completed sense of self. In the quotes from Libertad and Aram, this is not seen as an idealized model; rather, it confirms their everyday experience, a progressive path where they must face the social pressure coming from different audiences.
Lovers networks. Existing in the world necessarily entails relationships with others. Authors such as Judith Butler (2009) and Silvia Gil (2011) have noted our inherently interdependent relationships with others. We are immersed in multifarious networks of relationships with whom we share different forms of intimacy. Lidia frames the issue as such:
[H]aber mantenido relaciones con amantes que se han ido alargando en el tiempo, ha ido modificando mi manera de entender el amor. Estas relaciones, donde a lo mejor follo una vez al año con una persona que conozco desde hace mucho tiempo, me ha permitido ver el amor como un proceso más lento. Quiero a estas personas, y aunque no compartimos una cotidianidad, lo que siento por ellas es amor. Se dan distintos grados de intimidad y confianza, pero tengo amantes con los que creo que podría estar de amante toda la vida o al menos muchísimos años. Al haber pasado tanto tiempo te vas conociendo más, y se genera una relación de compañerismo que es un amor interesante, que no podría ocurrir si tienes una relación estrictamente monógama. Estas relaciones son como amistades con intimidad y sexo. También son relaciones con las que a veces trabajo en algún proyecto. [4] (Lidia, pp. 6-7)
Based on similar experiences, Rebeca reflects on temporality as the backbone of the dominant understandings of intimate relationships.
[E]n mis relaciones de amistad sexoafectivas sí he podido encontrar más esa espontaneidad y libertad, sin las exigencias propias que devienen en una pareja más "clásica", y lo que es más importante para mí: esa confianza y complicidad no en todos los casos se ha marchitado, sino que se ha transformado y ha perdurado en el tiempo, volviéndonos así compañeras intermitentes, permanentes, atemporales, eternas. [5] (Rebecca, pp. 2-3)
For both extracts, I would like to focus on how temporality and intimacy are presented in opposition to traditional couple relationships. Dominant love narratives position couples in a linear temporality. This usually begins with a process of "courtship" or flirting when the conditions of the relationship remain to be negotiated until the couple is defined as such. This type of narrative usually ends with either the beginning of a long-term relationship or the end of it. Lidia and Rebeca suggest a different temporality in which the boundaries of beginning and end are unclear. Lidia describes further this kind of temporality in the following fragment:
Son relaciones que entienden que yo puedo estar en un pico amoroso y entonces desaparecen temporalmente y luego reaparecen y eso se produce muy orgánicamente. El grado de exigencia con la otra persona es menor y eso facilita que se adapte a disponibilidades personales y afectivas. Por ejemplo, si un amante me llama para quedar, pero yo estoy en el mundo del corazón […] y no me apetece… no pasa nada. Son relaciones infrecuentes o de frecuencia variable, una vez al mes o una vez cada tres meses… A veces también he tenido un subidón de amor con alguno de mis amantes… quizás dura una semana, luego decae, pero vuelve la otra persona… sería como un gráfico de ondas.[6] (Lidia, pp. 7-8)
Here intermittence emerges, varying in intensities and availabilities, ranging from very intense moments to periods of absence which are not understood as lack of attachment. In this sense, intimacy is reconfigured at different levels. Not sharing an everyday life is not seen as a lack of intimacy, but the contrary. The connection is not based here in a common everyday life, but in sharing an intensity and sexual intimacy. Although precarious and inconsistent, this kind of love is highly valued by both participants. This may not sound like something new nowadays, where sexual life and intimacy have adopted different forms in Western societies. However, there is a kind of convenience, as opposed to engagement and commitment, which makes me suspicious. Lovers seem to appear "naturally" when they are needed and in a way that fits individualistic interests. So, from a critical perspective, it is important to ask to what extent this kind of intimacy is mediated by individualized contemporary discourses.
What is interesting about Lidia and Rebeca's reflections is that, unlike in mainstream society, they recognize these relationships as love, even if it is a love of a different kind. In this sense, these experiences have resulted in a change of their conceptualization of love.
In conclusion, the forming of lover networks appears to be an ambivalent strategy which challenges sexual exclusivity and its temporality by recognizing the intimacy shared with lovers as a valuable kind of love. However, while being liberating for the participants, these practices of intimacy may intertwine with individualistic dominant discourses, an issue in which further research is needed.
Falling for the collective. Miriam A. and Miriam D. describe how they felt about the feminist group in which they were both taking part a few years back:
Miriam D.: Yo estaba todo el dia de asamblea en asamblea. Trabajaba en un librería de mujeres, acababa de terminar el Máster de Estudios de las Mujeres […] … Okupabamos entre mujeres, hacía autodefensa, […]… Tenía la vida más feminista que podía tener y luego tenía un novio, que estaba en casa… Estaba enamoradísima de la red, de todas las cosas que sucedían. Todo era como una montaña rusa, me dejaba llevar y me encantaba.

[…]

Miriam A.: Había un discurso muy bonito de lo colectivo y de repente empiezas a ver las fisuras que has estado ignorando.

Miriam D.: Porque nos enamoramos…

Miriam A.:¡Es muy romántico! Se sustituye la pareja por el colectivo. Te enamoras románticamente del colectivo, ignoras sus fisuras y cuando todo estalla, la ruptura se hace muy difícil.

Miriam D.: Acaban saliendo resentimientos hacia el colectivo…

Miriam A.: Algo no hemos hecho bien que cuando todo se acaba y no nos podemos ni ver… Eso pasa mucho en la pareja.

Miriam D.: Te prometes todo y de repente como no es verdad, la decepción es máxima.

Miriam A.: Creo que deberíamos aceptar que no todo es tan intenso y absoluto, aprender a acabar y acabar mejor. […] Por otro lado, sin esa energía muchas cosas no saldrían. Por eso en el fondo creo que no puede ser malo. La energía que desprendemos cuando nos enamoramos de alguien o de algo, que puedes no dormir y empiezas a hacer de todo… A mí me cuesta encontrar esa energía sin el enamoramiento. No creo que sea solo político… ¿esa energía de donde sale? ¿Eso es puramente construido? Esa cosa que no te da nada más… Pienso en algunos grupos que conocí hacía 2009 y desprendían una energía muy potente… Yo me enamoré de todas y de la energía que desprendían, me encantaba… y luego acabó como el rosario de la Aurora. Parece que cuanto más subidón, luego más bajón…[7] (Miriam A & Miriam D, p. 11)
In their story, the expansion of the loving object reaches the collective. So much affection is put into their political projects that they "fall for the collective." Love here becomes characterized as a force, an energy that is the basis of mobilization and collective action, rather than as the passionate sexual bond associated with romantic love. This move echoes Hardt and Negri's politics of love (2009). These authors develop a reconfiguration of the notion of love in which they place the common in the center. From this perspective, romantic couple love is seen as narrow, yet the focus goes beyond individualistic practices of intimacy. Rather, it seeks to reclaim the collective. In the narrative productions, however, some romantic features still remain. Romanticizing the collective emerges as a double-edged sword. It has the potential to challenge the legitimate object of love, which moves from being a person or a network of multiple lovers to a specific group of people with whom they share political activism. Some features of the dominant romantic narrative also emerge. The latter part of the quote suggests that in the process of falling for the collective, there are a number of romantic love scripts in play. The naive happy beginning and difficult ending resonate with the romantic temporality revised before. All the passion attached to it also sounds really romantic. In addition, for Alberoni (1996), love is a collective movement of two, which recuperates the idea that there is something about love that is not totally individual. Still, for Miriam A., despite the problematic of the romantic script, the collective fusion has a great destabilizing potential.
In general, this strategy should be consider in its double character: it politicizes the romantic and romanticizes the political. On one hand, the politicization of the romantic appears as a move towards a transformative notion of love, while on the other hand, the romanticization of the political appears as the process by which some elements of the romantic narrative of couple love is assimilated into a narrative about a wider love experienced within a political collective.
Living the contradiction. Contradictions seem to be a part of our subjectivities and have inspired much feminist writing on love and romance (Jackson 1999). These contradictions seen to be more evident in love where very different narratives are in constant play. As Jackson (1999) points out, there is a contradiction between two of the strongest narratives of love in the Western world. Passionate romantic love – as featured in many forms of artistic expression – favours intensity, whereas the lived narrative of heterosexual pair-bonding emphasis long-term commitment. We are both imbued with the mystery of falling in love as with the routinization of a long-term relationship. The narrative of love as an altruistic emotion is as present as the narrative which identifies romantic love as self-centred and individualistic. Eva Illouz focuses on the contradictions of love in contemporary Western societies (1997). With a focus on love, its practices and their relation to the economic sphere, she traces how the contradictions of capitalism have reached the sphere of love. When the narratives of the productive sphere crosscut the private, it is inevitable that contradictions emerge. For Illouz (2012), contradictions are an unavoidable part of culture and, in general, most people manage to move among them without struggling, but this scenario changes when the contradictions affect the articulation of experience. In such cases, incorporating the contradictions into everyday life becomes a difficult task. This difficulty becomes evident in many of the narratives productions I have collected. It is clear in this piece by Libertad:
El amor para mí es un gran contradicción. […] Por una parte pienso en el amor como un sentimiento positivo, pero no puedo evitar que lo primero que se me venga a la cabeza al pensar en el amor sea la negación de la persona. Es cierto que cuando te enamoras estás más contenta, de mejor humor y todo te parece más bonito. Sin embargo, no puedo dejar de relacionar amor con negación individual, sobre todo a partir de la idea generalizada de amor romántico que nos venden y que se reproduce por todas partes. Tengo esa contradicción. Por un lado pienso que el amor es negación de la individualidad, de la autonomía y por otro lado pienso que somos seres sociales y que el amor nos hace creer en los otros y en las otras. [8] (Libertad, p. 1)
Different narratives are interconnected in this fragment. First, love as a positive emotion and its transformative power (it makes us believe in others). Within that positive aspect of love, falling in love is also mentioned. It is interesting how, as Jackson has suggested, "even feminists resort to mystical language to describe it [love]" (1999, 116). Although there is not a mystical language here, there is a positive and magical understanding of falling, as it is seen as a state in which everything seems to be better. On the other hand, there is a strong presence of a negative reading of romantic love more specifically, which evoking the feminist critique which centres on lack of autonomy and individuality as key elements that are denied in the name of love.
The participants in this study incorporate and make their own narratives after the narratives available in their cultural arena (Jackson 1999). As Illouz (2012) explains, culture provides people with different discourses which are often contradictory and which are used, at different moments and circumstances, to account for different aspects of the experiences of love.
In the stories of the participants, many narratives are in play. Besides the mainstream narratives of love, they also incorporate feminist narratives, meaning the contradiction becomes more evident and more difficult to deal with. In the following strategies I will focus on two different ways of dealing with some of the contradictions they struggle with specifically as feminists.
Claiming "romance". When Lidia and I were constructing her narrative production I was absolutely captivated by this story of her childhood:
[C]on ocho años descubrí las telenovelas. Todas mis compañeras del colegio las veían y a mí me enganchaban mucho. Pero eran tan nefastas ideológicamente que mi mamá me las prohibía y aun así yo me las ingeniaba para verlas a escondidas. Ella guardaba la tele en la parte alta de un armario y resolví el asunto poniendo un alargo que alcanzara hasta el enchufe. De esa forma podía ver las telenovelas a gusto y antes de que llegara mi mamá ya había quitado el alargo y cerrado el armario como si nada hubiera pasado. En estas telenovelas se reproducían los imaginarios clásicos del amor romántico: enamorarse para siempre, encontrar la pareja indicada, que alguien que te salve… Es como una metáfora divertida que ese imaginario en mi casa fuera el que se tenía que quedar dentro del armario.[9] (Lidia, p. 1)
Lidia's mother was an artist who had lesbian and feminist friends, so as a child Lidia had different reference points beyond the nuclear family. It is interesting to note that from an early age she was resisting her mother's power by watching telenovelas secretly. A hugely popular cultural product in Latin America, telenovelas were nevertheless forbidden by her mother on account of their reinforcement of patriarchal relations. The consumption of romantic fiction has been largely researched by feminist scholars. Some of these contributions have highlighted how romantic fiction consumers are not merely assimilating a dominant narrative, taking more seriously the pleasures of romance (Jackson 1999; Roach 2010; Frantz & Selinger 2012). In this sense, I see Lidia's secret consumption of telenovelas as a site of resistance in which she could fantasize with the narratives that were forbidden in her home. It is interesting here to note how, in this case, what is dominant in mainstream society becomes a site of resistance as the order of Lidia's childhood home works with its own set of norms and values. Later in her story, she refers to a similar strategy in the present time:
Hay perspectivas feministas -que parten de la crítica al amor romántico- que consideran que enamorarse está mal. Aunque comparto la base de esta crítica, no creo que enamorarse esté del todo mal. A veces me da la sensación de que esta crítica se traduce en una negación y/o desintensificación emocional del amor. Yo me resisto a esto, no quiero renunciar a la intensidad del amor, me gusta, soy una yonki. Pero el amor viene en un pack que está muy satanizado: el amor romántico, el sufrimiento… Hay gente que te manda a la mierda por hablar del amor o por enamorarte y creo que este tipo de discursos generan más que ninguna otra cosa, culpa.[10] (Lídia, p. 5)
This illustrates how within our contradictory subjectivities it is possible to maintain a critical view of romantic love and its connection to patriarchal relations while still desiring a romantic fantasy and the passion of falling in love. Moreover, in Lidia's experience, claiming romance has a specific meaning due to the specificity of her context. Two different narratives are in tension here: the romantic narrative of passion and intensity associated with falling in love, and the feminist narrative of the critique of romantic love as an ideological delusion (Beauvoir 1999; Firestone 1972; Rich 1980; Wittig 2006). Lidia seems to be articulating both narratives in her own experience, while in her feminist circles they appear totally differentiated.
Siento que lo que hay es más un discurso de la negación y esto me molesta y me ha llevado a reivindicar públicamente que yo me enamoro mucho, muy intensamente y todo el tiempo. Reivindicar esta posibilidad en ciertos contextos genera una cierta transgresión de este tabú que es el amor.[11] (Lídia, p. 10)
In this extract, she explicitly reclaims the right to fall in love, a lot and intensely, which calls into question the feminist critique of romantic love as an hegemonic narrative within feminism. Thus, claiming romance here it is not only a resistance that recognizes the many pleasures romance can have for women but is also responding to what has becoming hegemonic in her feminist networks. Moreover, Lidia is not only critical of the hegemony of the critique of romantic love in her circles, but also includes two understandings of love. The first refers to the way feminism has traditionally understood love – as a patriarchal ideology subordinating women. The second refers to her own understanding – as a biochemical engagement capable of producing a boundless energy. Although her proposal is based in the feminist critique, she remarks that it fails to explain her actual experience. The power she is resisting is the "punishment" of her affinity group and she does it precisely by strengthening its position and pointing to a rupture in the same counter-power.
I argue that, in this specific context, incorporating elements of the dominant romantic narrative results in a form of resistance because 1) it challenges specific power relations within feminist networks, and 2) because the participants do not base their assumptions on an uncritical assimilation of the dominant, but redefine and appropriate it from their own experience and feminist position.
Accepting the contradiction. Lidia is not the only participant with a self-critical view on the rigidity of love's rejection within feminist environments. Other participants like Mariona and Aram also raise the acceptance of contradictions as a starting point for personal and collective feminist work.
Lo difícil es ser sincera contigo misma, ya no sólo con las demás. Ser capaz de aceptar cosas que salen de una misma, de reconocer que reproducimos. Es muy difícil aceptar mucha mierda dentro y que es fácil decirlo, pero cuando sale es muy doloroso. […] Es difícil aceptar cosas que son mal vistas en nuestro entorno.[12] (Mariona, p. 4)
Mariona highlights the difficulty in accepting these contradictions as a feminist, both at a subjective and interpersonal levels. First, she refers to her own feelings and emotions dealing with assimilation, then she points to how the rest understand that assimilation. Assimilating here is understood as failure. However, she chooses to accept it. By recognizing herself an active participant in a feminist counter-narrative, which is also part of a dominant narrative (the romantic), she rejects an external position from mainstream society, while still questioning it.
Aram proposes a possible way to address this contradiction:
Nos sabemos la teoría y me parece un buen punto de partida, pero ¿por dónde continuamos? Asumo la distancia entre teoría y práctica y puede dejar de resultarme incómoda. Sin embargo, siento que fuera de los círculos más íntimos de amistad, no se comparten estas contradicciones. Hay muchos tabús y entre feministas también. Pero el feminismo no tiene que servir para encorsetarnos, sino para lo contrario, para liberarnos, aunque esto implique contar nuestras miserias. Tendríamos que sacar las basuras, rescatarlas y continuar desde ahí.[13] (Aram, p. 5).
Both Mariona and Aram refer to internal processes dealing with pain and contradiction and how these may become invisible among feminist activist circles, but are shared among closer friends. This suggest a division between irrationality and a political rationality and a specific regime of emotions. Contradictory emotions seem not to be accepted at a public level and are thus privately experienced and shared only with the closest friends with whom we feel free to relax. They propose a different dynamic, in which contradictory emotions have a place in political activism. Thus the division of irrationality and rationality is slightly blurred.
In conclusion, this strategy is based on the inclusion of explicit work on the contradictions as part of the emancipatory feminist project. Rather than making contradiction invisible, this could be a starting point from where to accept our cultural and social constraints.
Towards Narrating The Contradictions
In this paper I have identified various resistance strategies in the narrative production of seven feminist activist women in Barcelona. First, I have addressed the resistance strategies that respond to romantic love narratives. Among these, I have included intentional singleness, which questions compulsory coupledom; lover networks, which respond to sexual exclusivity and temporary fixed romantic scripts; and falling for the collective, which redefines the object and the "nature" of love.
Next, I have explored those challenging feminist narratives with a focus on the contradictions of love. Claiming romance incorporated elements of the romantic narrative while challenging specific power relations within feminist networks. Finally, accepting the contradiction suggested that feminist work should start from these contradictions.
Exploring these resistance strategies enables us to think how feminist women construct their love narratives while opening new possibilities of thinking about love. The danger of establishing new hegemonies still remains, but women resist and negotiate their personal love narratives in the context of the meaning of dominant narratives of love and feminist counter-narratives. The Narrative Production methodology provides the opportunity to explore these resistances through the process of co-producing the texts with the participants. This methodology is reminiscent of narrative inquiry and its focus on the importance of people's lives and how they give meaning to them (Bruner 1991, 2004), but with a special interest on drawing new horizons to understand love experiences within feminist practice, owing to its commitment to challenge taken-for-granted beliefs and assumptions (Jackson 1998). From this perspective, it posits the generation of different positions – in both researcher and participants – in relation to the topic of study (Balasch & Montenegro 2003, Montenegro & Pujol 2012). The process of co-producing narratives can be seen as a "circle of dialogue" in which the text is negotiated between both parties. Within this "circle of dialogue", it is possible to unearth hidden or subordinated ideas whose importance rests in putting established theories in doubt, thus producing new theories that are more closely connected to people's lives (Fraser 2004). Specifically, it has accounted for the contradictions between critical feminist perspectives and personal experiences. This is an opportunity to generate understandings of love which differ not only from those grand love narratives that dominate our everyday lives, but also from the feminist critiques of romantic love to which we have become accustomed. It opens a way to perform critical understandings of love.
---
[1] For this paper I am using the original extracts in Spanish of the narrative productions. The translations to English, by Michael Stewart and I, are included as footnotes to each fragment. "When Héctor left me I suffered a real self-esteem crisis. I got totally bogged down in it for months, feeling like shit. [Later] I started to do things that I had never done before on my own, like going out to shows or spending time [on a doctoral trip] in Vienna. It's been gradual for me: little by little I've been feeling better without falling back."
[2] "I discovered that I was able to be boyfriend-less, and I started having relationships in a different way. Lovers, hooking up here and there. All of a sudden I had a taste of 'no strings attached'. I moved from thinking about myself in relation to another, to thinking about myself as myself. I didn't just discover that I was capable of not having a boyfriend, but that even more so I was OK that way."
[3] "There's a lot of pressure: you go to a wedding and you go alone, or to other social occasions, always on your own. Sometimes I've had the feeling that people are looking at me in pity. And the most surprising thing is that I was fine, I was on my own by choice. Even friends from my neighbourhood (with whom I have a political affinity) have challenged me about being unattached."
[4] "Having maintained relationships with lovers that have grown over time has gradually changed my way of understanding love. Those relationships, where maybe I have sex once a year with someone I've known for a long time, have allowed me to see love as a slower process. I love these people, and even though we don't share a day-to-day life, what I feel for them is love. There are various degrees of intimacy and trust, but I have lovers who I could see being life-long lovers, or at least for many, many years. With so much time having passed you get to know yourself better, and a kinship forms that is an interesting kind of love, one that couldn't happen if you had a strictly monogamous relationship. These relationships are like friendships with intimacy and sex. They're also partnerships which I work within at times on certain projects."
[5] "In my emotional-sexual friendships I have definitely been able to find more of a certain spontaneity and freedom, without the demands that inherently emerge in a more 'classic' couple. And more importantly for me: that confidence and mutual support hasn't withered away, but instead has been transformed and has held out over time, making us in turn periodic companions, permanent companions, timeless companions, eternal companions."
[6] "They're understanding of the fact that I can be head over heels [for someone else] so they take a step back and then come back on the scene and the whole thing plays out very organically. There's less demand on the other person and that helps them to adapt to changing emotional and personal availability. For example, if a lover called me to meet up, but my heart's elsewhere…and I don't want to…that's cool. They're infrequent relationships, or of varying frequency, once a month or once every three…Sometimes as well I've been totally smitten with one of my lovers…maybe for a week, then it fades, but someone else comes back…it's like a wave graph."
[7] "Miriam D : I was spending the whole day going from meeting to meeting. I was working in a women's bookshop, I was just about to finish my Masters in Women's Studies…We were squatting as women, we were practicing self-defense… I had the most feminist life I could have and by the way I had a boyfriend, he was at home…I was completely in love with the network, with everything that was happening. The whole thing was a rollercoaster, I was letting myself get carried away and I loved it.
Miriam A : The collective had this really beautiful discourse, then all of a sudden you start to see cracks that you've been ignoring.
Miriam D : Because we were in love…
Miriam A : It's very romantic! The couple is replaced by the collective. You fall in love romantically with the group, you ignore the cracks and when it all explodes the break-up becomes really difficult.
Miriam D : Some resentments towards the collective end up coming out…
Miriam A : There's something we haven't done right when everything is over and we can't even face each other…that happens a lot between couples.
Miriam D : You promise everything and then all of sudden, since it's not true, there's this huge disappointment.
Miriam A : I think that we ought to accept that it's not so heavy and final, and to learn to finish and to finish better…Besides, without that energy a lot of things wouldn't come to pass. For that reason I don't think it's inherently bad. The energy we give off when we fall in love with someone or something, where you can stay awake and do everything…for me it takes a lot to find that energy without being in love. I don't think it's just political…where does that energy come from? Is it just a social construct? That thing that nothing else can give you…I'm thinking about some groups that I was familiar with towards 2009, and they gave off this powerful energy…I fell in love with all of them and the energy they were giving off, I loved it…and then it all went to blazes. It's like the bigger the high, the bigger the fall…"
[8] "Love for me is a huge contradiction…on one hand I think of love as something positive, but I can't hide from the fact that the first thing that comes to my head when thinking about love is the denial of the person. It's true that when you fall in love you're happier, you're in a better mood, and everything seems nicer to you. Nevertheless, I can't stop relating love with self-denial, especially the general idea of romantic love that they sell us and that is played out everywhere. I've got that contradiction. On one hand I think that love is a denial of individuality, of autonomy, and on the other hand I think we're social beings and that love makes us believe in others."
[9] "[I] discovered telenovelas when I was eight. All my classmates from school watched them and I was so hooked. But they were so dire ideologically that my mum banned me from watching them and I still managed to do it secretly. She kept the TV on top of a closet and I resolved the matter by using an extension plug. That way I could watch the telenovelas at ease and before my mum was back, I had already removed the extension and closed the closet as if nothing had happened. Those telenovelas reproduced the classic romantic love imaginary: falling in love for ever, finding the right partner, that someone saves you… It is a funny metaphor, that it was this imaginary that had to stay in the closet in my house."
[10] "There are feminist perspectives – that start from a critique of romantic love – that hold that to fall in love is bad. Although I agree in principle with this critique, I don't think that falling in love is completely bad. Sometimes I have the feeling that this critique translates into a denial and/or an emotional pairing-down of love. I resist this, I don't want to give up on the intensity of love, I like it, I'm hooked on it. But love comes in a pack that's very sanitized: romantic love, suffering…there are people that would kick you to the gutter for talking about love or falling in love and I think that this kind of discourse creates guilt more than anything."
[11] "I feel that what we've got is more of a discourse of denial. That bothers me, and has brought me to assert publicly that I fall in love a lot, passionately, and all the time. Standing up for this possibility in certain contexts sparks a certain transgression of the taboo that is love."
[12] "The hard thing is to be honest with yourself, never mind with everyone else. Being capable of accepting things that come from within oneself, of recognising that we reproduce things. It's very hard to accept a lot of the shit we keep inside, albeit that it's easy to say, but when it comes out it's very painful…It's hard to accept things that are frowned upon in our circles."
[13] "We know our theory and that seems like a good starting point to me, but where are we headed? I'm coming to terms with the distance between theory and practice and it might stop becoming uncomfortable for me. Yet I feel that outside of those particularly close circles of friendship, these contradictions aren't talked about. There are a lot of taboos, among feminists too. But feminism shouldn't be a straitjacket for us, rather the opposite, something to liberate us, even when that involves talking about our hardships. We ought to take out the garbage, salvage what we need, and continue from there."
References
Abu-Lughod, Lila. "The Romance of Resistance: Tracing Transformations of Power through Bedouin Women." American Ethnologist, 17.1 (1990): 41-55. Web.
Alberoni, Francesco. Enamoramiento y amor. Barcelona: Gedisa, 1988. Print.
Balasch, Marcel & Marisela Montenegro. "Una propuesta metodológica desde la epistemología de los conocimientos situados: Las producciones narrativas." Encuentros en Psicología Social, 1.3 (2003): 44-48. Print.
Barker, Meg-John. Rewriting the Rules: An Integrative Guide to Love, Sex and Relationships. London: Routledge, 2012. Print.
Beavoir de, Simone. El segundo sexo. Madrid: Catedra, 1999. Print.
Bruner, Jerome. "The Narrative Construction of Reality." Critical Inquiry, 18.1 (1991): pp.1-21.
Bruner, Jerome. "Life as Narrative." Social Research, 71.3 (2004): 691-710.
Butler, Judith. Frames of War: When is Life Grievable? London: Verso, 2009. Print.
Comer, Lee. Wedlocked Women. Leeds: Feminist Books, 1974. Print.
Easton, Dossie & Janet W. Hardy. The Ethical Slut: A Practical Guide to Polyamory,
Open Relationships and Other Adventures. Berkeley: Ten Speed Press, 2009. Print.
Esteban Galarza, Mari Luz; Medina Doménech, Rosa & Távora Rivero, Ana. "¿Por qué analizar el amor? Nuevas posibilidades para el estudio de las desigualdades de género." Simposio Cambios culturales y desigualdades de género en el marco local-global actual. X Congreso de Antropología de la F.A.A.E.E. 2005.Web.
Esteban Galarza, Mari Luz. Crítica al pensamiento amoroso. Barcelona: Edicions Bellaterra, 2011. Print.
Frantz, Sarah S.G. & Eric Murphy Selinger (eds). New Approaches to Popular Fiction. Critical Essays. Jefferson, NC: McFarland, 2012. Print.
Ferguson, Ann & Anna G. Jónasdóttir. "Introduction." In Love: A Question for Feminism in the Twenty-first Century. Ed. Ann Ferguson & Anna G. Jónasdóttir. New York: Routledge, 2014. Print. 1-9.
Firestone, Sulamith. The Dialectic of Sex. London: Paladin, 1972. Print.
Foucault, Michel. Power/Knowledge. New York: Pantheon, 1980. Print.
Fraser, Heather. "Doing Narrative Research Analysing Personal Stories Line by Line." Qualitative Social Work, 3.2 (2014): 179-201. Web.
Gandarias, Itziar & Nagore García. "Producciones narrativas: Una propuesta metodológica para la investigación feminista." In Otras formas de (re)conocer. Reflexiones, herramientas y aplicaciones desde la investigación feminista. Ed. I. Mendia, M. Luxán, M. Legarreta, G. Guzmán, I. Zirion, & J. Azpiazu. Bilbao: UPV/EHU, 2014. Print.
García, Nagore & Marisela Montenegro. "Re/pensar las Producciones Narrativas como propuesta metodológica feminista: Experiencias de investigación en torno al amor romántico." Athenea Digital, 14.4 (2014): 63-88. Web.
Gergen, Kenneth & Mary M. Gergen. "Narratives of the Self." In Studies in Social Identity. Ed. Theodore R. Sarbin & Karl E. Scheibe. New York: Praeger, 1983. Print. 225-273.
Gil, Silvia L. Nuevos feminismos. Sentidos comunes en la dispersión. Una historia de trayectorias y rupturas en el Estado español. Madrid: Traficantes de Sueños, 2011. Print.
Haraway, Donna. Simians, Cyborgs, and Women: The Reinvention of Nature. London: Free Association Books, 1991. Print.
Haraway, Donna. "The Promises of Monsters: A Regenerative Politics for Inappropriate/d Others." In Cultural Studies. Ed. L. Grossberg, C. Nelson, & P. A. Treichler. New York: Routledge, 1992. Print. 295-337.
Hardt, Michael & Antonio Negri. Commonwealth. Cambridge, MA: Harvard UP, Cambridge, 2009. Print.
hooks, bell. All About Love: New Visions. New York: Perennial, 2001. Print.
Illouz, Eva. Consuming the Romantic Utopia: Love and the Cultural Contradictions of Capitalism. Berkeley: University of California Press, 1997. Print.
Illouz, Eva. Why Love Hurts: A Sociological Explanation. Cambridge: Polity Press, 2012. Print.
INE Spain (Instituto Nacional de Estadística). "Marriages and births in Spain." 2015. Web.
Jackson, Stevi. "Even Sociologists Fall in Love: An Exploration in the Sociology of Emotions." Sociology, 27.2 (1993): 201-220. Web.
Jackson, Stevi. "Telling Stories: Memory, Narrative and Experience in Feminist Research and Theory." In Standpoints and Differences, Essays in the Practice of Feminist Psychology. Ed. Karen Henwood, Christine Griffin and Ann Phoenix. London: Sage, 1998. Print. 45-64.
Jackson, Stevi. "Women and Heterosexual Love: Complicity, Resistance and Change." In Heterosexuality in Question. Ed. Stevi Jackson. London: Sage, 1999. Print. 113-122.
Jónnasdóttir, Anna. G. El poder del amor: le importa el sexo a la democracia. Madrid: Catedra, 1993. Print.
Lagarde, Marcela. Los cautiverios de las mujeres. Madrid: Horas y Horas, 1990. Print.
Langford, Wendy. Revolutions of the Heart: Gender, Power and Delusions of Love. London: Routledge, 1999. Print.
Martínez-Guzmán, Antar & Montenegro, Marisela. "La producción de narrativas como herramienta de investigación y acción sobre el dispositivo de sexo/género: Construyendo nuevos relatos." Quaderns de Psicologia, 16.1 (2014): 111-125.Web.
Millett, Kate. Sexual Politics. London: Sphere Books. 1971. Print.
Montenegro, Marisela & Pujol, Joan. "Producciones narrativas: Una propuesta teórico-práctica para la investigación narrativa." In Coloquios de investigación cualitativa. Desafíos en la investigación como relación social. Ed. Horacio Luis Paulín y Maite Rodigou Nocetti. Córdoba: Universidad Nacionalde Córdoba, 2013. Web. 15-42.
Pujol, Joan, Marisela Montenegro, & Marcel Balasch. "Los límites de la metáfora lingüística: Implicaciones de una perspectiva corporeizada para la práctica investigadora e interventora." Política y Sociedad, 40.1 (2003): 57-70. Web.
Reynolds, Jill & Margaret Wetherell. "The Discursive Climate of Singleness: The Consequences for Women's Negotiation of a Single Identity." Feminism & Psychology, 13.4 (2003): 489-510. Web.
Reynolds, Jill; Margaret Wetherell, & Stephanie Taylor. "Choice and Chance: Negotiating Agency in Narratives of Singleness." Sociological Review 55.2 (2007): 31-351. Web.
Rich, Adrienne. "Compulsory Heterosexuality and Lesbian Existence." Signs 5.4 (1980): 631-660. Print.
Roach, Catherine. "Getting a Good Man to Love: Popular Romance Fiction and the Problem of Patriarchy." Journal of Popular Romance Studies 1.1 (2010). Web.
Schöngut Grollmus, Nicolás, & Joan Pujol Tarrés. "Stories about Methodology: Diffracting Narrative Research Experiences." Forum Qualitative Sozialforschung / Forum: Qualitative Social Research 16.2 (2015). Web.
Wittig, Monique. El pensamiento heterosexual y otros ensayos. Madrid: Egales, 2006. Print.

[End Page 1]
In Greek the act of love is a mingling (mignumi) and desire melts the limbs (lusimelēs) (Sappho, Fr. 130). Boundaries of body, categories of thought, are confounded. The god who melts limbs proceeds to break the lover (damnatai) as would a foe on the epic battlefield: Oh comrade, the limb-loosener crushes me: desire.

– Anne Carson, Eros the Bittersweet
As Carson argues via her explorations of Sappho's poetry and other literary texts, both classical and modern, in her essay collection Eros the Bittersweet, the Greek poets portray the god of love, Eros, as limb-loosener. The god Eros belongs to a collective of winged gods of love and sex called Erotes (amongst them Anteros, Hedylogos, Hermaphroditus, Himeros, Hymenaeus, and Photos). Eros, however, is also one of the four words in Ancient Greek to describe "love". While storge refers to familial love, philia to friendship, and agape to selfless love, eros concerns intimate and romantic love, often with sexual overtones. When E/eros (as god and as concept) is described as melting limbs and breaking the lover, it becomes evident that love, driven by the desire for the other, has the potential to rattle boundaries and cross borders. The juxtaposition of opposites (self and other, pleasure and pain, longing and fulfilment, bitter and sweet) that is inherent to love creates movement and provokes action. "Mingling" and "loosening" mark a disturbance of categories of thought, body, place, and identity.
Referencing the descriptions of eros in Plato's Phaedrus and the philosophical dialogue staged between its protagonists Socrates and Phaedrus, Carson posits love as "an invasion, an illness, an insanity, a wild animal, a natural disaster" whose action is
to melt, break down, bite into, burn, devour, wear away, whirl around, sting, pierce, wound, poison, suffocate, drag off or grind the lover to a powder. Eros employs nets, arrows, fire, hammers, hurricanes, fevers, boxing gloves or bits and bridles in making his assault (1986, 8).
But even though potentially destructive and life-threatening, love always also possesses the capacity for transformation (expressed in the above quote through imagery of natural catastrophes and corporeal processes such as eating and digestion). As Catherine Belsey argues in Desire: Love Stories in Western Culture, love "marks the limits of human mastery" (1994, 27). Love unhinges, makes fluid, makes loose and in doing so draws attention to the perimeters of how we fashion our world and interpersonal relationships through hierarchies of power and control. At the same time, love can mark "the location of resistance to the norms, proprieties and taxonomies of the cultural order" (Belsey 1994, 6). Love can thus be delineated as profoundly active and restless, potentially undermining certain hierarchies [End Page 2] and normative orders. In reading this disturbance as creative, productive, and powerful, love emerges as a harbourer of change and innovation:
Each narrative of love expresses a compound and contradictory impulse: on the one hand, the narrative ventriloquizes cultural values, perpetuating and naturalizing patriarchal models of gender […]; on the other hand, the narrative talks back, revealing frustration, dissent, and potentially subversive responses to those patriarchal constructions. (Strehle and Carden 2003, xii)
In other words, fictions which concern themselves with love and desire – such as romance texts and love stories – are well-established in a position where they are able to interrogate boundaries and to draw back into light what would otherwise be marginal, unspoken, repressed. Love stories can pose resistance to oppressive representation and there is a transformative potential inherent in the very structure of love. The fluidity and instability of love makes it a peculiarly flexible tool for teasing out ever-changing emotions, identities, and alliances; its narratives are specially "attuned to the heteroglossia of cultural and countercultural voices" (Strehle and Carden 2003, xii). When dealing with literary and cultural texts that stem from a point of origin marked not only by their deviance from patriarchal norms (such as feminist or queer voices), but also from colonial or neo-colonial norms (such as diasporic or postcolonial voices), a focus on love and how it is put into narratives will bring to light numerous possibilities for speaking back against these oppressing structures.
I will use the arguments by Carson, Belsey, and Strehle and Carden about love as breaking down boundaries and as an agent of change as the springboard for my discussion of Nigerian author Chimamanda Ngozi Adichie's novel Americanah (2013). The fact that love functions as a loosener of boundaries and crosser of borders can be applied to three aspects of the novel: space, body, and text. The construction of a specific transnational space for both Ifemelu and Obinze, the two lovers and protagonists of Americanah, are marked by geographical travel and emotional border crossing. Accordingly, the first part of the paper will analyse how the lovers, in the face of the absence of their loved one, fashion their respective spaces of home and belonging, and how both ultimately return to Lagos, where they enact their romantic happy ending. The second part of my analysis will focus on the bodily encounters Ifemelu and Obinze experience, separately and together, and how intimate sexual acts of love break down previously erected barriers. The erotic and bodily aspect of love in the novel, however, is not only portrayed as positive and empowering, but is also marked by trauma and tensions, and I will outline how Ifemelu's body and hair become a site of contested identity. The third part of this paper will examine the textuality and language of Americanah's love story and how its romantic trajectory ultimately escapes its conventional boundaries – geographically, digitally, and meta-textually. By focusing in turn on spatiality, corporeality, and textuality, I want to acknowledge the different affects and effects of love and what it does, as material practice, embodied experience, and as a discursive and textual construct. In the course of my discussion, I will link back to both Anne Carson's conceptualisations of love as limb-loosener and Catherine Belsey's examinations of love as an act of resistance, while also drawing on the (surprisingly spare) critical commentaries by scholars on Americanah specifically and postcolonial feminist theory more generally. [End Page 3]
Reading Between the Lines: Adichie and the Importance of Love Stories
All of Adichie's work surreptitiously deals in some way or other with (familial, platonic, romantic, erotic) love. Her first novel, Purple Hibiscus (2003), is set in postcolonial Nigeria and accompanies its protagonist, the young woman Kambili, on her emancipatory journey as she escapes from the domination of her violent and fanatic Catholic father. Living with her aunt, she falls in love with the young priest Amada, while also discovering her burgeoning sexuality.[1] Half of a Yellow Sun (2006), a sensitive rendering of the Nigerian Biafran war, has at its centre two pairs of lovers. The novel traces the war and its traumatic consequences as it follows the fates of the sisters Olanna and Kainene and their romantic entanglements. Significant socio-historical and political questions posed in the novel are thus refracted and subverted through the love relationships of its protagonists. Similarly, Adichie's short story collection, The Thing Around Your Neck (2009), focuses not only on the politics of a hybrid, progressive African identity, but always implicates the political with the personal by tracing relationships between family members or lovers.[2]
In "Between the Lines," a conversation with Zadie Smith in March 2014 at the Schomburg Centre New York, Adichie actually calls Americanah her "fuck-you book" (2014, 16:31), "a fuck you to another version" of herself (16:35). What she means by that is that her first two novels, especially Half of a Yellow Sun, followed the footsteps of the founders of modern African literature, epitomized by such seminal works as Chinua Achebe's Things Fall Apart (1958)[3], engaging with questions and subject matters heavily informed by Nigeria's colonial past, processes of decolonisation and nation-building: "With Half of a Yellow Sun I was very dutiful. For so long I have been a dutiful daughter of literature. I've followed the rules… show don't tell" (2014, 16:40). In going against traditional "African" writing and in transgressing Achebe's treatment of Nigeria's traumatic pasts, Adichie opens up pathways for new ways of writing about African experiences. Breaking out from the single story, Adichie's Americanah pays attention to smaller stories: it "challenges the association of Africa with trauma, torture and politics, bringing into view non-Afro-pessimist representations of Africa" (Goyal 2014, xiv).
In the same conversation with Zadie Smith, Adichie drives home this point as she argues that love and sexuality are an integral part of her stories and her characters. Tongue-in-cheek, she positions herself in the grand tradition of Mills and Boon popular romance novels, but at the same time argues that her work is anti-Mills and Boon (2014, 19:27-21:50) – with female protagonists who strive to decide themselves when and where they want to engage sexually, emotionally, intellectually with their partners, who own and actively tell their own stories.[4] In broaching and narrating love, Adichie's novels garner a voice that deals not only with the political complexity of its Afro-diasporic characters but also their smaller, more personal stories of love, lust, and loss. In exploring constructions of love in Adichie's Americanah, this paper sets out to show that love enables encounters between humans and the transgression of borders. As Ifemelu, Adichie's protagonist in Americanah, says:
The simplest solution to the problem of race in America? Romantic love. Not friendship. Not the kind of safe, shallow love where the objective is that both [End Page 4] people remain comfortable. But real deep romantic love, the kind that twists you and wrings you out and makes you breathe through the nostrils of your beloved. (367)
According to Ifemelu, romantic love can act as an antidote for the repressive and dangerous mechanisms of racism and other systemic structures of oppression.
Routes and Roots of Love
Americanah's love story is not stationary: its chapters travel and migrate between past and present and between Nigeria, Great Britain, and the United States. We first meet Ifemelu, the female protagonist of Americanah, when she resides in Princeton. She came to the United States on a scholarship after finishing school in Nigeria and has since lived in various American cities, such as Philadelphia, Baltimore, New Haven, Brooklyn, and Princeton. But already on its very first pages, the novel opens up the American space Ifemelu finds herself in: she has to leave clean, affluent, and academic Princeton to have her hair braided in Trenton, a suburb of Princeton: "it startled her, what a difference a few minutes of train travel made" (6).[5] The readers accompany Ifemelu to the hair salon, where she not only has her hair braided but where she also begins a more pervasive braiding process of weaving her story, of travelling back into time to her childhood and youth in Nigeria. These thoughts, which will span several chapters, are marked by "amorphous longings, shapeless desires" to leave America and return to Nigeria: "Nigeria became where she was supposed to be, the only place she could sink her roots in without the constant urge to tug them out and shake off the soil. And, of course, there was also Obinze. Her first love, her first lover" (7).
Ifemelu and Obinze meet in secondary school and continue their relationship all the way through university, when their ways part. Theirs is love "at first sight", playing on a romantic trope at work since Greek poets first described the "love madness" caused by Eros' arrows. From the beginning on, then, Ifemelu and Obinze's relationship conforms to the structures of what we expect of a "proper" love story: love at first sight, being star-crossed (i.e. facing obstacles and hindrances), and the happy end. This trajectory, however, is complicated and enriched by Americanah's engagement with space building and movement.
The correlation between love and spatial practices is frequent in the novel. In the first chapter, when Ifemelu describes her growing estrangement from her then boyfriend, black American Blaine, she says that "her relationship with him was like being content in a house but always sitting by the window and looking out" (9), referring to the locked-in feeling of confinement and stasis she feels. In contrast, a few pages later Obinze thinks back to the acts of love making between him and Ifemelu when they were young and her statement: "My eyes were open but I did not see the ceiling. This never happened before" (24). Not seeing the ceiling, not seeing the borders of the room, suggest an openness and fluidity that comes with love making. In the course of their relationship, Ifemelu begins to call Obinze Ceiling, the word becoming a shorthand for "what they did together, their warm entanglements" (24).
Movement becomes one of the most important factors in Ifemelu and Obinze's relationship as they move away from each other and lose contact (the reasons for which I [End Page 5] will discuss in the next section). Ifemelu makes her home in various American cities, takes lovers that are white American (Curt) and black American (Blaine), while Obinze moves to Great Britain where, under great duress, he tries to gain legal status and is deported back to Nigeria after a failed attempt at a sham marriage to an Angolan-Portuguese girl called Cleotilde. The spaces both find themselves in are marked by a multitude of affects and relations and both engage in attempts to fashion their belongings abroad. Ifemelu struggles to reconcile her Nigerian identity with the American spaces of femininity and friendship offered to her:
She was standing at the periphery of her own life, sharing a fridge and a toilet, a shallow intimacy, with people she did not know at all. People who lived in exclamation points. […] People who did not scrub in the shower: their shampoos and conditioners and gels were cluttered in the bathroom, but there was not a single sponge, and this, the absence of a sponge, made them seem unreachably alien to her (156).
With time, however, she adapts and finds joy in the acts of mapping her American geography, "[s]he hungered to understand everything about America, to wear a new, knowing skin right away" (166). Obinze in London, in turn, works various jobs at cleaning or moving companies and lives a shadowy, restricted existence in the metropolis: "He would walk fast on the pavement, turned tightly into himself, hands deep in the coat his cousin had lent him, a grey wool coat whose sleeves nearly swallowed his fingers" (281). He is swallowed up by the grey and hostile urban topography, where he is regarded as foreign and not-belonging, "his existence like an erased pencil sketch" (318). The fear and trauma of being an illegal migrant as well as the consecutive exportation becomes deeply inscribed into Obinze's relationships to space and to others. When he returns to Nigeria, he becomes a wealthy business man but marries a woman he does not love, and feels not moored but "as if he could float" (44). Both in London and Lagos he experiences a multiple sense of place and alienation. He only can truly "come home" when he is reunited with Ifemelu, who returns to Lagos years later.
As Sara Ahmed argues in her essay "Wiggle Room," the act of adjusting to spaces is an act of meaning making: "Sometimes to create space we have to wiggle about. You know those moments when you try and fit in a space that is smaller than you are" (2014, n.p.). By distorting the rooms and spaces, be they social categories, gender assignments, or the skins we wear, we enlarge them, we make them fit. This act of fitting adjusts spaces but it can also make them fill up and spill over: "We might in spilling out of the rooms we have been assigned, in our struggle with an assignment, mess things up" (2014, n.p.). In this transgressive move of messing things up, one can locate an act of resistance and appropriation. Looking at both Ifemelu's American spaces and Obinze's London experience and their homecoming, I argue that both in some way spill over the rooms assigned to them. Their returns to Nigeria (one voluntary, one forced) mark both successful and failed engagements with space, but also pose a comment on the structure of love and desire. Many critics have expressed a "sense of disbelief that Ifemelu would choose to go back to Nigeria (and not under duress of any kind)" (Goyal 2014, xii), and within the novel, Ifemelu is faced with the same doubt: "Everyone she had told she was moving back seemed surprised, expecting an explanation, and she said she was doing it because she wanted to, puzzled lines would appear on foreheads" (16). The return to Africa seems to not sit well with a novel that [End Page 6] explores transnational and diasporic identity. But instead of reading the return home as a failure, I think it is much more interesting and fruitful to see it as "an exploration of blackness that does not highlight injury or trauma, but focuses on romantic love, hair, and nostalgia" (Goyal 2014, xiv), love being the key word here.[6] The story of Americanah ends happily, reuniting Ifemelu and Obinze in Lagos.
Adichie plays with the usually normative and rigid borders of social categories and national spaces as well as the conventional, conservative plot structures of the love story, and in doing so she makes them wider, more porous. In desiring and in realising her desires (returning to Nigeria, returning to Obinze, having a happy ending), Ifemelu wiggles free and spins "herself fully into being" (586).[7] This movement underlines the argument from the beginning of this article: love has the inherent potential for movement, for change. In performing the love story with all its obstacles and resolutions, and in swapping Nigeria with America and then back, divisions are made fluid. Conceptions of original or authentic "homeland" and of "away" are being questioned and complicated – "And this was Nigeria, where boundaries were blurred" (483) – as continents are travelled, cities rediscovered, and oceans and borders crossed.[8] The seemingly binary opposition between routes and roots is cancelled, as both Ifemelu and Obinze find home in each other. It is no coincidence that the last words of the novel are "Come in" (588) and that Ifemelu invites Obinze to cross the threshold into her house. The intimacy and the romantic, sensual happy ending proposed by Americanah here does not seem static or terminal at all.
"Multi-boned, multi-ethnic": Erotic Encounters, Corporeality, and Self Love
Besides the affective spatiality performed in the novel, the locus of the body is another contested point of contact in the web of love that is spun within the text of Americanah. How corporeality and love are intertwined is made abundantly clear when the text of Americanah dwells on the moments of "entanglement" between Ifemelu and Obinze. When they first meet as teenagers, they are drawn to each other like magnets, and of their first encounters Ifemelu says: "[S]he was jolted by a small truth in those [Mills and Boon] romances. It was indeed true that because of a male, your stomach could tighten up and refuse to unknot itself, your body's joints could unhinge" (69, 70). Here, the bodily, sensual experience felt by the two lovers brings to mind Carson's extrapolations of love as limb-loosener, as twisting and unhinging the joints of your body. In both referencing the very conventional and kitschy Mills and Boon romance stories Ifemelu reads as a young girl and simultaneously asserting an authentic embodied experience of love and desire, the novel gives weight to what is elsewhere perceived as light (entertainment): the act of love between two people. When Ifemelu and Obinze meet again after years of absence, the sex is described as "seamless desire" (551) and "an awakening" (551) which un-numbs the body.
But bodily encounters, if painfully and violently enforced, have the reversed, opposite effect. When Ifemelu undergoes a traumatic episode of sexual assault, she closes herself off from the world and from Obinze. Early on during her time in Philadelphia when she is still a newcomer in America, Ifemelu struggles to find a job. Following a newspaper advertisement for a "personal assistant", she finds herself confronted with a white American man, a tennis [End Page 7] coach from Ardmore, who forces her to be sexually intimate with him in exchange for money. Ifemelu undergoes the ordeal and afterwards falls into a deep depression, cutting off her friends, her family, and her long-distance boyfriend:
She could not bear the thought of touching her own body […], wishing she could reach into herself and yank out the memory of what had just happened. […] She was bloodless and detached, floating in a world where darkness descended too soon. […] She felt herself sinking, sinking quickly, and unable to pull herself up (190-192).
The sexual violation of her body not only brings with it depersonalization disorder symptoms and disgust but also causes a detachment from the world around her. Only years later, sitting at her kitchen table in Lagos, she tells Obinze what happened to her and starts the reparative work of talking through her trauma: "She would not cry, it was ridiculous to cry after so long, but her eyes were filling with tears and there was a boulder in her chest and a stinging in her throat. The tears felt itchy. She made no sound. He took her hands in his" (543). In the silence that follows their words, she feels "safe" (543). Obinze's love for Ifemelu enables her to pull down the walls she had built around herself.
Romantic love in Americanah, then, is closely connected to self-love. This is mirrored by what Ifemelu feels from the very beginning of her relationship with Obinze: "She rested her head against his and felt, for the first time, what she would often feel with him: a self-affection. He made her like herself. With him, she was at ease; her skin felt as though it was her right size" (73). Self-love and the problems that come with it in the novel play out in a space marked by restrictions put upon the black female body. As Gayatri Gopinath has observed, femininity and womanhood are often used "as primary markers of an essential, inviolable communal identity or tradition" (2003, 138). The female body becomes a symbol and marker for how national borders are drawn. Both Ifemelu's weight and her hair are contested sites, not only regarding the politics of how women should look and behave like, but also for the more personal question of self-care and interpersonal relationships.
On the first pages of the novel, while she waits on the Princeton Junction platform for her train to Trenton, Ifemelu ruminates on the shape of her and of other women's bodies, recognising that "'fat' in America was a bad word, heaving with moral judgment like 'stupid' or 'bastard,' and not a mere description like 'short' or 'tall'" (6). Coming to America, she had learned to avoid that word, but when a man in the supermarket verbally harasses her, the word comes back to her: "She said the word 'fat' slowly, funnelling it back and forward, and thought about all the other things she had learned not to say aloud in America. She was fat. She was not curvy or big-boned; she was fat, it was the only word that felt true" (7). The stranger in the supermarket had wanted to offend her, but instead "prodded her awake" (8) to rethink her American space and eventually return to Nigeria. In admiring another woman who wears a mini skirt, and in being content in her own large body, Ifemelu argues back against white Western ideals of femininity and respectable female bodies. That her relationship to Obinze, however, adds to that act of self-love, becomes clear later in the book when she has returned to Lagos. When meeting after years of being apart, Ifemelu is self-conscious about her body size but reassured when Obinze calls her beautiful: "Oh, no, Ifem, you're not fat. You're being very American about that. What Americans consider fat can just be normal" (531). What is being made visible here are the different national stances towards [End Page 8] female bodies, and the always harmful notion of others dictating how a (black) woman should look, dress, and behave. Instead of merely relying on male reassurances, Ifemelu throughout the novel engages in processes of critically questioning these notions, continuously advocating for a "multi-boned, multi-ethnic world of women" (219), a multifaceted politics of beauty.
In drawing attention to the tensions of conflicting attitudes towards the black female body, Adichie sheds light on the legacy of colonialism and its essentialist position towards African sexuality and corporeal difference. She connects her protagonists' sexual encounters and their physicality with broader and deeper running discourses on national identity and alterity – as Judith Butler would argue: "Discourses do actually live in bodies. They lodge in bodies; bodies in fact carry discourses as part of their own lifeblood" (Butler, Meijer and Prins 1998, 282). In complicating "normal" or "neutral" embodiments, Americanah "wittily undermines American perceptions about Africa" (Goyal 2014, xi). Another aspect which links to the self-empowering strategies of the body and of loving oneself is the conversation about hair opened up in the novel. As mentioned above, in the opening pages, the reader accompanies Ifemelu to a hair salon, where she gets braids in preparation for her return to Lagos.[9] The question of black hair – weaves and braids and afros – and its unruliness is taken up time and time again during the novel; it is a sign of the deeply entrenched assumptions that constitute blockages and hindrances in the dynamics of black female corporeality, sensuality, and sexuality. As Adichie says in an interview with the Guardian: "Hair is hair – yet also about larger questions: self-acceptance, insecurity and what the world tells you is beautiful. For many black women, the idea of wearing their hair naturally is unbearable" (Kellaway 2013, n.p.). In finding support via the internet and the blogosphere, Ifemelu learns to accept her hair; in cutting off the straightened, relaxed, smoothed and burnt part of her – "something organic dying which should not have died" (251) – that conforms to society's expectations of her, she releases her fractious hair. Accompanying that material act of cutting and releasing is a speech act stating that she "simply, fell in love with her hair" (264), and, I would argue, herself.
By refusing to be a ready-made product for desire or consumption, Ifemelu, then, moves exactly against the harmful mechanisms Adichie cautions against in We Should All Be Feminists: "We teach girls to shrink themselves, to make themselves smaller" (2014, 27). Instead of shrinking herself, Ifemelu expands herself and the rooms she moves in through negotiating her body, sexuality, and her desires. The erotic and embodied aspects of love performed by Americanah open up conversations about race, consent, sexuality and free will. Reading the female black body and identity within and simultaneously against discourses of oppression and discipline (patriarchy, (neo-)colonialism) means to inspect and appraise expressions of love as inherently connected to identity constructions and subversions. Love can function as a tool to re-appropriate and to rebuild certain power relationships. By regarding love as empowering tactic, cultural and literary representations such as Adichie's Americanah harbour the potential to destabilise stereotypical and restrictive orders and advocate new ways of speaking about relationality, affiliation, and alliance. [End Page 9]
"Desire moves, eros is a verb": Love and/as Text
Having discussed love in Americanah with relationship to space and to body, I now want to turn to the third category: textuality. The textual architecture of the novel is built around different linking devices, focal points, and temporal levels. As delineated above, the chapters alternate between Ifemelu and Obinze's perspectives and always reach back into the past, consciously drawing parallels and correlations between both lovers' developments. One of the structural linking devices employed by the novel is the hair salon Ifemelu travels to in the first chapter. This hot, noisy, and female space serves as the point of departure for Ifemelu's "time travels" (see chapters 1, 3, 9, and 18). Thinking back to her roots (her childhood and her mother), the decidedly feminine space of the hair salon becomes a meeting point for various female genealogies (49). Another linking device is the blog Ifemelu starts after having lived some years in the States. The blog is called Raceteenth or Various Observations About American Blacks (Those Formerly Known as Negroes) by a Non-American Black, and connects the different themes and story parts to each other. Blogging anonymously, Ifemelu creates a safe space where she can talk about her experiences relating to racism, sexism, and (female) black politics of resistance (topics include Michelle and Barack Obama, WASPs, or Beyoncé). Her call to "Un-zip yourself" and to open up conversations mirrors how Angelika Bammer, Minrose Gwin, Cindi Katz, and Elizabeth Meese (1998) regard cyberspace as "a frontier through which we enter a nonspace, the space that isn't 'really' there. It is a safe space, which the actual, material spaces in which many people live is not."[10] Through blogging, she "writes herself into existence" and counters "the silence that she feels defines her in America" (Isaacs 2016, 179).
Communication via different channels and the obstruction of that communication play an important role in the fabric of Americanah's romance text. The two lovers Ifemelu and Obinze, once separated by the Atlantic, call each other on the phone, send each other letters, voicemail messages, and later emails. Similarly to the way the blog and the hair salon function as linking devices, the emails Ifemelu and Obinze exchange after their estrangement propel the text from one place and one focal point to another. New media, like emails, Facebook, and the blog, create intimacy and convergence; a possibility of connection and closeness that is open and multi-branched, multi-directional: Ifemelu interacts with her readers; she quickly composes emails to Obinze on her phone only to afterwards delete them again; Obinze stalks Blaine (Ifemelu's ex-boyfriend) on Facebook and roots through her blog's archives to clandestinely "keep in touch." The expression of keeping in touch is a curious one, where the digital space enables touching and contact: "They had kept in touch, she and Ranyinudo, throughout the years. At first, they wrote infrequent letters, but as cybercafés opened, cell phones spread, and Facebook flourished, they communicated more often" (17). As Camille Isaacs contends, Americanah uses these channels "to constitute peculiar spaces of access to both homelands left behind and the host cultures" (2016, 174). I would argue, however, that the specific textual architecture the novel displays not only links different focalisations or geographic places of belonging together, but makes another argument about the text's love story and its affective dimensions.
With regards to the relation between love and language, Catherine Angel posits, "The desire to speak desire is a desire to burst through silence, to puncture. As such, it is also erotic; it contains its own excitement. It undoes the perceived straitjacketing. Unlaces the [End Page 10] corset, winds down the hair" (2012, 205). The dynamics of love as acted out by Ifemelu and Obinze (their desire for each other, represented by reaching out, keeping in touch via words) create processes of sense-making and bridge geographical as well as emotional distance. Obinze says of his email writing: "He began to write to her about his time in England, hoping that she would reply and then later looking forward to the writing itself. He had never told himself his own story […] Writing to her also became a way of writing himself" (461). Desire for the other produces action, language, creation. Love becomes a story to be told, a narrative: "Desire moves. Eros is a verb" (Carson 1986, 17). Love is a site which acts as a starting point for, as I would argue, text and textuality: "As Socrates tells it, your story begins the moment Eros enters you" (49). A story begins with love entering; it initiates the processes of the creation and production of story, flows of narrative and textuality are induced by the advent of eros. Love enables communication: "Desire in Western culture is inextricably intertwined with narrative, just as the tradition of Western fiction is threaded through with desire" (Belsey 1994, ix).
The love story of Americanah punctures silence; inhabits the gaps – and thereby engages in actions of breaking down or melting away distance and difference. Perhaps the most significant example for how the textuality and language of Americanah's love story escapes boundaries and loosens borders is the second blog featuring in the novel. This blog, titled The Small Redemptions of Lagos, is both Ifemelu's blog once she has returned to Nigeria in the last chapters of the novel, but it is also blog that actually exists on the internet under the WordPress address https://americanahblog.com. While this can clearly be regarded as a marketing strategy for the publication of the novel (the blog entries were mediated and managed on Adichie's Facebook profile by her publisher Alfred A. Knopf, cf. Guarracino 2014, 21) and to heighten impact and circulation, the blog, which is still online and features entries from August 27, 2014 to November 2, 2014, is also a metatextual continuation of Americanah's text, which escapes even the confines of the lovers' happy ending. During the story in the book, the blog functions as a self-identificatory tool for Ifemelu to settle back down in Nigeria and to speak to Obinze. The "real-life" continuation on WordPress features, among others, blog entries on Nigerian politics, Ebola, African politicians, and infrastructure ("Problem and Solution"), hair care, skin care, and vaginal care products ("The Aruidimma Centre"), and lipstick, fashion, and beauty ("Style"), all written by the first-person author figure of Ifemelu.
There is also, however, a category called "Ifem & Ceiling", Ifemelu and Obinze's nicknames throughout the book. As Serena Guarracino has argued, the novel's characters "keep expanding beyond the finished confines" (2014, 21) of the text, and I argue that the blog also writes forth the love story beyond the happy end of the novel. The blog entries in the "Ifem & Ceiling" category continue writing the love story into the future, beyond the "Come in" of the novel, describing their shared everyday life: "Ceiling is different here in Enugu. He's lighter, he jokes more, he is less silent. But I sometimes see his face fall and I know he's missing [his daughter] Buchi" ("Ifem & Ceiling 2"). They also describe little connections and touching points: "So, we support the same Charity. We started supporting the same Charity at about the same time without, of course, knowing what the other was doing. #Lovenwantiti #truecompatibility #mostromanticcoincidenceever" ("Ifem & Ceiling 7"). The love story moves out from its confines between the covers of the book and displaces the oppositions between fiction and metafiction, text and metatext. Thus, the blog outmanoeuvres the reader and defies all desire for control and closure. With this strategy of [End Page 11] empowerment, the lovers' voices of the text, in the text and also outside of it, do not cease to speak.
Conclusion: "It's just a love story"
Having examined the interrelation between love and space, body, and text in Adichie's Americanah, I would like to argue that the novel showcases the transfiguring, transformative momentum of love in the context of postcolonial transnational writing. The love story engenders not only creative textuality, but also subversive configurations of space and of feminine corporeality. Tracing the relationship of the two lovers Ifemelu and Obinze, the above discussion has illuminated the different effects and affects of the love story. Spatially, the text exists between Africa, America, and Great Britain, but the romantic happy ending, a stock characteristic of every love story, complicates one-sided conceptions of national borders and belonging. Regarding the sexual and erotic components of love, I have traced the corporeal tensions Ifemelu has to negotiate as she experiences both traumatic and reparative intimacies. Textually, the novel similarly escapes constraints as the love story wilfully extends beyond the frame of the book into the open and multi-directional digital space of the internet.
In writing against oppression and against the restrictive powers of the norm, Americanah engages in an empowering act of giving voice to the formerly silenced, of providing wiggle spaces for alternative identity constructions. The novel as a transnational love story tries to take first steps in subverting certain ingrained divisions by dissecting and diagnosing social, cultural, political, and emotional patterns. Americanah is a text which seeks to un-bind boundaries, to unsettle settlement and to deal in all things human: love and romance are powered by the motion of meeting, of encountering and touching each other. In Americanah, love stands for fluidity and fractiousness – sometimes ugly, painful and twisted, but always disturbing boundaries. It is culturally contrapuntal: it functions as a site of resistance and resilience for oppressive ideologies. Instead of stasis, the novel argues for flexibility and for overcoming divisions and boundaries. As Anne Carson argues:
Eros is an issue of boundaries. He exists because certain boundaries do. In the interval between reach and grasp, between glance and counterglance, between 'I love you' and 'I love you too,' the absent presence of desire comes alive (1986, 30).
The boundary is a place at which something may begin, may become present; it acts as a starting point. Love exists because of boundaries but also in the boundaries. Love can "whirl" binary oppositions, it constitutes a playground for the struggle with other systemic relations of power, for interpersonal affiliations, as national and transnational meeting points. Love stories, like Americanah, might be "only" love stories, but as such they are important:
Don't we all in the end write about love? All literature is about love. When men do it, it's a political comment on human relations. When women do it, it's just a love story. So, although I wanted to do much more than a love story, a part of [End Page 12] me wants to push back against the idea that love stories are not important. I wanted to use a love story to talk about other things. But really in the end, it's just a love story. (Adichie, interviewed by Brockes 2014)
---
[1] For a more in depth discussion of Purble Hibiscus, see, for example, Marta Sofia Lopez' "Creating Daughter-lands: Dangarembga, Adichie, and Vera" (2007).
[2] For further readings of the interconnections of the personal and the political in Adichie's earlier work, see Manisha Basu's "Loving and Leaving: The Ethics of Postcolonial Pain in Chimamanda Adichie's Purple Hibiscus" (2012) or Susan Z. Andrade's "Adichie's Genealogies: National and Feminine Novels" (2011).
[3] Things Fall Apart has since become the most widely published/read work of modern African fiction and has cemented Achebe's position as the father of African writing. The novel writes back to "the vision of Africa as a land of savagery and darkness, the distorted reflection of the continent depicted in the work of writers like Joseph Conrad and Joyce Cary" and has become the cornerstone in the project "of recuperating notions of African culture and heritage" (Krishnan 2014, 11).
[4] This echoes what Adichie argues for in her published TED talk on feminism and its discontents, We Should All Be Feminists: "The idea that sex is something a woman gives a man, and she loses something when she does that, which again for me is nonsense [sic]. I want us to raise girls differently where boys and girls start to see sexuality as something that they own, rather than something that a boy takes from a girl" (33). We Should All Be Feminists follows Adichie's own processes of unlearning the restrictive and oppressive perceptions of how gender is woven into the fabric of social, cultural and political structures and constitutes an invocation for gender equality.
[5] The confrontation of different spaces with each other is a thing that Americanah excels in. The opposition never stays binary and clear-cut, the text rather teases out the geographical differences and similarities to de-essentialise conceptions of "Western" and "African". Princeton is wealthy but also bland, smelling of "nothing". Trenton is hot and sticky and dirty, but also marked by the feeling of connection and sisterhood, however stilted, Ifemelu experiences with the hairdressers. As Yogita Goyal argues, "Americanah takes on the charged questions of race, travel, and migration, it shows how black Atlantic concerns and American conceptions of race are reshaped and transformed in relation to the postcolonial state and its own itineraries of hope and despair, migration and return" (2014, xvi).
[6] It would be interesting to compare Americanah with other contemporary reinventions of the immigration novel, such as the recently published Behold the Dreamers (2016) by Cameroonian author Imbolo Mbue or Zimbabwean writer NoViolet Bulawayo's We Need New Names (2013), as all deal with cultural dislocation and the idea of original "home" and "exile" in a globalized twenty-first century world of interconnectedness and alternative spaces of belonging.
[7] In returning, Ifemelu also becomes the eponymous Americanah – a word which signifies someone having left and then come back, demarcating a hybrid in-between identity: "They roared with laughter, at that word 'Americanah,' wreathed in glee, the fourth syllable extended, and at the thought of Bisi, a girl in the form below them, who had come back from a short trip to America with odd affectations, pretending she no longer understood Yoruba, adding a slurred r to every English word she spoke" (78). [End Page 13]
[8] An article forthcoming in November 2016 in "Diaspora & Returns in Fiction," the 34th issue of African Literature Today (edited by Helen Cousins, Pauline Dodgson-Katiyo, and Ernest N. Emenyonu), called "Negotiating Race, Identity & Homecoming in Chimamanda Ngozi Adichie's Americanah & Pede Hollist's So the Path Does Not Die" by H. Oby Okolocha, will discuss this as well.
[9] The hair salon acts as a place of female community and a meeting point, just as much as the online community of HappilyKinkyNappy.com which Ifemelu finds through a friend. It is a natural hair community "done with pretending that their hair was what it was not, done with running from the rain and flinching from sweat. They sculpted for themselves a virtual world where their coily, kinky, nappy, woolly hair was normal" (263). In engaging with both these communities, Ifemelu not only takes part in an act of self-love, but also an act of loving other women. Americanah thus clearly articulates a feminist ethics of care, which can especially be found in Ifemelu's female friendships and alliances.
[10] For a more in depth and detailed discussion on gender and cyberspace, see Mary Flanagan's influential piece on "Navigating the Narrative in Space: Gender and Spatiality in Virtual Worlds" (2000). [End Page 14]
Works Cited
Adichie, Chimamanda Ngozi. Purple Hibiscus. London: Fourth Estate, 2003. Print.
—. Half of a Yellow Sun. London: Fourth Estate, 2006. Print.
—. The Thing Around Your Neck. London: Fourth Estate, 2009. Print.
—. Americanah. London/NY: Anchor Press, 2013. Print.
—. "The Small Redemptions of Lagos." Web. Accessed 11 June 2016. https://americanahblog.com.
—. We Should All Be Feminists. London: Fourth Estate, 2014. Print,
Ahmed, Sara. "Wiggle Room." Feminist Killjoy. 28 September 2014. Web. Accessed 11 June 2016.
Andrade, Susan Z. "Adichie's Genealogies: National and Feminine Novels." Research in African Literatures 42.2 (2011): 91-101. Print.
Angel, Catherine. Unmastered. A Book on Desire, Most Difficult To Tell. London: Allen Lane, 2012. Print.
Bammer, Angelika, Minrose Gwin, Cindi Katz, and Elizabeth Meese. "Part 3: The Place of the Letter: An Epistolary Exchange." Making Worlds; Gender, Metaphor, and Materiality. Ed. Susan Hardy Aitken, Ann Brigham, Sallie A. Marston, and Penny Waterstone. Tucson: University of Arizona Press, 1998:161202. Print.
Basu, Manisha. "Loving and Leaving: The Ethics of Postcolonial Pain in Chimamanda Adichie's Purple Hibiscus." Ariel: A Review of International English Literature 43.1 (2012): 67-86. Print.
Belsey, Catherine. Desire: Love Stories in Western Culture. Oxford: Blackwell, 1994. Print.
Brockes, Emma. "Chimamanda Ngozi Adichie: 'Don't we all write about love? When men do it, it's a political comment. When women do it, it's just a love story.'" The Guardian. March 21 2014. Web. Accessed Jun 11 2016.
Butler, Judith, Irene Meijer, and Baukje Prins. "How Bodies Come to Matter: An Interview with Judith Butler." Signs 23.2 (1998): 275-286. Print.
Carson, Anne. Eros: The Bittersweet. Princeton: Princeton University Press, [1986] 2000. Print.
Flanagan, Mary. "Navigating the Narrative in Space: Gender and Spatiality in Virtual Worlds." Art Journal 59.3 (2000): 74-85. Print.
Gopinath, Gayatri. "Nostalgia, Desire, Diaspora: South Asian Sexualities in Motion." Uprootings / Regroundings: Questions of Home and Migration. Ed. Sara Ahmed, Claudia Castañeda, Anne-Marie Fortier and Mimi Sheller. Oxford/New York: Berg, 2003. 137-156. Print.
Goyal, Yogita. "Introduction: Africa and the Black Atlantic." Research in African Literatures 45.3 (2014): v-xxv. Print.
Guarracino, Serena. "Writing 'so raw and true': Blogging in Chimamanda Ngozi Adichie's Americanah." Between 4.8 (2014): 1-27. Print.
Isaacs, Camille. "Mediating Women's Globalized Existence through Social Media in the Work of Adichie and Bulawayo." Safundi: The Journal of South African and American Studies 17.2 (2016): 174-188. Print.
Kellaway, Kate. "Chimamanda Ngozi Adichie: 'My new novel is about love, race … and hair.'" The Guardian. 7 April 2013. Web. Accessed June 11 2016.
[End Page 15]
Krishnan, Madhu. "Negotiating Africa Now." Transition 113 (2014): 11-24. Print.
Levine, Caroline. "'The strange familiar': Structure, Infrastructure, and Adichie's Americanah." MFS Modern Fiction Studies 61.4 (2015): 587-605. Print.
Lopez, Marta Sofia. "Creating Daughterlands: Dangaremba, Adichie, and Vera." Journal of the African Literature Association 2.1 (2007): 83-97. Print.
Okolocha, Oby H. "Negotiating Race, Identity & Homecoming in Chimamanda Ngozi Adichie's Americanah & Pede Hollist's So the Path Does Not Die". ALT 34 Diaspora & Returns in Fiction. Ed. Helen Cousins, Pauline Dodgson-Katiyo, and Ernest N. Emenyonu. Boydell & Brewer Ltd. James Currey. The University of Rochester Press, New York, 2016: n.p. [Forthcoming].
Smith, Zadie and Chimamanda Ngozi Adichie. "Between the Lines: Chimamanda Ngozi Adichie with Zadie Smith". Schomburg Center for Research in Black Culture. 19 March 2014. Web. Accessed 11 June 2016.
Strehle, Susan and Mary Paniccia Carden, eds. Doubled Plots. Romance and History. Jackson: University Press of Mississipppi, 2003. Print.
[End Page 16]

[End Page 1]
Acknowledgements
Ágnes Zsila was supported by the New National Excellence Program of the Ministry of Human Capacities. This study was supported by the Hungarian National Research, Development and Innovation Office (Grant number: K111938).
Introduction to the boys' love phenomenon
The increasing popularity of boys' love media has received growing attention in academic fields over the past two decades, resulting in a wealth of exploratory studies focusing on either the media or the fan community (Galbraith 2009). "Boys' love" is an umbrella term for Japan-specific media – primarily anime and manga –, which thematize the romantic love of two men, often in a sexually explicit form. The representation of male homosexuality appears in video games, movies, series, and other original or fan-created visual (fan art) and textual pieces (fan fiction) (McHarry 2011). Boys' love originates from shōjo manga in the 1970s, created for young women, which depicted romantic encounters, mainly between heterosexual couples. However, representations of male homosexuality began to appear in these stories, attracting female enthusiasts (McLelland and Welker 2015, 4). The growing popularity of stories centering on male homosexual encounters contributed to the independence of this emerging genre, which was later divided into two subgenres. Shōnen-ai, which literally means "boy love", portrays the romantic love between two men by focusing on emotional aspects, whereas yaoi[1] presents male homoeroticism in a sexually explicit form (Welker 2015, 42).
Stories thematizing the romantic love between two men have always been popular among young women not only in Japan but also in North America and several European countries (e.g., Germany, Italy), where movies and books depicting homosexual romance attracted many fans in the late 1970s (Welker 2011, 211-228). However, American gay movies and books never managed to create as expansive a space for fans as boys' love did. Slash,[2] which can be considered as the Western counterpart of boys' love, emerged in the 1970s in North America (Saitō 2011, 172), and established an active fan culture. Nevertheless, slash communities remained relatively small, closed groups that did not wish to draw attention from outsiders due to copyright concerns in respect of their non-original works (Thorn 2004, 174). By contrast, the growing popularity of anime and manga outside Japan resulted in boys' love transcending the boundaries of the manga industry, and related materials (e.g. video games, visual novels) gained the attention of Western fans in the mid-2000s. The positive reception of boys' love, which preserved most of its cultural specific features in the international adaptations, inspired the formation of large, online fan communities (Thorn 2004, 174). As the Internet became more accessible, manga fans with this special interest in boys' love could meet online and contribute to the creation of fan-made pieces (e.g. fan fiction, fan art), establishing large, international collaborations (Thorn 2004, 174).
The global boys' love phenomenon consists of three components: professional and amateur creators, consumers, and boys' love materials (Mizoguchi 2003, 49-75).The extensive online fan communities and their wide range of activities provided an active, [End Page 2] international background for this phenomenon, and publishers and policy-makers also contributed in the comics market. According to Mizoguchi's estimation, there were approximately one million Japanese boys' love fans in the mid-2000s (2008, 44), whereas Thorn reported that hundreds of thousands of women had been engaged with the boys' love phenomenon (2004, 174).
Parallel to the global expansion of the boys' love manga industry and fan activities, further subgenres emerged due to the growing interest in male homoerotic stories. For instance, "shōta"[3] became popular in Japan, which portrays pre-adolescent boys in sexually charged situations as objects of attraction (McLelland 2005a, 15). However, this subgenre received mixed reception from boys' love fans, since the portrayal of underage boys in erotic scenes was strongly associated with child abuse (McLelland 2005a, 2). In contrast, the male counterpart of yaoi, termed "bara"[4], was appreciated more among sexual minorities, although it never managed to transcend the boundaries of gay culture (McLelland2000, 136). Bara materials are created by and for gay men, and feature masculine characters in more realistic story settings. The underlying reasons for men and women showing an interest in male homosexual narratives are sharply different. Bara is primarily related to gay culture (McLelland 2000, 35-136), whereas its female-oriented equivalent, boys' love, has created a unique space for women to share a collective fantasy in which they can dissociate themselves from gender constructs and social restrictions (Hori 2013).
As a consequence of the global popularity of this genre, the boys' love phenomenon has also attracted the attention of academics. The English-language literature consists of theoretical studies and qualitative research in the fields of Japanese and East Asian studies, communication and media studies, cultural anthropology, and gender studies (Madill 2010). Only a few studies have conducted empirical research on large samples using quantitative methods (e.g. Pagliassotti 2008a). This paper provides an overview of the international literature on boys' love from the past twenty years regarding genre-specific characteristics and tropes, fan culture and motivations, critics, and social implications.
The genre-specific characteristics of boys' love
Boys' love works combine traditional (e.g. forbidden love) and genre-specific (e.g. "rape as an expression of love") narratives which reflect the conventional (yet undeniably problematic) tropes of heterosexual romantic literature, with the exception that this love occurs between two men (Mizoguchi 2003, 56). In the majority of cases, boys' love stories depict the first encounter of characters who fall in love with each other at first sight. Following this, certain difficulties (e.g. sexual orientation concerns, coming out to family members and friends, or past negative experiences) begin to dominate the narrative. Relationship anxieties, terminal illness, rape, incest, and other dramatic themes are often found in this genre (Madill 2011). The portrayal of such psychological traumas in boys' love stories has a special meaning for the fans of this genre, as will be discussed later in this section.
The visual representation of these stories (e.g. manga, fan art) reflects a particular aesthetic and idealistic design (Madill 2011). The early stories introduced European protagonists in idealized foreign countries (Bollmann 2010, 43). This tendency has, [End Page 3] however, changed in the past two decades, and the romantic encounters have been placed in a Japanese cultural setting.
General boys' love stories feature "bishōnen" characters (i.e. beautiful boys), who have exceptional physical characteristics (McLelland and Welker 2015, 6). A common couple in boys' love consists of a dominant, masculine character called "seme", and a submissive, feminine partner, the "uke" (Bauwens-Sugimoto 2011). A considerable proportion of fans prefer the uke over the seme, which can be attributed to the similarities with female gender roles that allow female fans to identify with male characters (Kamm 2013).
According to the theoretical work of Mizoguchi (2008, 152), general genre-specific tropes are (1) rape as a representation of overflowing love, (2) preserved heterosexual identity of the protagonists after being involved in homosexual activities, (3) seme-uke roles based on physical appearance, (4) fixed roles that cannot be reversed, (5) sexual encounters always involving anal intercourse. However, Kamm (2013) points out that a number of stories do not include the latter two tropes. He argues that roles can be reversed at certain points in the story or with the introduction of a new character, and the depth of a relationship can be illustrated through different types of sexual interaction. In addition, intense emotions, never-ending love, monogamy and loyalty are also important tropes in most boys' love narratives (Fujimoto 2007a, 63-68).
It is common for the uke to become a rape victim by the seme or by a third person in boys' love (Mizoguchi 2008, 152) stories. In spite of the fact that rape is a serious societal problem, the boys' love genre provides a positive reframing of sexual assault and victimization. As Hagio remarks, the (aesthetic) illustration of rape in a more supportive environment may help boys' love fans cope with similar experiences by providing a more controllable and positive situation in the narratives to relive their own traumas (2005). The seme rapes the uke in their first sexual interaction, which begins with the resistance of the submissive character. However, the seme cannot suppress the overwhelming emotions he has for his partner, which were concealed until that point (Mizoguchi 2008, 151). The uke finally accepts his devotion and expresses his approval, which leads to the satisfaction of both partners (Orbaugh 2010, 181). After this, a deep emotional bond begins to form between the protagonists, which might be contradictory in light of the fact that the uke was raped by the seme previously, but this rape is positively reframed in boys' love stories, and indicates the beginning of a passionate relationship. Indeed, same-sex relationships are portrayed as particularly deep and honest, and the partners are shown to be unconditionally supportive. For instance, if the uke is being raped by a third person, the seme provides psychological support for him (Mizoguchi 2008, 154). In reverse, if the seme struggles with the outcomes of an early life trauma (e.g. memories of child abuse), a common trope in boys' love narratives, the uke provides him with help to overcome difficulties (Gibbs 2012, 186).
The prioritization of emotions over traditional social norms, gender constructs, financial advantage and social expectations is significant in the genre of boys' love (Fujimoto 2007a, 63-68). The male protagonists are usually heterosexual men in a relationship with a woman (Mizoguchi 2000, 193-211) who suddenly fall in love with each other when they first meet. Interestingly, the protagonists are not labeled "gay", even after being involved in a homosexual relationship (Mizoguchi 2010, 157). Their social environment maintains their heterosexual image, attributing their acquaintance and strong emotional involvement to an accidental coincidence that could happen to anyone (Mizoguchi 2008, 132). The two main characters do not consider themselves homosexual either (Galbraith 2011, 213). [End Page 4]
McLelland and Welker remarked that narratives focusing on the positive aspects of homosexuality, which avoid the presentation of stigmatization and sexual identity concerns, may suggest that it is easy to come out as gay in Japan where these stories are set (2015, 3), although theoretical (Mizoguchi 2008, 32) and empirical works (Pagliassotti 2008a) point out that the majority of boys' love fans are aware that these stories do not reflect social reality. Saitō also emphasizes that boys' love characters and settings are not representative of the real lives of gay men, but are constructed elements of a collective female fantasy (2007, 245) which has developed in the online world.
The boys' love fan community
The global accessibility of the Internet played a significant role in the international popularity of the boys' love genre and the formation of online boys' love fan communities in the mid-2000s, when boys' love anime and manga were introduced to a Western audience (Thorn 2004, 173). Since then there has been a growing interest in scanned and translated boys' love manga among young women (2004, 174). Consequently, large fan communities of female enthusiasts have developed. These anonymous, closed groups allow members to express their appreciation for bishōnen characters involved in homosexual romances (2004, 173-174).
"Fujoshi" is a commonly used expression for female fans of boys' love. The Japanese term means "rotten girls", which refers to fans' sexually-driven reading practices (Galbraith 2011, 212). Based on the prevalence of heterosexual women in fans' conversations on gay-themed magazines in the 1970s, it was assumed that the vast majority of female boys' love fans were heterosexual. However, empirical research conducted in the mid-2000s did not support this presumption. In 2008, Levi (2009, 154) found that only around 58% of North American respondents (86% female) were heterosexual; while Pagliassotti (2008a) reported that 47% of English-speaking European fans (89% female) and 62% of Italian participants (82% female) were heterosexual. Zsila, Bernáth and Inántsy-Pap (2015, 60) recently found that 66% of Hungarian boys' love fans were heterosexual (91% female). Moreover, Lunsing (2006) and Welker (2006, 841-870) also emphasized that lesbian fans were vital members of the boys' love fan community in the mid-2000s.
The vast majority of fans (93%) are both creators and consumers (Pagliassotti 2008a). Age difference, level of education and social status are insignificant in the social community of boys' love enthusiasts, and there is no clear distinction between professional and amateur creators (Mizoguchi 2008, 336-350).
It is common for boys' love fans to reinterpret general communication signs as homosexual affections (Galbraith 2011, 221). This mechanism was described by Galbraith under the term "rotten filter" (2011, 221), whereas Meyer used terms such as "yaoi-eye" and "yaoi glasses" to describe this perceptual process (2010, 232). It is common for female fans to view the world through their "rotten filter" and to imagine homosexual encounters resulting from sexually neutral objects or interactions, although imagination and reality are adequately separated and coexistent in their everyday lives (Saitō 2007, 245). They consider non-fujoshi as "normals", and themselves as "abnormals" for having this fascination with homosexual men (Galbraith 2011, 221). [End Page 5]
"Playing gender" (Thorn 2004, 176) and experiencing sexuality in the safe confines of fantasy play a significant role in this phenomenon. Galbraith (2009) argues that boys' love fans are always seeking "moe", which could be defined as a strong emotional response to fictional characters. Moe is considered by Galbraith to be the most important motive for creating and sharing boys' love materials. According to Galbraith, "moe talk" is a common activity in boys' love fan communities. Moe talk is an affective conversation about fictional characters and couplings that evoke moe in fans (2015, 158). Two related terms should be mentioned in connection with Galbraith's work. The first is "transgressive intimacy", which is strongly related to the dynamism of the "rotten filter", as it refers to romantic and erotic potentials that are perceived in sexually neutral verbal or nonverbal communication between men, and are screened out by boys' love fans' rotten filter after being detected (Galbraith 2011, 213). By contrast, "nioi-kei"[5] materials purposely contain hints of homosexual affection in order to be detected by fans (Aoyama 2013, 66).
Yaoi role-play is a popular social activity among boys' love fans, in which two or more participants engage in a virtual, mostly chat-like sexual interaction with each other, playing the roles of gay lovers (Galbraith 2011, 227). The majority of fans have preferred roles, character types and settings, and seek role-play partners in the form of advertisements in boys' love fan communities. The seme-uke roles, physical traits of both men, and situational characteristics are described in these advertisements. Mizoguchi calls these fans "virtual lesbians" for engaging in sexual role-plays with each other in order to act out male homoerotic fantasies (2008, 339). Furthermore, the author considers the community of boys' love fans a sexual minority according to the way that they communicate with each other using fantasies of male homosexuality (2010, 155).
The underlying motivations behind participating in fan activities related to the genre of boys' love have been examined in qualitative research (e.g. Chou 2010, 78-90; Pagliassotti 2008b). This has provided us with a deeper knowledge of the global boys' love phenomenon, and helped to draw a more nuanced picture of the function and importance of this genre for the fans.
The motivation behind the boys' love phenomenon
According to the results of qualitative research conducted on a sample of Taiwanese boys' love fans, the main motivations behind creating and consuming boys' love were linked to its entertaining, inspiring and sexually arousing characteristics (Chou 2010, 78). These motives were also found in Pagliassotti's research, who systematically categorized fans' responses based on theoretical considerations (2008b). As a result, she identified ten distinct motivational dimensions. The "Pure" love without gender dimension comprises responses emphasizing that boys' love characters express their love for each other regardless of gender and related social expectations. Pro-gay attitude/forbidden & transgressive love contains responses emphasizing that boys' love promotes supportive attitudes toward gay men, since these stories point out that the love of same-sex couples have for one another is not so different from the feelings heterosexual couples have: only sexual preferences are distinct. The Identification/self-analysis dimension was important for those fans who wished to gain a deeper knowledge of themselves, their emotional reactions [End Page 6] and sexual desires. This motive also appeared in Penley's (1992, 484) and Suzuki's arguments (1998, 243). Melodramatic/emotional elements attracted those fans who wished to read or view stories that evoked strong emotions in them. The Dislike of standard romances/shōjo factor referred to those who disliked heterosexual romance stories due to their perceived schematic structure and one-dimensional characters, whereas other respondents pointed out that they found pornography inappropriate for themselves due to its explicit portrayal of sexuality. A female-oriented romantic/erotic genre was an important motive for those who found this genre closer to their tastes than other romantic genres, since boys' love is created by and for women, and authors pay careful attention to the emotional impact of slightly erotic homosexual representations on female fans. The Pure escapism/lack of reality dimension reflected responses emphasizing that boys' love helps readers escape from real problems, illustrates fictional characters and settings that expand the imagination of fans, and helps readers forget about real life. The appreciation for Art and aesthetics in boys' love materials also appeared in Chou's study (2010, 87) as a motivation. The Pure entertainment factor comprised responses that focused on the entertaining and relaxing characteristics of boys' love media. Finally, several fans were motivated to read boys' love manga because they found it Arousing/sexually titillating.
Theoretical research in the field of boys' love studies has revealed that the creation of the genre was highly associated with gender issues (e.g. Welker 2011; Fujimoto 2007b; Nagaike and Suganuma 2013). Boys' love is often considered to be a critical response to a patriarchal society (Welker 2011, 223), and an escapist genre rooted in dissatisfaction with traditional gender roles and related social expectations (Kamm 2013). According to this, boys' love characters are considered to be representations of the ideal self-image of those women who feel that the socially constructed gender system is not appropriate for them (Fujimoto 2004, 86) due to perceived inequality in power and social hierarchy (Welker 2011, 223). In contrast, boys' love stories equalize power (Chou 2010, 88) by constructing idealized male characters with a female soul (Fujimoto 2004, 86). Female fans can therefore dissociate themselves from restrictive gender expectations by identifying with a gender construct provided in boys' love narratives that is more appropriate to their needs (Welker 2011, 223).
Thematic stories often contain dramatic themes such as early-life traumas (Bollmann 2010, 44) and gender-related problems (e.g. relationship anxieties rooted in sexual identity dilemmas) that represent women's collective and individual struggles (Welker 2011, 223). However, these concerns are presented in a supportive and positive form (e.g. rape blame does not exist in boys' love), contributing to a potentially more positive reframing of fans' personal experiences (Mizoguchi 2008, 154-155). As Mizoguchi (2008, 84-86) explains, the visual representation "constitutes the comic readers' psychological reality" instead of the real content. Nevertheless, a number of boys' love fans may never be able to overcome their problems through fantasy, and thus they avoid stories including certain scenarios that are close to their personal experiences (e.g. rape) (2008, 32).
There is a social expectation toward women in Japan and in several European countries that women should be chaste and repress erotic thoughts. Boys' love allows them to develop sexual fantasies and to express their desires in the form of creative works and social activities (Galbraith 2011, 213-216). They can participate in sexual experiences within the safe confines of fantasy without any real consequences (Früh 2003, 27-56), and in a closed, female-dominated community in which members do not have to restrict or censor [End Page 7] their erotic thoughts (Fujimoto 2007b, 36-47). Since the sexual interaction takes place between two men, and thus erotic thoughts are projected onto male characters, female fans can dissociate themselves from their female desires that cause tension, given that it contravenes socially constructed gender expectations (Fujimoto 2007b, 36-47; 2004, 87). However, thematizing male homosexuality in women's fiction is widely accepted in Japan, since these texts are considered to be part of women's sexual culture (McLelland and Yoo 2007, 18). The acceptance of male homoeroticism is deeply rooted in the history of homosexual culture in Japan. Indeed, homosexual practices are intertwined with several Japanese traditions, and a complex system of age-structured homosexual customs called "shudō" persisted through several historical periods (Pflugfelder 1997, 26). For instance, this custom established a deep emotional and personal relationship between samurai warriors and apprentices as part of the mentorship and training process in becoming a warrior (Leupp 1999, 53-54). Restrictions on homosexual behavioral practices clustered in time around the appearance of Western cultural values (McLelland and Welker 2015, 7).
According to representations of Japanese society in boys' love media, it could be concluded – incorrectly – that Japan is particularly tolerant of homosexuality compared to Western societies (McLelland and Yoo 2007, 18). However, gay men constitute a sexual minority there too (McLelland and Welker 2015, 3), and face difficulties with societal stigmatization (Herek 2009, 32-43).
Research points out that the positive representation of gay men in boys' love media and the core message of equality regardless of gender and sexual preference is of special importance for fans of the post-industrialized Anglophone world (Pagliassotti 2008b). Indeed, it is particularly important to them that boys' love media promote tolerance, which can contribute to the social acceptance of homosexual men (2008b). In a similar vein, Mizoguchi (2010, 159) highlights the importance of raising awareness of this potential among creators of boys' love, as this could be used to increase social acceptance.
Despite the positive aspects of the boys' love phenomenon (e.g. creativity, international collaborations, self-supportive resources and promotion of pro-gay attitudes), critics have stated that this genre may not serve as a positive representation of gay men. Instead, the idealistic illustration of fictional characters and controversial situations (e.g. rape as the expression of love) reflects an unreal and rather detrimental image of gay society. Furthermore, the pathologization of female fans devoted to media content focusing on male homosexuality, and censorship as an effort to control the circulation of thematic materials including controversial themes (e.g. erotic content featuring underage boys), have raised particular concerns relating to boys' love fan culture.
Boys' love critics
The "yaoi debate" (or yaoi ronsō) began in the early 1990s as a protest by gay activists against boys' love (Mizoguchi 2008, 178-180). This debate took place in a fanzine in which a provocative essay, written by gay activist Masaki Satō, was published, who wished for the decline of the boys' love genre for presenting an unreal image of gay people (Mizoguchi 2008, 179). Several heterosexual and lesbian women responded to Satō's essay, starting a debate, which expanded into a discussion on gay rights and the social perception of sexual minorities [End Page 8] that might be biased by representations in boys' love media (Mizoguchi 2008, 178-184). Satō argued that women consider men perverts for expressing sexual desire, while they do the same in boys' love by misinterpreting their sexual fantasies in order to maintain the impression that they create art which, in their view, cannot be equal to pornography (qtd. in Mizoguchi 2008, 178-180). Furthermore, Satō argued that boys' love increases discrimination against gay men due to its idealized portrayal of them (Mizoguchi 2008, 181-182). He claimed that this genre only widens the perceived social distance between gay men and heterosexual individuals (Mizoguchi 2008, 180-181), since the majority of gay men are not young and beautiful but average men with ordinary jobs (Mizoguchi 2008, 181). Thus, boys' love may give the impression that gay men are generally attractive, usually develop a "proud gay identity", and have a stable, homosexual relationship (Mizoguchi 2008, 181). However, highly idealized illustration of characters can be found in many other romantic literary genres; thus, this argument could be applied to a number of works of romantic literature besides boys' love.
Satō also argued that the refusal of boys' love characters to accept their gay identity clearly shows that this genre cannot promote social tolerance but serves only as a source of private entertainment for women (Mizoguchi 2008, 181-182). Finally, Satō outlined that boys' love should not serve as an escapist genre for women but should function as a medium which contributes to the growing social acceptance of sexual minorities without portraying gay men as objects of the female gaze (Mizoguchi 2008, 186).
Regarding the sexuality of female fans, empirical research findings do not support the commonly held assumption that the vast majority of boys' love fans are heterosexual women (e.g. Pagliassotti 2008a; Levi 2009). Mizoguchi describes in her work that she became a lesbian through reading boys' love manga (2008, 164), suggesting that this genre may have an impact on the sexual behavior of fans. However, further research would be required to determine a causal relationship between sexual preference and exposure to boys' love media.
Boys' love fans may find it difficult to navigate between the heteronormative world and fictional homonormativity. According to Galbraith's (2011, 220-221) work, fans devoted to boys' love media consider themselves privileged dreamers who have an extensively developed fantasy world. They reported that nontraditional romances expand their imagination. They label themselves "abnormal" for this special interest, while consider those "short on dreams" as "normal" (2011, 221). Similarly, "normals" often pathologize boys' love fans for their attraction to gay men (Kamm 2013). A widely held assumption has also emerged that boys' love fans might be sexually-deprived women, although this hypothesis is not supported by empirical evidence (Mori 2010, 101; Sugiura 2006, 40). A number of boys' love fans might also consider their fascination with gay romance a pathological construct at the beginning, but their anxieties diminish when they get to know other people sharing the same interest (Mizoguchi 2008, 72).
The emergence of the boys' love genre, particularly shōta, raises concerns about the impact of explicit sexual content featuring underage boys on the healthy sexual development of young female fans (McLelland and Yoo 2007, 14-18). Japan seems to be more permissive in terms of placing underage characters into fictional erotic scenarios, since the appreciation of young and beautiful boys was part of the cultural tradition in several historical eras (McLelland 2005b, 96-159; McLelland and Welker 2015, 6). Although boys' love narratives containing explicit sexual representations of underage boys are legal as virtual child [End Page 9] pornography in the United States, these materials could be categorized as child-abuse media in Australia and countries with similar local legislation (McLelland and Yoo 2007, 15). Since several boys' love fans associate shōta with pedophilia, they remain critical regarding its content, despite the fact that these materials are targeted at young women who, as McLelland and Yoo point out, incorporate these fantasies as part of their healthy sexual development without causing harm to other individuals, particularly young boys (2007, 8).
The social potentials of boys' love
The formation of large online communities in the mid-2000s provided a space for intercultural communication among individuals attracted to homosexual romance stories (Thorn 2004, 173). Furthermore, these communities established intercultural collaborations among fans, which contributed to the spread of scanned and translated manga which had not been published outside of Japan (Thorn 2004, 173). Scanlations – i.e. manga scanned and translated by fans (Noppe 2010, 131) – provided a great opportunity for boys' love enthusiasts to improve their English language skills as well as establishing a core base for international friendships that transcended cultural differences (Nagaike and Suganuma 2013). These international collaborations contributed to the process through which individuals with the same interest met online, and their wide array of social and creative activities have expanded into a "universal psychological phenomenon" (Mizuma 2005, 20) since gaining the attention of publishers, followers and academics (Thorn 2004, 171-178).
In addition, boys' love fan communities encouraged members to cope with personal problems through social activities, provided a supportive environment, and helped fans become more self-aware (Suzuki 1998, 243). Thus, the intimate, female-dominated space of boys' love enthusiasts could be seen as ideal for helping fans to cope with problems and for establishing virtual friendships based on their attraction to male homosexual erotica (Mizoguchi 2008, 339). Consequently, the perceived "abnormality" of the fujoshi identity (Galbraith 2011, 221) is of positive significance in this context and reduces the extent to which boys' love fans may feel socially isolated.
In recent years, social networking sites have provided an appropriate space for boys' love fans to share material and discuss their fascination with male homosexual romances. This interactive online platform is very significant for underage boys' love fans, since their membership remains hidden in the case of secret groups where they can share adult content. They can gain knowledge of their sexual desires and act them out in a safe place of fantasy, as emphasized by Früh (2003, 27-56). Furthermore, anonymity is provided for all fans on web pages and forums (Wood 2006, 409). They therefore cannot be identified by parents or friends (Wood 2006, 408-409). Indeed, the families of boys' love fans do not know anything about boys' love in the vast majority of cases, thus they are not aware when a family member is involved in the boys' love phenomenon (Wood 2006, 409). Consequently, parents have no control over the exposure of young girls (or boys) to homosexual content, which has both advantages and disadvantages.
Finally, qualitative research (Pagliassotti 2008b) proposed that the boys' love genre could contribute to society's acceptance of gay people in a cross-cultural context (Pagliassotti 2008a) due to its positive portrayal of gay people. Although critics doubted that [End Page 10] boys' love media would promote favorable attitudes toward gay men, a positive association was found between exposure to boys' love media and pro-gay attitudes, irrespective of sexual orientation (Zsila 2015, 399-403). However, it is not clear whether it is the exposure to boys' love media that gives rise to pro-gay attitudes, or vice-versa. Further research is therefore needed to determine whether boys' love fans are more accepting or the frequent exposure to boys' love media has a positive impact on fans'attitudes toward gay men (Zsila 2015, 404).
Conclusion
Boys' love, which portrays the romantic love between two men, has received a great deal of attention from researchers over the past two decades. As a consequence, a number of relevant theoretical studies, and qualitative and quantitative research articles, have emerged, focusing on either the media of boys' love or its consumers. In this paper, we provided an overview of the international literature relating to boys' love based on the main characteristics of this genre, the fan culture and motivations behind it, critiques of the genre, and the possible social implications of boys' love. Although there is a growing body of English-language literature on this genre, a great number of articles are still only available from Japanese sources, making it difficult to synthesize the conclusions of different disciplines that investigate distinct aspects of the boys' love phenomenon. Moreover, both the characteristics of boys' love media (e.g. preferred settings, character types) and fans' needs change over time, as was emphasized by several authors, e.g. Bollmann (2010, 42-46); Mizoguchi (2008, 53-128); Welker (2015 42-75). However, there are a number of apparently common features across time periods and audiences. Firstly, boys' love has inspired the creativity of numerous fans, motivating them to create self-expressive pieces intertwining their desires with their art. Secondly, this genre has contributed to the formation of active fan communities, leading to international collaborations between fans. Finally, boys' love media has created a supportive space for women, who can share their fantasies without the pressure of social restrictions, and who wish to achieve the same for gay people proven that qualitative research demonstrated that pro-gay attitudes promoted by boys' love media was one of the main motives of women to be fans of this genre.
---
[1] Japanese acronym originating from "yama nashi, oichi nashi, imi nashi", which means "no climax, no point, no meaning". This expression refers to the focus on sexual content instead of a complex storyline.
[2] Fan-created stories borrowing characters and settings from original works (e.g. movies, TV series). The term "slash" comes from the / symbol, which refers to the romantic bond between two characters in these works (e.g. Kirk/Spock in the early Star Trek stories).
[3] Japanese term derived from the anime entitled "Tetsujin 28-go", which featured a young male character, Shōtarō, who was a symbolic representation of cuteness and charm in the story (Saitō 2007, 236).
[4] Japanese term, which literally means "rose". The expression is derived from a gay photo collection published in the early 1960s, and was revived later by a magazine for gay men entitled "Barazoku" (Mackintosh 2006). [End Page 11]
[5] Japanese term that refers to literary and visual media that hides "nioi" (hint, touch) for the fans of male homosexual stories to detect the signs of homosexual intimacy. "Kei" is a widely used term to describe groups or categories (Aoyama 2013, 66). [End Page 12]
Works cited
Aoyama, Tomoko. "BL (Boys' Love) Literacy: Subversion, Resuscitation, and Transformation of the (Father's) Text."U.S.-Japan Women's Journal 43 (2013): 63-84. Print.
Bauwens-Sugimoto, Jessica. "Subverting Masculinity, Misogyny, and Reproductive Technology in SEX PISTOLS." Image & Narrative, 12.1 (2011): n.pag. Web. Accessed 7 Oct. 2016.
Bollmann, Tuuli. "He-romance for her – Yaoi, BL and Shounen-ai." Imaginary Japan: Japanese Fantasy in Contemporary Popular Culture. Ed. Eija Niskanen. Turku: International Institute for Popular Culture, 2010. 42-46. Print.
Chou, DienFang. "Exploring the Meaning of Yaoi in Taiwan for Female Readers: From the Perspective of Gender." Intercultural Communication Studies 19.1 (2010): 78-90. Print.
Früh, Werner. "Triadisch-Dynamische Unterhaltungstheorie" [Triadic-dynamic entertainment theory]. Theorie der Unterhaltung: Ein interdisziplinärer Diskurs. Eds. Werner Früh and Hans-Jörg Stiehler. Cologne: von Halem, 2003. 27-56. Print.
Fujimoto, Yukari. "Transgender: Female Hermaphrodites and Male Androgynes." U.S.-Japan Women's Journal 27 (2004): 76-117. Print.
– – –. "Onna ga otoko wo aisuru toki: Yaoi teki yokubouron/shiron" [When a woman loves a man: A tentative theory of Yaoi-style love and desire]. Yuriika, 536: Fujoshi Manga Takikei. Tokyo: Seidosha, 2007a. 63-68. Print.
– – –. "Shōnen'ai/yaoi, BL: 2007-nen genzai no shiten kara" [Shōnen'ai, yaoi, and BL: From the perspective of 2007]. Yuriika39.16 (2007b): 36-47. Print.
Galbraith, Patrick W. "Moe: Exploring Virtual Potential in Post-Millenial Japan." Electronic Journal of Contemporary Japanese Studies (2009): n.pag. Web. Accessed 12 Jan. 2016.
– – – "Fujoshi: Fantasy Play and Transgressive Intimacy among 'Rotten Girls' in Contemporary Japan." Signs 37.1 (2011): 211-232. Print.
– – –. "Moe Talk: Affective Communication among Female Fans of Yaoi in Japan." Boys Love Manga and Beyond: History, Culture, and Community in Japan. Eds. Mark McLelland, Kazumi Nagaike, Katsuhiko Suganuma, and James Welker. Jackson: University Press of Mississippi, 2015. 155-168. Print.
Kazumi Nagaike, Katsuhiko Suganuma, and James Welker. Jackson: University Press of Mississippi, 2015. 155-168. Print.
Gibbs, Christy. Breaking Binaries: Transgressing Sexualities in Japanese Animation. Diss. University of Waikato, 2012. Print.
Hagio, Moto. "The Moto Hagio Interview. Interview by Matt Thorn." Comics Journal 269 (2005): n.pag. Web. Accessed 11 Jan. 2016.
Herek, Gregory M., J. Roy Gillis, and Jeanine C. Cogan "Internalized stigma among sexual minority adults: Insights from a social psychological perspective." Journal of Counseling Psychology 56.1 (2009), 32-43. Print.
Hori, Akiko. "On the Response (Or Lack Thereof) of Japanese Fans to Criticism that Yaoi Is Antigay Discrimination." Transnational Boys' Love Fan Studies. Spec. issue of Transformative Works and Cultures 12 (2013): n.pag. Web. Accessed 10 Jan. 2016.
[End Page 13]
Kamm, Björn-Ole. "Rotten Use Patterns: What Entertainment Theories Can Do for the Study of Boys' Love." Transnational Boys' Love Fan Studies. Spec. issue of Transformative Works and Cultures 12 (2013): n.pag. Web. Accessed 10 Jan. 2016.
Leupp, Gary P. Male Colors: The Construction of Homosexuality in Tokugawa Japan. Berkeley: University of California Press, 1999. Print.
Levi, Antonia. "North American reactions to Yaoi." The Japanification of Children's Popular Culture: From Godzilla to Miyazaki. Ed. Mark I. West. Plymouth, UK: The Scarecrow Press, Inc., 2009. 147-173. Print.
Lunsing, Wim. "Yaoi Ronsō: Discussing Depictions of Male Homosexuality in Japanese Girls' Comics, Gay Comics and Gay Pornography. "Intersections: Gender, History and Culture in the Asian Context 12. (2006): n.pag. Web. Accessed 10 Jan. 2016.
Mackintosh, Jonathan D. "Itō Bungaku and the Solidarity of the Rose Tribes [Barazoku]: Stirrings of Homo Solidarity in Early 1970s Japan". Intersections: Gender, History and Culture in the Asian Context 12 (2006): n.pag. Web. Accessed 12 Jan. 2016.
Madill, Anna. "Girls Love 'Boys' Love': Exploring Sexuality and Gender in Japanese Manga." Conference paper, Women in Comics II, Leeds Art Gallery in association with Comics Forum. 18-21 Nov 2010.
Madill, Anna "Visual and Narrative Creation of the Erotic in 'Boys' Love' Manga for Girls." Conference paper, International Human Science Research Conference: Intertwining Body-Self-World. St. Catherine's College, University of Oxford. 27-30 July, 2011.
McHarry, Mark. "(Un)gendering the Homoerotic Body: Imagining Subjects in Boys' Love and Yaoi." Textual Echoes. Special issue of Transformative Works and Culture 8 (2011): n.pag. Web. Accessed 12 Jan. 2016.
McLelland, Mark. Male Homosexuality in Modern Japan: Cultural Myths and Social Realities. London: Routledge, 2000. Print.
– – –. "The World of Yaoi: The Internet, Censorship and the Global 'Boys' Love' Fandom." The Australian Feminist Law Journal 23 (2005a): 61-77. Print.
– – –. Queer Japan from the Pacific War to the Internet Age. Lanham: Rowman and Littlefield, 2005b. Print.
McLelland, Mark, and S. Yoo. "The International Yaoi Boys' Love Fandom and the Regulation of Virtual Child Pornography: Current Legislation and its Implications." Journal of Sexuality Research and Social Policy 4.1 (2007): 93-104. Print.
McLelland, Mark, and James Welker. "An Introduction to 'Boys Love' in Japan." Boys Love Manga and Beyond: History, Culture, and Community in Japan. Eds. Mark McLelland, Kazumi Nagaike, Katsuhiko Suganuma, and James Welker. Jackson: University Press of Mississippi, 2015. 3-20. Print.
Meyer, Uli. "Hidden in Straight Sight: Trans*gressing Gender and Sexuality via BL." Boys' Love Manga: Essays on the Sexual Ambiguity and Cross-Cultural Fandom of the Genre. Eds. Antonia Levi, Mark McHarry, and Dru Pagliassotti. Jefferson, NC: McFarland, 2010. 232-256. Print.
Mizoguchi, Akiko. "Homofobikku na homo, ai yue no reipu, soshite kuia na rezubian." [Homophobic homos, rape due to love, and queer lesbians] Queer Japan 2 (2000): 193-211. Print.
– – –. "Male-Male Romance by and for Women in Japan: A History and the Subgenres of Yaoi Fictions." U.S.-Japan Women's Journal 25 (2003): 49-75. Print.
[End Page 14]
– – –. Reading and Living Yaoi: Male-Male Fantasy Narratives as Women's Sexual Subculture in Japan. Diss. University of Rochester, 2008. Print.
– ––. "Theorizing Comics/Manga Genre as a Productive Forum. Yaoi and Beyond." Comics Worlds and the World of Comics. Towards Scholarship on a Global Scale. Ed. Jaqueline Berndt. Kyoto: International Manga Research Center, Kyoto Seika University, 2010. 143-168. Print.
Mizuma, Midori. Inyu to shite no shōnen-ai [Shōnen-ai as metaphor]. Tokyo: Sougensha, 2005. Print.
Mori, Naoko. Onna wa poruno o yomu: Onna no seiyoku to feminizumu [Women read porn: Women's sexual desire and feminism]. Tokyo: Seikyūsha, 2010. Print.
Nagaike, Kazumi and Katsuhiko Suganuma. "Transnational Boys' Love Fan Studies."Transnational Boys'Love Fan Studies. Special issue of Transformative Works and Cultures 12 (2013): n.pag. Web. Accessed 10 Jan. 2016.
Noppe, Nele. "Dōjinshi Research as a Site of Opportunity for Manga Studies." Global Manga Studies 1 (2010): 123-142. Print.
Orbaugh, Sharalyn. "Girls Reading Harry Potter, Girls Writing Desire: Amateur Manga and Shōjo Reading Practices." Girl Reading Girl in Japan. Eds. Tomoko Aoyama and Barbara Hartley. London: Routledge, 2010. 174-186. Print.
Pagliassotti, Dru. "Reading Boys' Love in the West." Participations, Special Edition 5.2 (2008a): n.pag. Web. Accessed 12 Jan. 2016.
– – –. "Qualitative Data from Research Reported in Dru Pagliassotti, Reading Boys' Love in the West." Participations, 5.2 (2008b): n.pag. Web. Accessed 12 Jan. 2016.
Penley, Constance. "Feminism, Psychoanalysis, and the Study of Popular Culture." Cultural Studies. Eds. Lawrence Grossberg, Cary Nelson, and Paula A. Treichler. New York: Routledge, 1992. 479-494. Print.
Pflugfelder, Gregory M. Cartographies of Desire: Male–Male Sexuality in Japanese Discourse, 1600–1950. Berkeley: University of California Press, 1997. Print.
Saitō, Tamaki. "Otaku Sexuality." Robot Ghosts and Wired Dreams: Japanese Science Fiction from Origins to Anime. Eds. Christopher Bolton, Istvan Csiscery-Ronay Jr., and Takayuki Tatsumi. Minneapolis: University of Minnesota Press, 2007. 222-249. Print.
– – –. "Desire in Subtext: Gender, Fandom, and Women's Male-Male Homoerotic Parodies in Contemporary Japan." Mechademia 6 (2011): 171-191. Print.
Satō, Masaki. "Shōjo manga to homofobia" [Shōjo manga and homophobia]. Kuia sutadiizu '96. Ed. Kuia Sutadiizu Henshū Iinkai. Tokyo: Nanatsumori Mori Shokan, 1996. 161-169. Print.
Sugiura, Yumiko. Fujoshika suru sekai: Higashi Ikebukuro no otaku onnatachi [Fujoshi-izing world: The otaku girls of East Ikebukuro]. Tokyo: Chuokoron Shinsha, 2006. Print.
Suzuki, Kazuko. "Pornography or Therapy? Japanese Girls Creating the Yaoi Phenomenon." Millennium Girls: Today's Girls around the World. Ed. Sherrie I. Inness. Lanham: Rowman and Littlefield, 1998. 243-267. Print.
Thorn, Matthew. "Girls and Women Getting out of Hand: The Pleasure and Politics of Japan's Amateur Comics Community." Fanning the Flames: Fans and Consumer Culture in Contemporary Japan. Ed.William W. Kelly. New York: State University of New York Press, 2004. 169-187. Print.
Ueno, Chizuko. "Rorikon-to yaoi-zoku ni mirai ha aru ka!? – 90nendai no sekkusu-reboryūshon" [Do lolicon and yaoi fans still have a future!? The sex revolution of the 90s]. Otaku no hon (Bessatsu Takarajima 104). Tokyo: Takarajimasha, 1989. 131-136. Print.
[End Page 15]
Welker, James. "Beautiful, Borrowed, and Bent: 'Boys' Love' as Girls' Love in Shôjo Manga."Signs 31.3 (2006): 841-870. Print.
– – –. "Flower Tribes and Female Desire: Complicating Early Female Consumption of Male Homosexuality in Shojō Manga." Mechademia 6 (2011): 211-282. Print.
– – –. "A Brief History of Shounen'ai, Yaoi and Boys Love." Boys Love Manga and Beyond: History, Culture, and Community in Japan. Eds. Mark McLelland, Kazumi Nagaike, Katsuhiko Suganuma, and James Welker. Jackson: University Press of Mississippi, 2015. 42-75. Print.
Wood, Andrea. "'Straight' Women, Queer Texts: Boy-Love Manga and the Rise of a Global Counterpublic." Women's Studies Quarterly, 34.1/2 (2006): 394-414. Print.
Zsila, Ágnes. "A yaoi-jelenség. Szexuális orientáció- és attitűdvizsgálat a magyar anime szubkultúra speciális szegmensében." [The yaoi phenomenon. Sexual orientation and attitude research in a special segment of the Hungarian anime subculture]. Juvenilia VI. Bölcsész Diákkörösök Antológiája [Anthology of the Faculty of Arts of Debrecen]. Debrecen: University Press of Debrecen, 2015. 391-406.
Zsila, Ágnes, Ágnes Bernáth, and Judit Inántsy-Pap. "Yaoi-jelenség a magyar anime szubkultúrában" [Yaoi phenomenon in the Hungarian anime subculture]. Médiakutató [Media researcher], 2015 Winter (2015): 55-65. Print.
[End Page 16]

PLOTS focuses on three (heterosexual) love stories and on the differences between the initial perception of an experience and its subsequent retelling. For this three-part sound installation the artist requested each of the partners to describe turning points in their mutual relationship. In an abridged form, the descriptions given by each pair were subsequently passed on to two male and two female authors, who wrote a series of fictitious scenes based on this material. The original narrations and the adapted scenes served as starting point for the installation. The installation presents the history/stories of the three couples on three adjacent tables.
To experience the installation, click the audio files below. The artist recommends using headphones to listen to the audio files.
PLOTS 1 Audio Track
PLOTS 2 Audio Track
PLOTS 3 Audio Track
Angelika Boeck
PLOTS, 2002
Audio visual Installation
3 CD's, 3 x 54 Photos (18 x 24 cm)
Presentation: 3 tables (70 x 220 cm), 3 CD-Player, 6 headphones
http://www.angelika-boeck.de/arbeiten/alle-arbeiten/single-page-alle-arbeiten/plots/
About the Installation
(text by Randi Gunzenhäuser)
The English word "plot" can mean both a story line (of a drama) or a conspiracy, but also, as part of a language of space, pinpointing a location. Accordingly, this work is devoted to the most varied versions of three heterosexual love stories with each individual, whether they be part of the relationship or a complete stranger, giving their own account. Stories of love exercise a special fascination on us in that they offer a particularly obvious combination of personal and cultural perception. By narrating his or her story, each person acquires a share in the action, occupying narrative space vis-à-vis visitors to the exhibition and so attaining authority for his or her account.
The experimental layout makes use of the diverse meanings of the term "plot". The starting point in each case are the two versions of the love story as recounted separately by each partner. In all, three couples were questioned on their individual versions of the story of their mutual relationship. Angelika Böck requested each of the partners to describe turning points in their mutual relationship. In an abridged form, the descriptions given by each pair were subsequently passed on to two male and two female authors, who wrote a series of fictitious scenes based on this material. The original narrations and the adapted scenes served as a starting point for the installation.
The installation presents the history/stories of the three couples on three adjacent tables. Each table represents a portrait of one of the couples. Photos of locations jointly identified by the couple as the scenes of "turning points" in their relationship lie on the table. The artist has mixed details from the couple's personal photo album among these photos of places of dramatic importance, as well as pictorial material visualising the associations created in her own mind upon hearing the story, e.g. film stills and illustrations. Both narrative highlights and trivial incidents are presented, the couple's own perceptions and fictionalised associations from the male and female authors, details relating specifically to the couple, but also the reactions of Angelika Böck, who acted as a mediator among these various levels.
Each table is fitted with a pair of headphones which can be put on. A female and a male off-speaker re-enact the story of the couple, followed by its fictitious adaptations. The versions of the two people involved can be heard, as well as the four different adaptations of each love story developed by outsiders. The story from the male point of view is heard from the right side of the headphones and the female perspective from the left.
The diverse plots of each love story spur visitors to the exhibition to trace the tracks of individual stories and take a stand for one side or the other. Visitors can only listen to either the man's or the woman's voice if they wish to understand the story. Those lending an ear to both sides of the headphones will understand nothing, the two voices blending into an incomprehensible gabble.
"Plots" evokes complex interactive processes between a man and a woman involved in a relationship. Both seemingly provide information on one and the same relationship, but through their words it becomes apparent that it is not the same relationship when recounted by two people. Although the representations coincide at times, misunderstandings are also voiced, in fact entirely different assessments of the same situation exist. Self-perception and external perception can differ drastically. This also becomes evident in the course of the fictional adaptations, which in turn offer greater scope for external perception, since the authors are in no way acquainted with the persons involved and have the possibility of freely embellishing and reassessing all that has been narrated. The clash between the perceptive criteria and ideal constellations of individuals and cultures is particularly manifest in this work.
Viewers have the possibility of choosing among the various representations, but by doing so, almost inevitably commit themselves to taking sides. In addition to the three couples who remain anonymous, twelve writers and two professional off-speakers took part in this project.
Authors
Thomas Bahmann (film director and scriptwriter)
Susanne Bienwald (writer)
Butz Buse (scriptwriter and actor)
Bettina Böck (dramatic producer)
Doris Haider (copywriter)
Klaus Heid (artist),
Gabrielle Heller (scriptwriter and actress)
Michael Hornstein (composer, saxophonist and scriptwriter)
Robert Hültner (writer)
Andrea Kästle (Journalist)
Tobias Niemann (neurobiologist)
und Fabienne Pakleppa (writer)
Off-speakers
Ditte Schupp und Jakob Ried

[End Page 1]
Maggie realized then, if she had not already, that this was not a modern man who did things according to politically correct rules. He was a Viking warrior with savage sexual appetites and barbarian ways of seduction. An uncivilized lover.
She would have him no other way. (Hill 4474)
The quotation above, taken from Sandra Hill's 2001 romance novel Truly, Madly, Viking, is exemplary in how it enacts a double meaning that is central to this essay's argument about Viking romance fiction, a thriving subgenre of contemporary romance fiction. In this novel, Viking jarl Jorund time travels to modern-day Texas, where he finds love with Maggie, his psychiatrist. On the surface, "she would have him no other way" is a standard affirmation that she likes him just the way he is. The other meaning, though, is that she would not or could not "have him" unless he forced her with his "barbarian ways". My contention is that the Viking in these romance novels is a symbol of the pre-modern, allowed to be a brutal dominator precisely because he is freed from the restrictions of rational modernity. Moreover, the persistence of the paranormal in these stories marks them as clearly existing outside the general consensus of reality. Socially unacceptable behaviour becomes reframed as part of a fantasy, pre-emptively defusing any criticism that the acts of rape within are meaningful in a contemporary real-world context. Vikings have long been associated with the twin terms "rape and pillage", and while contemporary renderings of Viking "pillaging" may be a fairly straightforward proposition to discuss, a discussion of contemporary representations of Viking rape is compromised by the emotive nature of the topic of rape, especially male aggression against women. The discourse of "rape culture" across popular media, particularly popular women's media, potentially compromises or makes impossible the pleasure of reading about forced sex in literature. It is not the purpose of this essay to argue that such a pleasure should be allowable or condemned. Rather, I follow Angela Toscano's lead in rejecting the impulse to evaluate such scenes only in terms of how they "affect or reflect the lives of real women", which limits discussions to how they function as possible mimesis rather than as literary tropes (n. pag). While Toscano is interested in the narrative function of rape, this essay is interested more in the generic function of rape in a particular subgenre. When twenty-first century romance fiction resists twenty-first century feminist censure and self-censure, the subgenre of Viking romance fiction creates a "safe zone" for imaginings of male sexual aggression by representing the men as pre-modern and the context as paranormal.
I adapt the title of this essay from Delilah Devlin's 2011 novel Ravished by a Viking, which signals male sexual aggression as a key pleasure of the text in large letters on the front cover. The title invites discussion about the term ravishment, pertinent here because it is a word that comes, like Vikings, from the Middle Ages. "Ravissement" at first meant "carrying off a woman" then later "carrying a soul to heaven" then the "secular, affective" meaning of "being 'carried away' emotionally" and from there, carried away with sexual desire (Gradval 5). The word has always represented a slippage from "violent abduction to sexual pleasure" (Gradval 5), which may not be out of place with some medieval notions of love being likened to "a violent experience which happened to you—entered or penetrated you, took possession of you, corrupted your reason and imprisoned you, male and female—against your will" (Vitz 22). Rape and ravishment are expressions of what Gradval would call the same "trope", that is, the trope of forced sex in literature, whether through forced marriage or trickery, or physical violence, or supernatural agency. In her title, Devlin has [End Page 2] made a conscious choice not to use the word most associated with Vikings and sexual assault ("rape"), but to emphasise the possibility of being swept away by pleasure, even in the experience of being threatened by sexual aggression and violation. In a sense, the semantic slippage performed by the title is also performed by the texts under consideration: sexual aggression does take place, but is constantly framed as a pleasure that exists outside of rational modernity.
Vikings, as noted above, also have their origin in the Middle Ages. They make their first appearance in English in the Anglo-Saxon Chronicle's entry for 787, which records the "first ships of the Danish men that sought land in England" and a welcoming reeve who is slain because "he knew not what they were." They are called "pagans" and "barbarians" in Aethelward's Chronicle; are "seagoing robbers" according to Malmesbury; and known for "burning and plundering and manslaughter" in the Anglo-Saxon Chronicle. However, early chroniclers also evidence admiring fascination with the Vikings: for example, with the exoticness of their ships and their perceived attractiveness to English women (Frank 23-27). In fact, Vikings might have been the first counter-culture heroes, an example of the commonly expressed sentiment that monsters of any kind exert powers of attraction as well as powers of repulsion: an idea that clearly underpins the entire paranormal romance genre. Of all the characters that history presents us with, there would be few, if any, better suited to represent both brutal, masculine danger and desire than Vikings.
The Middle Ages are called the Middle Ages for a reason: in the narrative of progress and supercession to which  Western culture subscribes, it sits between the two "great" periods of classical antiquity and the Renaissance. It is in the middle: its function is to define and validate the two bracketing periods. When we reimagine the Middle Ages now, we are very much still saying something about the modern, the thing that has superseded and flattened it: the medieval, according to Fradenburg, secures "for modernity, its intelligibility to itself" (211). The ongoing cultural impulse to represent Vikings as an irrational pre-modern people allows us to compare ourselves favourably against them and be more certain of our rational modernity. As an example, think of the origins of the modern word "berserk": the bearskins (literally "bear-shirt") that some Viking warriors wore while in a battle frenzy. I note that an aspect of the berserker legend has always been the possibility that they were actually shape-shifters, an example of the blurring between historical fact and supernatural fantasy that I explore in more detail below.
According to Geraldine Heng, the medieval romance and the contemporary popular romance can both be recognised by the "structure of desire" that drives the narrative (3): an object is desired, and obstacles cause the deferral of resolution to that desire. More specifically, the chivalric romance usually centres around gender and sexuality as well as adventure, and features the idea of courtly love (longing for an object that remains forever out of reach). This idea displays a similar "pattern of desire" and "economy of pleasure" to the contemporary popular romance (Heng 5). Importantly for the argument I present here, the medieval romance often featured supernatural creatures and events. Heng argues that in contemporary representation, the medieval romance has become almost indistinguishable from the lived Middle Ages, to the point that the whole period is "characterised and depicted in later eras as if it were a romance" (2). In the romance, as in contemporary representations of the medieval, fact and fantasy "collide and vanish, each into the other" (2). [End Page 3]
The medieval romance genre that Heng cites above postdated the Viking age by several hundred years, but nonetheless the flattening of the Middle Ages that allows (or perhaps invites) superstition and the supernatural to colour its representation is also apparent when we consider how Vikings are represented across time. In 793, Norse raiders famously sacked the monastery at Lindisfarne on the English northern coast, and the Anglo-Saxon Chronicle characterises the attack as supernaturally monstrous, heralded by whirlwinds, lightning, and "fyrenne dracan" (fiery dragons) (my translation). The language itself is reminiscent of the apocalyptic language that describes Ragnarok, the mythological end times of the Viking gods: "The sun turns black, earth sinks in the sea / The hot stars down from heaven are whirled / …. fire leaps high about heaven itself" (Völuspá 57, trans Bellows 24). This elision between history and the supernatural turns up again in the contemporary fantasy novel Wolfsangel. As Vali waits aboard a longship for his first raid with his Viking colleagues, the berserkers begin to chant wildly and a series of images form in his mind: "Odin fighting the Fenris Wolf… gallows and slaughter, fire and blood" (Lachlan 77). Story and history slip in and out of each other from earliest records. The boundaries between historical events of the Viking age and Viking mythology are shown to be porous, tinged with a particular complexion of the supernatural: dark, menacing, apocalyptic. What we see, then, is a privileged relationship developing between brutal pagan masculinity and the paranormal, and it is this relationship that provides an engaging dynamic for the contemporary Viking romance novel. For example, in Tanya Anne Crosby's Viking's Prize (2013), protagonist Elienor is an unwilling prophetess who is cursed by paranormal dreams and haunted by accusations of witchcraft; in Sandra Hill's Truly, Madly, Viking (2011), Jorund is a time-travelling Viking who eventually discovers other time-travelling Vikings, including his vanished brother; and Delilah Devlin's Ravished by a Viking (2011) is set in the colony of New Iceland on a distant planet, where Vikings have been magically transported by the Norse gods via the mythological bridge Bifrost. It is interesting to note that complementing these traditionally published novels is a thriving subgenre of Twilight fan fiction that reimagines Edward as a Viking, and Isabella as his thrall. The nexus between Viking and vampire has already been explored in a sustained way in Charlaine Harris's Sookie Stackhouse series and is more fully developed in the television series adaptation True Blood through the character of Eric Northman. The Viking, like the vampire, is bound by a different set of cultural rules and expresses a different and dangerous set of drives. It is beyond the scope of this essay to examine these fan fictions as well, not the least reason being that (paradoxically) nothing paranormal takes place in them. But what this intertextuality between Viking romance and Twilight fan fiction may point to is the enduring popularity of romance that features submission, domination, and forced sex, and some of the generic conventions that can make those things more palatable to a twenty-first-century audience.
A great deal of scholarship of romance fiction takes as its objects past iterations of the genre. Given the romance genre, like all genres, is contingent and constantly shifting, criticism can easily become outdated (Vivanco 1061). As Luther has written, the standard trope of the rapist turned true love became far less common after the eighties and nineties (n. pag). Vivanco tells us that it is more likely that twenty-first-century romance novels will explicitly address "issues surrounding gender and sexual politics" (1085). Romance fiction now "at times reveal[s] an ardent, feminist awareness of the extent to which patriarchal societies can seek to control women" (1077). Ravished by a Viking's protagonist Honora is a [End Page 4] smart and powerful spaceship captain who represents a complete subversion of the women's roles her Viking love interest has come to expect: "Didn't she know women were meant to be soft and yielding?" (68). Maggie, in Truly, Madly, Viking has a doctorate in psychology and Jorund must learn to hide his "show-vein-is" (i.e. chauvinist) tendencies around her (2831). Elienor in Viking's Prize is the feisty heroine so valued by historical fiction: an "independent, strong, feisty, and passionate" woman, around whom the "silent rank and file" of unexceptional women exist. The feisty heroine "must be exceptional"; she "lives a life less ordinary" (Tolmie 146), and her feistiness is presented for a female audience's reading pleasure. In many ways, these stories represent feminist values, and they do it quite naturally and smoothly: there is no sense that it is uncommon for twenty-first-century romance fiction to operate in this manner. However, the trope of ravishment is central to the erotics of every story. In each case, male aggression is presented as uninvited and insistent. Honora has to physically fight Dagr off: "she sputtered and slammed her fists against his chest" (Devlin 69); after Elienor tells Alarik, "You have no claim over me, nor shall I give you anything freely!" (895) he sexually assaults her while she sleeps: "he found himself undulating softly into the sweet warmth between her thighs" (Crosby 2134); and Jorund uses threats as foreplay: "You will bend to my will one day" (Hill 1896). The volume of scenes across this genre that operate as these do supports the idea that male sexual aggression is a key pleasure of the genre. The acknowledgement that reading pleasure is gained from representations of forced sex presents an undeniable conundrum for readers and theorists. As Katie Roiphe points out, such imaginings in popular fiction "seem to be saying something about modern women that nearly everyone wishes wasn't said" (n. pag).
Paranormal romance author Anne Rice says that a woman "has the right to pretend she's being raped by a pirate if that's what she wants to pretend" (in Dowd, n. pag), co-opting the language of feminism ("has the right", "what she wants") to support her assertion. What is revealing about Rice's proclamation is that she needs to say it at all. It is framed as a response in anticipation of the feminist censure that attends representation of rape fantasies, and fantasies of domination and submission. Certainly the widespread success of Fifty Shades of Grey aroused much popular consternation, exemplified in Frank Bruni's article for the New York Times that took on the "post-feminist power dynamics" of both Fifty Shades and popular HBO television series Girls: "Gloria Steinem went to the barricades for this? Salaries may be better than in decades past and the cabinet and Congress less choked with testosterone. But in the bedroom? What's happening there remains something of a muddle, if not something of a mess" (n. pag, original emphasis). Postfeminism is a term mostly used to refer to women "who are thought to benefit from the women's movement" but "do not push for further political change". The opening quotation of this essay, where Maggie explicitly expresses pleasure that Jorund is not "politically correct" exemplifies the postfeminist outlook. Postfeminists, according to Aronson, are seen by feminists as "depoliticized and individualistic" and these tendencies are associated with "the 'death' of feminism" (Aronson 904-05). Gill agrees that the tendencies of postfeminism work against the goals of the feminist movement, citing particularly the postfeminist "resurgence of ideas of natural sexual difference" (158). Writing about romance fiction specifically, Harzewski also identifies "the pleasures of femininity" afforded "through the recognition of sexual difference" as an integral concern of postfeminism (Harzewski 3469). Not every theorist is as sanguine as Harzewski, with Gill [End Page 5] noting that the reinstatement of natural sexual difference serves to "(re)-eroticize power relations between men and women" with the end result that "discourses of natural gender difference can be used to freeze in place existing inequalities by representing them as inevitable and… pleasurable" (Gill 158-59). Bonomi, Altenburger, and Walton point to popular fiction's role in representing as positive what they call "dangerous" ideas of abuse against women (733), while Philadelphoff-Puren implicates a certain strain of romance novels—those marked by a "consistently violent representation of heterosexual sex" (32) and the heroine's "dissimulating 'no'" (39)—in the low conviction rates of rapists, arguing that these novels have shaped "a legal-romantic imaginary which has material effects on the lives of women who charge men with rape" (38, original emphasis). These reactions exemplify what Roiphe describes as the "upstanding feminist tsk-tsking" about the choices postfeminists make about what to read and what to watch (n. pag). In this discourse, clear discomfort exists around the idea of male aggression as pleasurable to women. The genre of Viking romance fiction, then, creates a more comfortable space for reading pleasure by projecting rape into the past, and obscuring it with the veil of the numinous. The pleasure of ravishment is accepted more readily when it is represented within a context that is neither "modern" nor "normal": rather, it is pre-modern and paranormal. The genre uses a number of observable moves, related to the pre-modern and the paranormal, to manage the transformation of a potentially guilty reading pleasure into a less-encumbered reading pleasure.
Essentialised sexual difference is a key feature of this genre. Vikings represent an unreconstructed masculinity that is almost fetishized, and which is presented as impossible for modern men to attain. The difference between the Viking male and the modern male is most clearly evidenced in Hill's Truly, Madly, Viking because Jorund has time-travelled to present-day Texas, allowing for deep contrast. When Jorund sees men in fashionable cowboy boots, he says, "High-heeled boots on men! Are the men of this place demented? Do they not know how ridiculous they look? Do their toes not hurt and their ankles not ache at the end of a day spent in men's work?" (Hill 664). Jorund's default assumption is that men work with their bodies, and that anything that interferes with that is "ridiculous"; but in a way it echoes contemporary criticism of the "metrosexual" man as somebody who privileges fashion over traditional male pursuits. Modern man's inability to match the essential masculinity of the Viking is exemplified when another male character dresses up as a Viking: "On his head was a long, blond wig that Jorund could swear he'd seen on a scullery maid just yestereve. On his upper arms were two makeshift bracelets formed from strips of tinfoil, a product used in modern kitchens to save food" (2018). The particular complexion of the humour in this description is not simply derived from the sharp difference between real Viking and make-believe Viking, but also from the way the dressed-up man is feminised by being associated with women's accoutrements (wig, bracelets) and domestic work (maids, kitchens, food preservation). A similar strongly drawn image of the inability of the modern to be as masculine as the pre-modern is a scene in which a man dressed in a toga bends over to reveal "bare flabby buttocks" (2016). The modern man is not associated here with sexual aggression, rather with femininity and flaccidity. He is no sexual threat; in fact, he is barely sexual.
Even the modern day alpha male pales in comparison to the authentic masculinity of the Viking. Maggie's ex-husband is a surgeon, arguably the top of the tree in modern masculine hierarchies. Maggie explains that he had aspirations as a thrill seeker: "He [End Page 6] wanted to …. [s]et a record for skydiving. Climb the highest mountains. Race cars. Scuba dive" (3144). Jorund, by contrast, finds the idea of seeking danger for empty reasons puzzling. In Viking times he had been close to death when "a Saracen horse soldier had… put a scimitar to his throat while dangling him off the side of a cliff." This experience is presented as a genuinely fearful moment—"had not felt such fright"—an authentic male experience of battle with another authentic male (2871). The challenges facing Jorund's performances of masculinity present real consequences; the modern thrill seeker's are consequence-free.
Jorund's focus on manly physical activity colours his attitudes to the other patients in the psychiatric institution he finds himself in. He takes particular interest in paraplegic Gulf War veteran Steve: "Even those who live in those wheeled chairs should be working muscles that are still alive," he says (1940). His interest extends to Steve's mental state. Steve is suffering from post-traumatic stress disorder, and Jorund explains to Maggie that he is aware of a kind of shellshock among his own people "after a particularly gruesome battle" (1629). This connection across time, however, is not completely shared: Jorund is quick to point out he speaks "not from personal experience" (1629). Within a few weeks, Jorund has instigated a physical activity program to help rehabilitate his fellow inmates, particularly employing the pre-modern activities of sword fighting and rock hurling as a way of helping these modern men reclaim their masculine agency.
The hypermasculinity of these characters functions to heighten the contrast between male and female characters. This eroticization of sexual difference is often focalised through the female viewpoint. Female characters in these scenes seem to lose control of thought and rationality when confronted with the erotic potential of this contrast. Maggie notes that when Jorund's "maleness [is] pressed against her femaleness, sanity seemed to be lacking" (Hill 1846), and Elienor's thoughts turn "against her will" to "the firmness of [Alarik's] flesh beneath her palms as he'd carried her out from the kirken" (Crosby 141). Honora even loses control of her basic bodily functions when she reluctantly agrees to group sex with Dagr and his friends: she "imagined how she must look, her slight frame dwarfed by three large Vikings, and she grew so excited she gulped for air" (Devlin 152). Another pleasure that comes from this representation of contrast is that it allows women to see the desire available in pre-modern notions of feminine beauty: for example, Elienor's "generous curves" (Crosby 626), or the "soft, full curves" and "ample breast" of Viking woman Tora, who serves as Dagr's sex thrall (Devlin 37). These notions of attractive female bodies are offered as essentialised archetypes that the pre-modern man understands as perpetually desirable: Jorund notes that Maggie "thought she carried too much weight, but she was wrong. Men did not like skin-and-bone females…. On that issue, men were men" (Hill 3491).
Often, this eroticised difference between men and women is extended imaginatively to signify not just contrast, but conflict. Alarik from Viking's Prize finds such conflict arousing when Elienor resists him: "Tightening his hold upon the woman's hair, he rose from his stooped position, hauling her up against him as he came to his feet, and the feel of her soft body hardened his more fully" (559). In this quotation, contrast between masculinity and femininity ("her soft body hardened his") shares the same space as aggressive domination (dragging Elienor by her hair). The conflict between male and female is at the heart of the sexual pleasure the main characters experience in Ravished by a Viking: "we battle every time we fuck", Dagr tells Honora (Devlin 162), and his [End Page 7] internalisations during their lovemaking bear this notion out: "crushed beneath his weight" she "smack[s] his arm", and he compares her protests to that of a "kitten", which makes him "bark" with laughter (306). Even when not playing out actual physical resistance and domination, aggression infuses the language around lovemaking. "When I look at you, I want to make fierce love with you," Jorund tells Maggie (3368), and shortly after he continues, "The only question in my mind is whether, this first time, I should woo you or conquer you" (3441); Alarik achieves orgasm with a "powerful thrust and a savage cry" (Crosby 3507); and when Dagr and Honora first have sex in Ravished by a Viking, it is described as "no gentle taking", peppered with verbs such as "prodded", "gritted", "ground", "growled", "slammed", and "clawed" (78-79).
The most common metaphors employed in this contrast/conflict of the masculine and feminine are the tools of pre-modern warfare. Jorund threatens to "teach [Maggie] with my callused hands and hard staff not to tease a fighting man" (Hill 3368), and Dagr describes his erection as "harder than the tempered steel of his father's sword" (Devlin 80). Even the Viking lover's face is compared to pre-modern weaponry: "His gaze fixed upon the horizon, his expression hard as unyielding steel. His features were well chiseled like that of his namesake's, the hawk, and his pewter gray eyes had been likened to the silver of his sword, Dragvendil, for they could slice into the heart of a man with the ease of a fine gilt-edged blade" (Crosby 181). These tools of battle create a curious mix of responses in the female protagonist. "The lethal chill" of Alarik's "silver-flecked eyes" sends "shivers down [Elienor's] spine" in a moment of fearful apprehension (Crosby 1371). Later in the same novel, with the same man, it is desire that creates the same physiological response: "A chill raced down Elienor's spine…. The possibility that Alarik might kiss her made her heartbeat quicken and her breath catch in her throat" (Crosby 1536). Ultimately, though, enjoyment is derived from this battle of the sexes: "By the blessed virgin, was it supposed to feel so good to be caressed by one's enemy?" (Crosby 488). The playing out of surrender and conquest is invariably shown to be pleasurable.
The pre-modern is the particular place that these pleasures of sexual aggression can go because of the long-held association between Vikings and rape. In these novels, the impulse to ravish is shown to be cultural for Vikings, part of their inbuilt drive to dominate by force, and an essential aspect that makes them who they are. The texts bear this essentialism out in the frank acknowledgement about forced sex in Viking culture. Alarik's aunt tells Elienor how she was married against her will and found happiness. Dagr's brother Eirik reflects in a pragmatic way on the sex thralls in his culture that "act the whore" while restrained by metal cuffs (6). Jorund is frank about rape in his family: "My brother Rolf advocated never asking for permission first. He said 'tis better to do the act, then apologize later, but he was probably talking about something involving sex" (Hill 3300). Such stories arouse Maggie's horror, which Jorund shrugs off with the declaration, "That is life in my land" (3121).
The essential pre-modern drive to dominate is also represented in scenes of rape in its most direct sense of forced sex accompanied by violence: "female servants … screamed for mercy beneath the abusing bodies of …Northmen" on the same ship that Elienor is transported on (710). The Viking lovers are often shown contemplating rape. Jorund's earliest reflections on Maggie include: "He could break her slim wrists with a snap of his fingers. He could lift her by the waist and toss her over his shoulder. He could press her to the bed, and…Well, he could do things to her" (903); while Alarik's first reaction to the [End Page 8] feisty Elienor is to be "sorely tempted to lie [the] wench flat and ride her against her will" (627).  Importantly, this reflection is immediately followed by "But he would not." Having established that the Viking lovers are Vikings (with the impulse to rape), the books then show these men performing self-restraint that indicates growing affection is present: Dagr's sensitivity to Honora's sexual needs "surprised her. She'd thought the savage marauder… [would]… force her quickly onto his cock" (Devlin 75). Nonetheless, the sex acts in these novels at the very least redefine widely held notions of what constitutes appropriate consent, and their pre-modern protagonists allow that perceived grey area of consent to be played out in a way that least offends modern sensibilities.
The ultimate symbol of Viking pre-modern (even animalistic) hypermasculinity is the huge erect penis that each love interest possesses, an extension of the "size and sinew" of the men themselves (Crosby 3974). Devlin calls it a "Viking-sized cock" (74), Jorund needs three attempts to wrangle his "bull-size erection" into Maggie's vagina (Hill 3478), and Alarik notes he must prepare Elienor "for the size of him" (Crosby 3365). These men exist outside the realm of normal in a similar way to the heroes of the fornaldarsögur or legendary sagas of the Vikings. Sitting between the more realist style of the family sagas and the full-blown mythological retellings of the Eddas, the legendary sagas share with these Viking romance novels the blurring between realism and the supernatural. In some ways, the "Viking-sized" erection is supernature literalised. The Viking erection affords a connection between the hypermasculinity associated with the pre-modern and the rejection of realism associated with the paranormal. It is a clear mark of a superheroic body, a mythical giant phallus associated more with fantasy than with realistic representation.
As I have argued above, there exists a special relationship between Vikings and the paranormal, acknowledged by Jorund himself when pressed to explain how he rationalises his travelling through time: "Mayhap the Norse culture is more inclined to believe in the spectacular than yours. Mayhap, because of our harsh environment, we tend to have more hope in the gods" (Hill 1301). Note that he ties his belief back to his pre-modernity, citing the harsh environment he is native to, and his belief and faith in pagan gods rather than secular rationality. The paranormal is another way that rape is projected out of the here and now in these novels, making it safer or more comfortable to imagine and gain reading pleasure from.
One way the paranormal is employed is to set the context of the story well beyond the realm of consensual reality. Jorund is transported to the modern world by a killer whale. With his pre-modern, supernatural-accepting mindset, he sees this method of transportation as heroic: "No doubt there would even be a praise-poem honouring Jorund, the warrior who rode in the cradle of a killer whale's mouth and lived to tell the tale" (291). However, for the modern characters, Jorund's story prompts them to lock him up in the Rainbow Psychiatric Hospital. The modern readers who belong to the same present are, by extension, implicated in a culture in which the irrational is punished by imprisonment and diagnosed and treated with medical science: law and medicine being two significant symbols of modern rationality. Jorund reflects on being forced to wear what he calls a "torture shert" and "ankle restraints" with "bars on his windows" while Maggie treats his delusions of time travel, insisting that he employ the very post-medieval psychiatric method of examining his own feelings: "How do you feel about that?" she asks during their treatment sessions of his resistance to being imprisoned (960). In a later scene, Jorund [End Page 9] breaks out of his straitjacket, a feat of superhuman strength that demonstrates the powerful dispositions of the pre-modern and the paranormal to erupt through the strictures of rational modernity (1348). This dynamic of attempted modern control being usurped by overwhelming Viking power is echoed in sex acts in the texts. Such eruptions of the pre-modern are presented as patently at odds with consensual reality, and so the sex acts too are projected outside the real, and into the realm of fantasy.
Another way that the paranormal works to consign the issue of rape to the outside of serious contemporary discourse is to play up the risible nature of the paranormal elements. Certainly, Truly, Madly, Viking veers often into a comedic tone, especially with regards to time travel: "Maggie put her notebook aside and rubbed at the furrows in her forehead with the fingers of one hand. 'A killer whale brought you here… from Iceland? A killer whale with bad breath?'"(1097). Many of the paranormal elements of the romance genre could be seen as ridiculous or laughable if removed from their context. As I have argued elsewhere, one of the ways that genres work is that those on the inside (readers and writers) accept the reality presented within the texts without question: supernatural activity makes sense in the genre. From the outside, though, to a reader unfamiliar with generic conventions, the supernatural may seem ridiculous or even arouse contempt: "[i]t is easy to trivialise something that appears, on the surface, to be silly or childish" (Wilkins 274). When Maggie teases Jorund by comparing time travel to Santa Claus, Hill allows the possibility that the supernatural conceit is faintly ridiculous (3748). The erotics of the text, then, may also be framed as frivolous, a bit of harmless fun. The possibility that the supernatural elements allow the texts to occupy a space outside serious discourse is apparent in reader reactions as registered on sites such as Goodreads. One review for Ravished by a Viking starts with, "I HAD to buy this book, just because of the title and the premise of Vikings in space!!" As the reader goes on to note, this is not a text to be taken seriously: "I'm expecting a total cheese-fest" (Jeanine n. pag); while a review on the same site for Truly, Madly, Viking describes the book as an "[u]napologetically cheesy … very light, suspend-your-disbelief… time travel romance" (Yz the Whyz n. pag). The presentation of the paranormal elements means that the serious themes in the book, especially that of sexual violence, have been successfully reframed as too light and "cheesy" to be paid serious consideration.
Moreover, the paranormal elements can be seen as linked intrinsically to the erotic elements. As I wrote above, the Viking erection is the most obvious symbol of the conflation of pre-modern and paranormal with erotic pleasure. In Viking's Prize, the otherworldly state of dreaming is also implicated in this conflation. Elienor has prophetic dreams, which she tries to hide because they open her to accusations of witchcraft, a crime for which her mother was executed. When she has her dream visions, they are unwelcome and unsettling: "The merest notion that she might meet the same fate as did her mother made her knees weak" (259). In one of these dreams, she sees the face of the Viking who eventually enslaves her, and on first sight of him while awake, she is shocked and horrified: "That face! Sweet Jesu—that face! She recalled it from her dream and shuddered" (480-91). However, it is through dreams that Alarik is able to show Elienor his ability to be gentle and sensitive, when he comforts her when she cries out in her sleep; and ultimately dreams allow her to see Alarik's fate and save him from it. As well as their paranormal potential, dreams for Elienor have erotic potential. When Alarik touches her naked body without consent in the night and she half-wakes, she tells herself it is "naught but a dream… a [End Page 10] hazy… pleasant… dream" and reflects that she "never wanted to waken" (2139). In this example, unsought sexual contact is allowed to occupy the same place as patently non-real and paranormal prophetic visions. Elienor reflects on the reality or otherwise of dreams, both prophetic and erotic, in these terms: "In reality, how could she even be certain that her dreams were anything more than her own fancy, she reasoned" (2707). The evocative word pairs—reality/dreams, fancy/reason—function as a kind of manifesto for how the text should be read. To paraphrase: in reality, how could imaginings of rape and sexual violence be considered more than fantasy to a reasonable person? Another key word in this regard is the word "witch", which appears as the designation of a particular kind of paranormal character (Elienor) but also features repeatedly in the word "bewitch", used in its sense to mean an overwhelming attraction, which Alarik associates with Elienor: "what [was it] about her bewitching eyes that made him lose all sense and reason?" (1826). Once again, sense and reason (markers of the modern) are presented as things in opposition to the paranormal and in opposition to the sexually aggressive erotics of the text.
Vikings rape. It is one of the things that modern culture understands about Vikings, whether or not history supports the notion with detailed evidence. It is a notion that holds sway as tenaciously as the notion that Vikings wore horned helmets (they didn't). Vikings also share a privileged relationship with the paranormal. Their gods have become our superheroes and even the gritty, realist mode of Michael Hirst's television series Vikings (2013) is interspersed with supernatural visions of the gods and Valkyries. The trope of forced sex in romance fiction has found itself under scrutiny and pressure since the feminist movement, and even more so now as women's media, especially e-media and social media, grow increasingly concerned with what is called "rape culture". Popular blog-site Jezebel, for example, lists the term as one of its most frequent tags. Viking romance fiction, then, is the perfect genre for fantasies of forced sex to comfortably be represented. These scenes are patently not real and patently not of the here-and-now, and thus can function as a safe zone for pleasurable, imaginative fantasies about male sexual aggression. They can also function as a kind of resistance to the detractors who want to see the romance genre, as Toscano argues, "as a kind of field study of women's sexuality", often with a view to condemnation (n. pag). A post-script on the bottom of Edvard/Bella Viking/vampire fan fiction "My Viking" provides a lovely summation of my argument: "[N]o negative comments on Edvard being too forceful with Bella", author sheviking writes, anticipating possible censure for the "savage sensation" represented within. "He's a Viking after all". [End Page 11]
List of works consulted
Aronson, Pamela. "Feminists or 'Postfeminists'?: Young Women's Attitudes toward Feminism and Gender Relations." Gender and Society 17.6 (2003): 903-922. Print.
Bellows, Henry Adams, trans. The Poetic Edda. New York: The American-Scandinavian Association, 1923. Print.
Bonomi, Amy E., Lauren E., Altenburger, and Nicole L Walton,. "'Double Crap!' Abuse and Harmed Identity in Fifty Shades of Grey." Journal of Women's Health 22.9 (2013):  733-744. Print.
Bruni, Frank. "The Beaker Sex." NYTimes. nytimes.com. 31 Mar. 2012. Web. 2 June 2014.
Crosby, Tanya Anne. Viking's Prize. New York: Oliver-Heber Books, 2013. Kindle file.
Devlin, Delilah. Ravished by a Viking. New York: Berkley Heat, 2011. Print.
Dowd, Maureen. "She's Fit to Be Tied." NYTimes. nytimes.com. 31 Mar. 2012. Web. 2 June 2014.
Fradenburg, Louise. "'So that we may Speak of them': Enjoying the Middle Ages." New Literary History 28.2 (1997): 205-230. Print.
Frank, Roberta. "Terminally Hip and Incredibly Cool: Carol, Vikings, and Anglo-Scandinavian England." Representations 100 (2007): 23-33. Print.
Gill, Rosalind. "Postfeminist Media Culture: Elements of a Sensibility." European Journal of Cultural Studies 10.2 (2007): 147-166. Print.
Gravdal, Kathryn. Ravishing Maidens: Writing Rape in Medieval French Literature and Law. Philadelphia: University of Pennsylvania Press, 1991. Print.
Harzewski, Stephanie. Chicklit and Postfeminism. Charlottesville: University of Virginia Press, 2011. Kindle file.
Heng, Geraldine. Empire of Magic: Medieval Romance and the Politics of Cultural Fantasy. New York: Columbia University Press, 2003. Print.
Hill, Sandra. Truly, Madly, Viking. New York: Love Spell, 2000. Kindle file.
Jeanine. Weblog comment. Ravished by A Viking. goodreads.com. 20 Jun. 2011. Web. 14 Jun. 2014.
Lachlan, M.D. Wolfsangel. London: Gollancz, 2010. Print.
Luther, Jessica. "Beyond Bodice-Rippers: How Romance Novels Came to Embrace Feminism." The Atlantic. theatlantic.com 18 Mar. 2013. Web. 20 Aug. 2013.
Philadelphoff-Puren, Nina. "Contextualising Consent: The Problem of Rape and Romance." Australian Feminist Studies 20:46 (2005): 31-42. Print.
Roiphe, Katie. "Working Women's Fantasies."" Newsweek Online. newsweek.com 10 Jul. 2012. Web. 4 Jun. 2014.
sheviking. My Viking. fanfic.net. 11 May 2011. Web. 1 Sep. 2013.
Swanton, Michael, trans. and ed. The Anglo-Saxon Chronicles. London: Phoenix Press, 2000. Print.
Tolmie, Jane. "Medievalism and the Fantasy Heroine." Journal of Gender Studies 15.2 (2006): 145-159. Print.
Toscano, Angela R. "A Parody of Love: The Narrative Uses of Rape in Popular Romance." Journal of Popular Romance Studies. 2.2 (2012). Web. 21 Dec. 2013.
Vitz, Evelyn Burge. "Rereading Rape in Medieval Literature: Literary, Historical, and Theoretical Reflections." Romantic Review 88.1 (1997): 1-26. Print.
[End Page 12]
Vivanco, Laura. "Feminism and Early Twenty‐First Century Harlequin Mills & Boon Romances." The Journal of Popular Culture 45.5 (2012): 1060-1089. Print.
Wilkins, Kim. "Popular Genres and the Australian Literary Community: The Case of Fantasy Fiction." Journal of Australian Studies 32.2 (2008): 265-278. Print.
Yz the Whyz. Weblog comment. Truly Madly Viking. goodreads.com. 17 Nov. 2010. Web. 14 Jun. 2014.
[End Page 13]

[End Page 1]
In Twilight (2008), heroine Bella's fantasy sequences repeatedly set out and revise the romance narrative of the 'Sleeping Beauty' fairy tale. In particular, these fantasy sequences revise the theme of spectacle in ways that challenge the conception of the feminine adolescent figure as romantic object, a passive spectacle to be scrutinized by a male gaze. Instead, vampire Edward is presented as Bella's object of desire, and his image is spectacularized, associated with the visual excesses of pattern, lace, and sparkles. This perversion of gendered categories of the image and romance narrative allows for a new set of relations to emerge in which the girl is able to articulate and claim a desiring gaze. In revising this element of the traditional 'Sleeping Beauty' narrative, popularized by Charles Perrault (1697) and the Brothers Grimm (1857), Bella claims her fantasy romance scenarios as a rebellion, creating the potential to include other possible modes of 'doing girlhood,'[1] including the capacity for authorship, protest, dissatisfaction, and the clear articulation of desire and a desiring gaze.
The 'Sleeping Beauty' tale is frequently understood by fairy tale scholars like Marcia K. Lieberman and Jack Zipes as a metaphor for the adolescent girl's acculturation into feminine adulthood signalled by the happy ending resolution of heterosexual romance, marriage, and in some versions, motherhood. Stephanie Meyer's Twilight novels, and the blockbuster films based on the novels, certainly follow this conservative heteronormative 'Sleeping Beauty' resolution. Teen protagonist Bella is 'awakened' by her Prince Charming, vampire Edward, they marry, have a baby, and go on to spend eternity together as a family. Like Sleeping Beauty, Bella's rite-of-passage or 'awakening' works towards inducting her into the idealised feminine roles of wife and mother. Several scholars have written about this heteronormative narrative movement in Twilight as retrograde and conservative (Veldman-Genz; Platt; Seifert). However, this paper challenges the simplicity of this reading of Twilight. It deploys a feminist poststructuralist methodology in order to locate points of resistance and innovation in teen film, identifying the ways in which the terrain of girlhood can be expanded to incorporate new and previously unthought-of iterations of power and agency. Chris Weedon writes that the aim of feminist poststructuralism is to 'understand existing power relations and to identify areas and strategies for change…to explain the working of power on behalf of specific interests and to analyse the opportunities for resistance to it' (40). I deploy this methodology in the study of this teen screen revision of the fairy tale because it offers a dual optic through which firstly to interrogate and deconstruct the status quo gender relations embedded in and perpetuated by popularised and canonised versions of the fairy tale. Secondly, this optic then works to  highlight ruptures and iterations of girls' resistance, rebellion, and agency in the film's revision This is a significant theoretical move for both girlhood studies and teen film studies, for, as Alison Jones argues, this feminist poststructuralist methodology becomes 'part of the process of enlarging the possible discourses on/for girls and thus the range of feminine subject positions available to them in practice. Or, put another way, we can contribute to increasing the number of ways girls can "be"' (162). The purpose of this article, then, is to identify the ways in which these ruptures can surface on the teen screen, and how Twilight's Bella resists the status quo and expands feminine adolescence into new territories through fantasy.
It is clear that many scholars have focused on Bella's narrative journey post-awakening into feminine adulthood. But this teen screen 'Sleeping Beauty' text also includes a very significant labouring of this conservative resolution and Bella's induction [End Page 2] into the strictures of womanhood. As Maria Leavenworth points out, '[t]he Twilight saga is not an extended series in the same sense [as a television serial], but it similarly resists closure, and specifically romantic closure, in the first three texts' (original emphasis 78). In addition to the delay and resistance of closure inherent in the serial format of the text, Twilight's 'Sleeping Beauty' scenes, which focus on Bella's dreaming and fantasy images of a beautified Edward in particular, dramatically halt narrative development, becoming points of visual and temporal excess which trouble the linear logic of the narrative and the conservative work of closure. It is in this fantasy space that Twilight's most subversive, rebellious, and resistant moments of 'doing girlhood' arise. These points of temporal and visual excess in Bella's fantasy sequences rupture and reconfigure the gender relations embedded in the earlier 'Sleeping Beauty' text, and this rupture provides space for new positions for the girl heroine to adopt in the romance narrative.
The Twilight series certainly participates in postfeminist cultural ideals about femininity, particularly through the paradigm of 'active hero/passive heroine' (Taylor 34), a return to domesticity via the glorification of marriage and motherhood (Negra 47; Renold and Ringrose 329), and the obliteration of personal independence in favour of romantic connection (Gill 218; McRobbie 543). However, this paper shows that this postfeminist ideal of girlhood and feminine acculturation is also significantly challenged, interrupted, and even rejected at times during Bella's 'Sleeping Beauty' fantasy and dream sequences. With a particular focus on the fantasy and dream sequences that especially proliferate throughout the film text Twilight, I argue that Bella productively disrupts the discourse of feminine beauty and desirability, which requires girls to silence their own desire whilst simultaneously presenting a desirable image for a heterosexual male gaze.[2] I therefore consider this unruly fantasy element of the romance, which challenges and ruptures discourses that seek to govern girlhood through sexist power structures, central to a feminist reading of the text.
Twilight's unruly fantasy elements, which test these sexist structures and gendered boundaries, include an articulation of gender rebellion. Moments of gender rebellion are significant to note because they work 'against emphasised femininity, a discourse that reinforces women's subordination to men' (Kelly et al. 22). These moments are, as Jessica Laureltree Willis points out, ones in which girls can 'invent and invert notions of gender' (101). Willis further writes that using 'imagination as a resource' is one way in which girls exercise agency because it is here that they can find 'spaces for manoeuvring within cultural possibilities for re-conceptualising notions of gender' (109). In the fantasy sequences presented from Bella's point of view, Bella temporarily rejects a central stricture that seeks to define and delimit girlhood: the discourse that places the girl as object of heterosexual masculine desire. Bella's rejection of this stricture defies the paradigm of feminine passivity and submission that pervades the Perrault and Grimm versions of the 'Sleeping Beauty' tale. These fantasy sequences not only significantly revise the gender dynamics of the fairy tale, but also provide an expansive imaginative space through which Bella explores new and potentially empowering ways of 'doing girlhood' and engaging with romance.
Elizabeth Cowie's theorisation of fantasy is immensely useful for my reading of Twilight. In her psychoanalytic account of cinematic fantasy, Cowie argues that it 'involves, is characterised by, not the achievement of desired objects, but the arranging of, a setting out of, desire; a veritable mise-en-scene of desire…The fantasy depends not on particular [End Page 3] objects, but on their setting out and the pleasure of fantasy lies in the setting out, not in the having of objects' (159). She goes on to suggest that in such a setting out, the spectator is presented with 'a varying of subject positions so that the subject takes up more than one position and thus is not fixed' (160).[3] Fantasy may therefore provide a significant challenge and rupture to cultural discourses that seek to fix, stabilise, normalise, and restrict girlhood, as it is a practice of setting out and exploring multiple possibilities for being in the world. Furthermore, it provides a method for theorizing girls and girlhood (both for the girl in the film's diegesis, and the ideal girl spectator that the text addresses) as active and in flux rather than as fixed and static categories. This variability of objects, positions, and 'settings out' provides an invitation to explore multiple, contradictory, and perhaps challenging new ways of doing girlhood. In Twilight, Bella designs fantasy sequences in which possible modes of femininity that fall outside of the definitional boundaries of 'good' girlhood can be engaged. This reconfigures gendered relations in fantasy, affording the heroine a position from which to articulate her desire and enact a desiring gaze. In this way, Bella's fantasy sequences are a setting out, an invitation to spectatorial identification with a teen girl gaze and desire.
The exploration of 'alternative universes' in which the normative rules that seek to define and delimit girlhood according to the requirements of patriarchal culture can be broken is central to the genres of girls' fantasy (Blackford 3). Bella's alternative fantasy universe, which she constructs in the privacy of her own bedroom, includes the breaking of several normative rules that govern girlhood, replacing them with more agentic possibilities for girlhood. Instead of submitting to the notion that girls have little or no control over the processes of their rite of passage, Bella creates a fantasy space that she has authored and designed. This provides a significant opening for reconfiguring her experience of girlhood in order to include new and potentially empowering elements. Spectatorial engagement with this fantasy could therefore mean an engagement with these new articulations of girlhood, providing an opportunity to fantasise about doing girlhood differently. Indeed, Willis argues that media representations of 'female agency…located within the imaginary realm' can provide 'alternate perspectives on gender and subjectivity' and thus offer readers and spectators 'spaces in which girls are not bound by the normative rules or roles of a society' (106-7).
The potential for this space to act as an invitation to fantasy is important for theorising an active teen spectatorial position. In her work on soap opera spectatorship, Ien Ang writes that
'the pleasure of fantasy lies in its offering the subject an opportunity to take up positions which she could not assume in real life: through fantasy she can move beyond the structural constraints of everyday life and explore other, more desirable situations, identities, lives. In this respect, it is unimportant whether these imaginary scenarios are "realistic" or not: the appeal of fantasy lies precisely in that it can create imagined worlds which can take us beyond what is possible in the "real" world' (93).
She concludes that '[f]antasy and fiction, then, are safe spaces of excess in the interstices of ordered social life where one has to keep oneself strategically under control' (95). Ang's theorisation of spectatorial engagement with fantasy provides a way of reading Twilight's [End Page 4] invitation to identification. Bella's fantasy 'Sleeping Beauty' scenarios, which 'move beyond the structural constraints' that govern and keep girlhood 'under control,' provide an invitation to spectatorial engagement with an imaginary world in which those governing forces have been replaced with alternative, perhaps more desirable, positions and possibilities for feminine adolescence and for engaging in romance narratives.
The romance narrative of the 'Sleeping Beauty' fairy tale has been vigorously critiqued by feminist scholars, who point out the sexist dynamic of feminine adolescent passivity and masculine dominance that the tale represents and even promotes.[4] In its culturally pervasive Perrault and Grimm versions, the tale hinges on an encounter between feminine beauty and passivity which is represented as essential to being desirable, and an active, dominating male prince. This encounter places the unmoving and unconscious girl at the centre of a scene of spectacle, upholding sexist structures of the gendered image and gaze. Indeed, feminist scholars like Rowe, Lieberman, and Kolbenschlag have pointed out that this privileging of feminine glamour and passivity reflects the expectations and restrictions placed on girls and women in contemporary culture. This research revealed how the tale upholds the patriarchal script of feminine passivity and subservience to masculine authority, and furthermore, that the tale shrouds this disturbing script in the guise of romantic love between the prince and princess. Twilight both participates in and yet significantly challenges this tradition to create opportunities for subversive revisions of 'Sleeping Beauty's' sexist gender dynamic.
Feminine passivity seems to be embedded in the rite of passage of the 'Sleeping Beauty' tradition. In the anonymous fourteenth century telling of the tale, the romance Perceforest and Giambattista Basile's version of the tale, 'Sun, Moon and Talia' (1634), the prince rapes and impregnates the princess as she lies in her enchanted comatose state, inducting her (unwillingly) into the role of mother. While Perrault and the Grimms removed this extreme violation in their more culturally pervasive versions of the tale, the sexist paradigm of feminine passivity versus masculine dominance remains in the narrative of the helpless maiden and the brave, active prince. When the heroine awakes from her slumber and completes her rite-of-passage into womanhood, she is promptly installed in the roles of wife and mother. Lieberman writes that 'since the heroines are chosen for their beauty…not for anything they do…they seem to exist passively until they are seen by the hero, or described to him. They wait, are chosen, and are rewarded' with marriage (189). Lieberman elaborates that in this extreme passivity, the heroine has only her beauty to offer, which is most often represented in the tale as 'a girl's most valuable asset, perhaps her only valuable asset' (188). In both the Perrault and Grimm versions, the authors  describe  the figure of Sleeping Beauty as pure spectacle. Perrault describes the scene of the prince's discovery in terms that highlight and spectacularize passive feminine beauty: 'he entered a chamber completely covered with gold and saw the most lovely sight he had ever looked upon – there on a bed with the curtains open on each side was a princess who seemed to be about fifteen or sixteen and whose radiant charms gave her an appearance that was luminous and supernatural' (691). The scene is described in opulent extravagance, with the girl's figure set in a room studded with gold, laying in a bed with the curtains suggestively thrown open. Fixed in her comatose state, the girl functions here as passive spectacle, 'the most lovely sight,' for the prince's pleasure.
Feminist film and cultural criticism is similarly centrally concerned with the sexist dynamics that construct woman as passive spectacle for a determining male gaze, and the [End Page 5] ways in which they are played out and reproduced in the cinema (Mulvey). Sandra Lee Bartky elaborates that the scrutiny of the gaze functions as a disciplinary force which ensures that '[n]ormative femininity [comes] more and more to be centred on woman's body…it's presumed heterosexuality and its appearance' (80). This gaze becomes so culturally pervasive that 'the disciplinary power that inscribes femininity in the female body is everywhere and nowhere; the disciplinarian is everyone and yet no one in particular' (74). Significantly, the girl is not only compelled to make herself available as spectacle for this gaze; she is also required to internalise it, resulting in self-surveillance and self-discipline practices that work to ensure the girl's position as object (for example, in beauty product and diet discourses). This gaze therefore works as a profound disciplinary force, involved in the maintenance of gendered power relations in which girls and women not only present themselves as passive objects of the gaze, but also view and therefore define themselves through it.
Also central to this construction of girlhood as passivity is the lack of cultural acceptability around girls expressing their desires. Indeed, girlhood studies scholar Marnina Gonick writes that for a girl to be considered 'good' 'usually means that a girl's desire is left unspoken or spoken only in whispers,' silencing 'what has traditionally been socially and culturally forbidden to girls: anger, desire for power, and control over one's life' (64 -65). For Deborah Martin, this silencing of girls' desire in cultural constructions of girlhood reflects 'the requirements of patriarchal culture for the young girl to give up active and agentic desire and accept her status as object of desire' (137). These are 'highly restrictive and regulatory discourses' that work to contain girlhood (Renold and Ringrose 314) and the possibilities of what it is acceptable to express from the subject position of teen girl. In the 'Sleeping Beauty' tale, it is both the spectacularization of the girl's figure and her inability to direct the course of her own rite-of-passage that not only places her in the position of passive waiting, but also robs her of the opportunity to articulate her own desire.
Twilight provides a significant revision of the earlier text's construction of feminine adolescent desire because it is central and authoritative, rather than marginalised and silenced. Bella reconceptualises both the elements of spectacle in her romance fantasy 'Sleeping Beauty' sequences in ways that are resistant to the literary fairy tale's construction of girlhood-as-passivity. Bella's fantasy designs of her 'prince' Edward's image contain spectacular and pretty elements, challenging the tale's gendered visual economy that privileges the prince's controlling masculine gaze and the heroine's passive glamour. This spectacularization of Edward reverses the gendered dynamics of the tale, placing him in the position of 'Beauty.' In this reversal, Bella is able to claim a measure of agency and active looking that the heroine of Perrault and the Grimm tales could not. Bella creates a fantasy space in which she can reject the normative construction of femininity that demands that girls present themselves as desirable objects for a determining masculine gaze. These points of excess in the construction of the representation of romance not only challenge the structures designed to keep the heroine in a passive position; they also work to create new meanings in the 'Sleeping Beauty' romance, and create new possibilities for representing girlhood in potentially empowering ways.
Cinematic spectacle and prettiness contain the disruptive potential of excess, and Bella's spectacular and pretty fantasy images of Edward reconfigure the gendered politics of the image and the gaze. Interestingly, it is this spectacular aesthetic of the Twilight films [End Page 6] that some scholars have labelled as potentially harmful and seductive to a teen girl audience.[5] Natalie Wilson, for example, writes that Twilight acts as a powerful 'drug' for unsuspecting female fans, who become 'prisoners to its allure' (6). Only those who maintain the 'critical distance' of 'mocking' and 'resisting' the films' spectacular romantic excesses (6-7) can succeed in refusing the harmful 'seductive message' of fulfilment through true love and romance with a Prince Charming that Twilight narrativises (8). Margaret Kramar similarly laments, '[u]nfortunately, modern teenagers…may not be able to extricate themselves from Bella's mind-set or question her underlying assumptions analytically' (26). I challenge this suspicion and derision of spectacle in Twilight, finding that spectacle is one of its most subversive and critical elements in its representation of contemporary romance and girlhood.
Wilson and Kramar's assertion that a productive reading of the text only emerges in the cold, distant manner that opposes and scorns the image not only participates in a sexist aesthetic hierarchy of suspicion and degradation of feminine spectacle and prizing of masculine austerity and distance, but also misses the rich potential for the spectacular and pretty teen screen image to be politically potent and invested with details that significantly disrupt the conservative narrative flow. Such a reading is productive for a feminist perspective on the cinematic text, for, as Rosalind Galt writes, a consideration of the pretty considers 'how the image is gendered formally and how thematic iterations of gender in film can be read not just against women's historical conditions, but against the gendered aesthetics of cinema itself' (255). Engaging spectacle and the pretty in a reading of Twilight reveals the way in which the excesses of these elements not only undermine the conservative ideology of the narrative flow, but also work to create a new set of gendered romantic relations through the image and the gaze. In this new set of relations, Bella claims authorial control over the spectacular design of her fantasy image of Edward, providing her with an opportunity to claim and sustain a desiring gaze.
Bella's fantasy sequences, which revise the gendered dynamics of the Perrault and Grimm 'Sleeping Beauty' tales primarily occur in Bella's bedroom. In these romantic fantasies, Bella is able to construct a bedroom culture that is enabling and productive. Anita Harris suggests that bedroom culture can function as a kind of 'retreat,' which can productively be read as 'an active choice on the part of young women refusing to participate in particular constructions of girlhood' (133). Harris elaborates, 'the scrutiny of young women remains…and it is this scrutiny that forces them into private places to reflect and resist' (133). The bedroom culture that Bella authors and designs in the fantasy realm is indeed a resistant space, where the construction of girlhood as desirability without desire is thoroughly undermined. It is in this enabling and productive bedroom culture that Bella situates and authors fantasy 'Sleeping Beauty' scenes. Instead of accepting her role as passive object for the scrutiny Harris describes, she chooses to design fantasy romance scenarios in which she can clearly articulate her desire and claim a desiring point of view.
Bella's authorial control over the fantasy sequences is made clear in the beginning of one sequence in Twilight, which presents the scene on a black and white filmstrip that moves across the screen. The soundtrack is dominated by the clicking and whirring of the film running through a projection machine, further emphasising themes of production and projection. [End Page 7]
This establishes Bella's 'Sleeping Beauty' fantasy – a romantic embrace between the reclining Bella and vampire Edward – as a kind of film within the film, a scene that she has constructed, written, directed, and projected. This scene unfolds according to Bella's fantasy design, where she has carefully set out her longed-for objects within the mise-en-scene of her desire. This clearly establishes Bella's authorial authority over the fantasy sequence. As the work of scholars like Gonick and Martin shows, 'good' girlhood is governed by an interdiction against girls expressing their own desire and claiming a desiring and authoritative point of view, in order for them to be securely placed in the role of object of desire and scrutiny. Bella's fantasy sequences, however, create an alternative universe in which this construction of girlhood is thoroughly subverted. Bella authors scenarios and images of her own design, which not only subvert the scrutiny girls are placed under, but creates in its stead a clear position from which to enact a desiring gaze and to articulate her desire.
Twilight's 'Sleeping Beauty' scenes, which focus on Bella's dreaming and fantasy images of a beautified Edward, dramatically halt narrative development, becoming points of both visual and temporal excess that rupture the logic of the earlier fairy tale text. In the Perrault and Grimm versions of the tale, the heroine's sleep represents her complete vulnerability and passivity to the prince's advances, gaze, and, in Basile's version, the horrific rape. In Twilight, Bella creatively pursues new 'Sleeping Beauty' fantasies that halt the narrative of feminine acculturation and instead insistently focus on her enjoyment of gazing at Edward, significantly reversing the gender dynamics of the earlier text. In these bedroom scenes, there is an intense focus on sleep and dreaming, and a heavy-handed deployment of filmic techniques like slow motion, ultra-slow dissolves, and slowly spiralling camera movements. At the beginning of one of these scenes, Edward and Bella move towards one another and kiss at a painstakingly slow place. This lingering on the [End Page 8] incremental, and almost barely perceptible movement stops the narrative in its tracks. The soundtrack punctuates this languor with the couple's slow, rhythmic inhalations and exhalations. In the following sequence of the scene, there is a transition of shots between a medium and close-up shot of Edward and Bella asleep. The ultra-slow dissolve settles on the scene like a fine mist.
As this dissolve occurs, the transition between images creates a decorative image in which the figures are decorated with superimposed golden firefly fairy lights and the embellished floral design of Bella's bedspread. The camera spirals in on the two figures very slowly as this gradual transition between shots occurs, creating a dreamy, hypnotic slowing down and reduction of time. A decorative image is created both by the mise-en-scene's decorative elements as well as the elaborate editing techniques, suspending narrative and focusing attention on Bella's fantasy moment of enjoying Edward. This scene of Bella and Edward sleeping is protracted through the use of the ultra-slow dissolve and the dreamy spiralling movement of the camera. As opposed to the determining forces of logic, linearity, and progress, delay provides indeterminate time. Bella's purposeful slowing-down of time in her fantasy sequences refuses to accommodate the roles and responsibilities of impending womanhood. While the heroine of the Perrault and Grimm versions of 'Sleeping Beauty' is imprisoned and made vulnerable by her slumber, Bella's fantasies of delay are ruled by her expressions of desire, her enjoyment of Edward – and the defiantly intense focus of her attention on these pleasures. This significantly contributes to Twilight's revision of the passivity and helplessness embedded in the earlier versions of the 'Sleeping Beauty' tale. Bella actively constructs these points of temporal and visual excess through her fantasies, significantly interjecting a time that is not ruled by these processes and expectations. This use of slow-motion techniques therefore performs a critical function because it troubles the [End Page 9] seemingly 'natural' smooth development of the conservative narrative's progress towards Bella's feminine acculturation, and also suggests a desire to rupture this progress and thus an ambivalence and dissatisfaction towards the feminine rite of passage itself.
In these fantasy moments, Bella is temporarily relieved of this construction of time that works to contain and control the progression of girlhood into an idealised womanhood (Lesko; Walkerdine). Girlhood studies scholar Valerie Walkerdine elaborates the specificity of time for feminine adolescence. She writes that girlhood is represented as a period of 'preparation for the prince' in both fairy tales and girls' literature (97). The point of resolution, the prince's arrival, is 'attractive precisely because it is the getting and keeping of the man which in a very basic and crucial way establishes that the girl is "good enough"…It is because getting a man is identified as a central resolution to problems of female desire that it acts so powerfully' (99). This temporality constructs passive progress towards idealised feminine adulthood, which continues to be at least in part defined by romantic ideologies, heterosexual partnership, and motherhood. Interestingly, though the Twilight series' narrative works towards this resolution that Walkerdine describes, its forestalling techniques consistently frustrate, refuse, and defy its fulfilment. Both the seriality of the Twilight texts and the deployment of filmic techniques such as slow motion and the slow dissolve in the fantasy sequences work to disrupt linearity, defer progress, and challenge narrative cohesion. Bella's 'Sleeping Beauty' fantasy sequences not only challenge but also unravel these forces that seek to govern, define, and delimit 'acceptable' or 'normal' girlhood. The temporary unravelling of these borders allows the fantasy sequences to incorporate other, potentially disruptive iterations of girlhood.
The spectacular excess of Bella's fabrication of Edward reconfigures the gendered norms of the gaze and desire. In her 'Sleeping Beauty' fantasy sequences, Bella is not coded as the 'Beauty': Edward, the glittering, perfectly groomed, alabaster-skinned eternal teenager is. In these scenes, and indeed throughout the film series, Edward's figure is repeatedly associated with sparkles, lace, shimmering light, soft skin, and immaculately coiffed hair. In one 'Sleeping Beauty' fantasy scene in Twilight, Bella dreams that Edward is in her bedroom. Edward's face is framed in extreme close-up. He is bathed in a golden, shimmering moonlight that shines in through the window. This moonlight shines through a lace curtain, which creates a dramatic dappled frill pattern of light and shade across Edward's glowing skin. [End Page 10]
This fantasy moment associates Edward's figure with these elements of visual and decorative spectacle. The supplemental nature of the decorative, its very gratuitousness, is troublesome, because it exceeds the requirements of the narrative and potentially disrupts its ideology.
These spectacular textural details disrupt the gendered politics that govern girlhood and the gaze. Laura Mulvey's famous argument that the male figure onscreen cannot 'bear the burden of objectification' (13) is challenged in Twilight's construction of Edward as an extravagantly shimmering spectacle. Spectacular cinematic images have political potential because they have the capacity, in their excess, to rub up against and potentially erode the conservative ideology that the narrative works to hold in place. Barbara Klinger's work on Douglas Sirk's melodramas argues that the deployment of an excessive or unreal mise-en-scene can work to 'subvert the system [of representation] and its ideology from within' (14). Jane Gaines, in her work on the textural excesses of costume in classical Hollywood cinema, similarly argues that these elements have the capacity to become a 'dissonant detail' (150) in the text that is resistant to, in excess of, and uncontained by the 'conservative' narrative flow. Kay Dickinson similarly writes that one cinematic component may 'radically contradict' another, and that such a contradiction of a conservative narrative or image may defy, challenge, and even overwhelm it (15). Dickinson sees this challenge at work in the text as potentially 'not only an intrinsic property, but also…a political tool at work within both the object of analysis itself and its audience's active perception' (19). These moments of visual spectacle can therefore be seen as having political potency and potential as it not only challenges the normative ideology of the narrative, but also prompts a similarly unruly response from the spectator.
The spectacular aesthetic that Bella creates significantly challenges the immense scrutiny that girls and women are placed under – it enacts the 'radical contradiction' that [End Page 11] Dickinson argues for. This is significant because, as Susan Bordo argues, the 'grip' of controlling surveillance and scrutiny is one of contemporary culture's ways of regulating, monitoring, and manipulating the female body 'as an absolutely central strategy in the maintenance of power relations between the sexes' (76-77). Currie et al. similarly show that a 'dominant way to do girlhood' is 'the performance of…"emphasised femininity": the practice of heterosexual femininity that is "oriented to accommodating the interests and desires of men" and thus to reconstituting women's subordination' (94). Bella's fantasy sequences challenge the visual structures that hold this subordination in place by designing a visual economy in which she can evade this scrutiny and instead take up an active desiring position in the context of her self-authored romantic fantasies.
In these fantasy moments of visual spectacle, the conservative trajectory of the narrative is significantly halted in its tracks by the iridescent glittering excess of Edward's beautiful image and Bella's enjoyment of that image. The spectacle of Edward's glittering, luminous skin challenges the gendered politics of the image and the gaze. The first time Edward reveals his sparkling skin, these gendered politics of image and gaze are revised, creating a significant invitation for the heroine to enact a desiring look. Edward and Bella are in the forest, and Edward stands in the sunlight, revealing that it is the reaction of light and vampire skin that creates this glittering effect. Edward unbuttons his coat and shirt as he stands in this spotlight of sunshine, and his face and torso light up with the lustrous shimmer of thousands of tiny diamonds. The scene then cuts to Bella's face in close-up as she admires Edward's pretty sparkling display.
Bella exclaims 'you're beautiful!' as the camera cuts to her point of view and slowly pans up his torso, lingering on this spectacle. [End Page 12]
This visual display of the male figure's prettiness for the heroine perverts the sexist structures of the gaze which fix the female figure in the role of passive spectacle and assert the control of the male figure. It is Edward's figure that is aligned with spectacle and the over-the-top design of glamorous decoration, and it is Bella who actively enjoys this display – indeed, she calls him 'beautiful'. Such a perversion of gendered categories carves out a space for a new set of relations to emerge through the image. [End Page 13]
In this way, Bella's construction of Edward as romantic object and spectacle significantly troubles and reconfigures the gendered politics of the image and the gendered gaze. This provides a challenge to sexist structures of looking, and works to create an opening for a new set of relations in which the heroine's authorial perspective and desiring look determine the mise-en-scene. This fantasy visualisation is discordant and disruptive. Gaines writes that such visual and aesthetic disruption can create an 'opening for considering how the spectacular…makes imaginative appeals' to the spectator and constructs an 'invitation to…fantasy' (142-143). These scenes provide an invitation to engage in a fantasy where such a spectacular reconfiguration of gendered dynamics of image and gaze is possible, and where a teen girl gaze can be held as a sustained spectatorial position. Therefore, Bella's spectacular designs carve out a fantasy space in which spectatorial identification with a desiring teen girl gaze is possible. Such an engagement in fantasy creates an 'imaginative appeal,' as Gaines suggests, to consider girlhood in new ways, compelling the spectator to identify with Bella's challenging and subversive ways of doing girlhood.
Bella is therefore afforded a space in which she can both protest against normative structures of girlhood and romance scripts, then creatively innovate new and potentially empowering positions, expanding the terrain of what is possible for girlhood to include. An examination of fantasy and spectacle is therefore immensely important to a productive feminist reading of the Twilight film texts, as it is here that the most subversive and challenging moments of 'doing girlhood' arise. Spectacle in fantasy therefore provides not only an opportunity for rebellion against sexist everyday strictures, but also holds immense creative potential for the valuable work of reconfiguring and reimagining gendered relations in romance. An examination of teen screen fantasy may provide a critical space for examining the scope of both rebellion and innovation in the representation of teen rites of passage.
While many scholarly explorations of the Twilight texts have thoroughly examined Bella's postfeminist and so-called retrograde journey into adult femininity through marriage and motherhood, few have adequately considered the resistant and unruly fantasy elements in the texts that subvert this conservative closure. As Gottschall et al. note, particular popular images and the ways in which they are engaged with by girls can both 'rupture and reiterate ways of doing girlhood' (35) and in this process 'multiple meanings of girlhood seem to be embodied and enacted' (39). In this way, Gottschall et al. argue that in any particular media or 'real life' example, it is possible for 'markers of conventional girlhood [to be] enabled and constrained in complex ways' (40). Therefore, through a feminist poststructuralist methodology, I have argued that while Twilight does present potentially conservative representations of girlhood and girls' romantic rites of passage, it also simultaneously contains unruly and resistant elements that radically contradict this conservatism. Indeed, in fantasy, Bella is able to break down the visual economy that places girls in a position emphasised femininity, a scrutinised spectacle presented for a heterosexual male gaze, and reconfigures the gendered categories of the image, narrative closure, and the gaze. In this way Bella claims a subjective position and desiring gaze within this romance narrative.
Through alterations to the image and temporality of the tale, Bella carves out a new space in the 'Sleeping Beauty' narrative determined by her desire. As this paper has shown, this is significant, as cultural ideals of girlhood continue to hold that such expressions of [End Page 14] desire are 'culturally forbidden to girls' and that 'a girl's desire is left unspoken or spoken only in whispers' (Gonick 64-5). If the category of 'girlhood' translates, as Gonick suggests, into the silencing of desire, then Bella's fantasy designs that provide an articulation of her desire significantly alter this construction of girlhood and productively expand the potential for girls to claim powerful subjective positions in the contemporary romance narrative. This article has deployed the powerful methodology of feminist poststructuralism, which offers a dual optic to both interrogate and deconstruct the earlier text's gender ideologies, while also stressing the opportunities for the heroine's resistance and agency in the contemporary revision of the tale. These ruptures productively aggravate and destabilise the gender ideology at hand, creating new opportunities for representing the girl's power and agency in the tale.
Bella's fantasies provide a setting out of an alternative universe of new possibilities, positions, and objects of romantic desire made available for teen girl spectators. This setting out of the image of Edward and the access to a desiring gaze provides an invitation to spectatorial fantasy in which girlhood is not constrained by the everyday structures that govern and define it. The spectator is presented with the imaginative possibility of a desiring position for the teen girl to occupy, and this imaginative possibility is one that allows for a fantasy of doing girlhood differently, in potentially new and oppositional ways. Bella's fantasy space is therefore not just meaningful within the text itself; it also proposes significant implications for spectatorial fantasy and imaginative possibilities that expand the terrains of girlhood, romance, and girl's spectatorship. Bella's fantasy 'Sleeping Beauty' scenarios, which move beyond the everyday structures that govern and contain girlhood, provide an invitation to spectatorial identification with an imaginary world in which those governing forces can be opposed and replaced with a girlhood that includes empowering elements such as the expression of authorial and creative control, desire, oppositional rebellion, ambivalence, and an authoritative point-of-view.
---
[1] The concept of 'doing girlhood' was proposed by girlhood studies scholars Currie, Kelly, and Pomerantz, and drew from Judith Butler's theorisation of 'doing gender.' Theorising 'doing girlhood' accounts for the expression of girls' agency, explaining 'what girls say and do to accomplish girlhood within limits' (xvii).
[2] Recent girlhood studies scholarship has interrogated this particular aspect of how contemporary girlhood and girl's sexuality is governed in patriarchal culture. See, for example, the work of Marnina Gonick and Deborah Martin.
[3] While there is not enough space in this paper to fully elaborate the Freudian and Lacanian psychoanalytic background to Cowie's theorisation of fantasy, it is vital to explore her contention that fantasy is a setting out of possibilities, entry points, identifications, and desires.
[4] Feminist writers who have addressed these concerns in relation to the 'Sleeping Beauty' include Marcia K. Lieberman, Francine Prose, Karen E. Rowe, and Jack Zipes.
[5] See Eva Chen's study of how the romance genre has long been considered an 'opiate for the masses', a 'dope' for women that lulls them into an 'illusory acceptance of the status quo' (30). [End Page 15]
Works Cited

Ang, Ien. Living Room Wars: Rethinking Media Audiences for a Postmodern World. London and New York: Routledge, 1996. Print.
Bartky, Sandra Lee. Femininity and Domination: Studies in the Phenomenology of Oppression. New York and London: Routledge, 1990. Print.
Basile, Giambattista. 'Sun, Moon, and Talia.' In: The Great Fairy Tale Tradition: From Straparola and Basile to the Brothers Grimm. Ed. Jack Zipes. New York and London: W.W. Norton and Co, 2001 [1634]. 685-688. Print.
Blackford, Holly Virginia. The Myth of Persephone in Girls' Fantasy Literature. New York and London: Routledge, 2012. Print.
Bordo, Susan. 'Anorexia Nervosa: Psychopathology as the Crystallisation of Culture.' The Philosophical Forum 17.2 (1985): 73-104. Web.
Chen, Eva Y. I. 'Forms of Pleasure in the Reading of Popular Romance: Psychic and Cultural Dimensions.' Empowerment versus Oppression: Twenty-First Century Views of Popular Romance Novels. Ed. Sally Goade. Newcastle: Cambridge Scholars Publishing, 2007. 30-41. Print.
Cowie, Elizabeth. 'Fantasia.' The Woman in Question. Ed. Parveen Adams and Elizabeth Cowie. Cambridge, Massachusetts: MIT Press, 1990. Print.
Currie, Dawn H., Deirdre M. Kelly, and Shauna Pomerantz. 'Girl Power': Girls Reinventing Girlhood. New York: Peter Lang, 2009. Print.
Dickinson, Kay. 'Music Video and Synaesthetic Possibility.' Medium Cool: Music Videos from Soundies to Cellphones. Ed. Roger Beebe and Jason Middleton. Durham and London: Duke University Press, 2007. Print.
Galt, Rosalind. Pretty: Film and the Decorative Image. New York and Chichester: Columbia University Press, 2011. Print.
Gaines, Jane M. 'Wanting to Wear Seeing: Gilbert Adrian at MGM.' Fashion in Film. Ed. Adrienne Munich. Bloomington: Indiana University Press, 2011. 135-159. Print.
Gill, Rosalind. Gender and the Media. Cambridge: Polity Press, 2007. Print.
Gonick, Marnina. Between Femininities: Ambivalence, Identity, and the Education of Girls. Albany: State University of New York Press, 2003. Print.
Gottschall, Kristina, Susanne Gannon, Jo Lampert, and Kelli McGraw. 'The Cyndi Lauper Affect: Bodies, Girlhood and Popular Culture.' Girlhood Studies 6.1 (2013): 30-45. Web.
Grimm, Jacob and Wilhelm Grimm. 'Briar Rose.' The Great Fairy Tale Tradition: From Straparola and Basile to the Brothers Grimm. Ed. Jack Zipes. New York and London: W.W. Norton and Co, 2001 [1857]. 696-698. Print.
Hardwicke, Catherine, dir. Twilight. Summit, 2008. DVD.
Harris, Anita. 'Revisiting Bedroom Culture: New Spaces for Young Women's Politics.' Hecate 27.1 (2001): 128-138. Web.
Jones, Alison. 'Becoming a "Girl": Post-Structuralist Suggestions for Educational Research.' Gender and Education 5.2 (1993): 57-66. Web.
Kelly, Deirdre M., Shauna Pomerantz, and Dawn H. Currie. '"No Boundaries?" Girls' Interactive, Online Learning about Femininities.' Youth Society 38.3 (2006): 3-28. Web.
[End Page 16]
Klinger, Barbara. Melodrama and Meaning: History, Culture, and the Films of Douglas Sirk. Bloomington and Indianapolis: Indiana University Press, 1994. Print.
Kolbenschlag, Madonna. Goodbye Sleeping Beauty: Breaking the Spell of Feminine Myths and Models. Dublin: Arlen House, 1983. Print.
Kramar, Margaret. 'The Wolf in the Woods: Representations of 'Little Red Riding Hood' in Twilight.' In Bringing Light to Twilight: Perspectives on a Pop Culture Phenomenon. Ed. Giselle Liza Anatol. New York: Palgrave MacMillan, 2011. 15-30. Print.
Leavenworth, Maria Lindgren. 'Variations, Subversions, and Endless Love: Fan Fiction and the Twilight Saga.' In Bringing Light to Twilight: Perspectives on a Pop Culture Phenomenon. Ed. Giselle Liza Anatol. New York: Palgrave Macmillan, 2011. 69-81. Print.
Lesko, Nancy. 'Time Matters in Adolescence.' In Governing the Child in the New Millennium. Eds. Kenneth Hultqvist and Gunilla Dahlberg. New York and London: RoutledgeFalmer, 2001. 35-67. Print.
Lieberman, Marcia K. '"Some Day My Prince Will Come": Female Acculturation through the Fairy Tale.' Don't Bet on the Prince: Contemporary Feminist Fairy Tales in North America and England. Ed. Jack Zipes. Aldershot and New York: Gower, 1986. 85-200. Print.
Martin, Deborah. 'Feminine Adolescence as Uncanny: Masculinity, Haunting and Self-Estrangement.' Forum for Modern Language Studies 49.2 (2013): 135-144. Web.
McRobbie, Angela. 'Young Women and Consumer Culture: An Intervention.' Cultural Studies 22.5 (2008): 531-550. Web.
Meyer, Stephanie. Twilight. London: Atom, 2005. Print.
Mulvey, Laura. 'Visual Pleasure and Narrative Cinema.' Screen 16.3 (1975): 6-18. Web.
Negra, Diane. What a Girl Wants: Fantasizing the Reclamation of Self in Postfeminism. London: Routledge, 2009. Print.
Perrault, Charles. 'Sleeping Beauty.' The Great Fairy Tale Tradition: From Straparola and Basile to the Brothers Grimm. Ed. Jack Zipes. New York and London: W.W. Norton and Co, 2001 [1697]. 688-695. Print.
Platt, Carrie Anne. 'Cullen Family Values: Gender and Sexual Politics in the Twilight Series'. Bitten by Twilight: Youth, Media, and the Vampire Franchise. Ed. Melissa A. Click, Jennifer Stevens Aubrey, Elizabeth Behm-Morawits. New York: Peter Lang, 2010. 71-86. Print.
Prose, Francine. 'Sleeping Beauty.' Mirror, Mirror on the Wall: Women Writers Explore their Favourite Fairy Tales. Ed. Kate Bernheimer. New York: Anchor, 1998. 283-294. Print.
Renold, Emma and Jessica Ringrose. 'Regulation and Rupture: Mapping Tween and Teenage Girls' Resistance to the Heterosexual Matrix.' Feminist Theory 9 (2008): 313-338. Web.
Rowe, Karen E. 'Feminism and Fairy Tales.' In Don't Bet on the Prince: Contemporary Feminist Fairy Tales in North America and England. Ed. Jack Zipes. Aldershot and New York: Gower, 1986. 209-226. Print.
Seifert, Christine. 'Bite Me! (Or Don't)'. Bitch 42. (2009): 23-25. Web.
Taylor, Anthea. '"The Urge Towards Love is an Urge Towards (Un)Death": Romance, Masochistic Desire and Postfeminism in the Twilight Novels.' International Journal of Cultural Studies 15.31 (2012): 31-46. Web.
[End Page 17]
Veldman-Genz, Carole. 'Serial Experiments in Popular Culture: The Resignification of Gothic Symbology in Anita Blake Vampire Hunter and the Twilight series'. Bringing Light to Twilight: Perspectives on a Pop Culture Phenomenon. Ed. Giselle Liza Anatol. New York: Palgrave Macmillan, 2011. 43-58. Print.
Walkerdine, Valerie. Schoolgirl Fictions. London and New York: Verso, 1990. Print.
Weedon, Chris. Feminist Practice and Poststructuralist Theory. Massachusetts: Blackwell Publishing, 1997. Print.
Willis, Jessica Laureltree. 'Girls Reconstructing Gender: Agency, Hybridity and Transformations of "Femininity."' Girlhood Studies 2.2 (2009): 96-118. Web.
Wilson, Natalie. Seduced by Twilight: The Allure and Contradictory Messages of the Popular Saga. Jefferson, North Carolina and London: McFarland and Company, 2011. Print.
Zipes, Jack. The Brothers Grimm: From Enchanted Forests to the Modern World. New York: Palgrave MacMillan, 2002. Print.
[End Page 18]

On February 21, 1915, the Chicago Tribune ran an appeal to readers for letters describing their experiences falling in love. With the promise of $1 for every letter published, the newspaper asked its audience to describe what attracted them most to their beloved. "Was it a wayward curl, a roguish eye, a dimple or an alluring smile? …Was it the pies she made or the flowers he brought? …Was it the possibility of a eugenic ideal?" From a modern perspective, the last question seems at odds with the first two. While the former focus on the attractiveness of an individual, either by physical features or by deeds, the latter focuses on the appropriateness of the match. The former are whimsical in tone and allude to the mystery of romance; the latter is clinical in its presentation of love as a decision-making process guided by specific goals, principles, and values. Viewing eugenics as a sort of OkCupid of the Progressive Era might be a bit surprising, especially given the predominant focus of eugenics historiography on involuntary sterilization, race suicide, and immigration restriction.[1] But a closer look at the popular reception of eugenics in the [End Page 1] US reveals an early fascination with how eugenics would make love, romance, and marriage scientific.[2]
As Alexandra Stern notes in her history of the eugenics movement in California, "placing gender and sexuality at the center of the analysis reconfigures the history of eugenics, demanding substantial temporal and thematic revisions" (7). Eugenics entered the American popular discourse in the first decade of the twentieth century—a critical juncture of changing sexual attitudes and gender relations. As Kathy Peiss documents, white middle-class Protestants were concerned about the influence of working-class sexual mores, like petting, treating, and dating, that were becoming fashionable in urban centers. Many middle-class reformers recoiled in horror as young people danced the Bunny Hug and the Grizzly Bear. Mary Odem charts how reform efforts aimed at eliminating prostitution and venereal disease resulted in the policing and regulation of working-class women's sexuality in the early twentieth century (96-98). As Wendy Kline argues, the eugenics movement was preoccupied with the reproductive decisions of "fit" and "unfit" women and sought to instill a "'reproductive morality' into the public consciousness" (2). Sterilization and segregation of women who were labeled feeble-minded were central features of the eugenics movement in the Progressive Era.
But, as Colin Johnson notes, much of the historiography disproportionately presents eugenics as a "one-sided attempt to exercise power over and against particular segments of society—the poor, the 'feeble-minded, immigrants, people of color, and so on" (28). Instead, Johnson recasts the eugenics movement within the broader history of American sexuality as a robust public discussion about sex and reproduction that "enfranchised 'normal' Americans with the power and responsibility to 'cultivate the race' in the same way that they might cultivate a tomato plant" (28). Laura Lovett furthers this claim by examining how the rhetoric of 'race suicide' was used to push pronatalism for middle-class white women in the United States. This article adds to the historiographic exploration of eugenics and American sexuality by examining the discourse around love and romance in the eugenic vernacular of the early twentieth century.[3] As one proponent explained, "love can, among normal people at least, be ordered" (Eugenics, 178). In a cultural moment where many worried that love and courtship had become wanton, depraved, and libidinous, eugenics promised order, efficiency, and control.[4]
Steeped in the scientism of the age, Americans in the Progressive Era were expected to assert self-control and apply the dictates of scientific experts to all aspects of their lives. In the same way that Americans were encouraged to eat rationally based on the new insights of nutrition science, they were also encouraged to love rationally based on eugenic considerations.[5] Examining the eugenic vernacular reveals how eugenics was popularly understood as a sexual science, i.e. a program for changing the relations of the sexes in order to improve future generations of humanity.[6] Proponents of this view of eugenics were determined to instill a eugenic conscience in young people, particularly college-educated women. The focus on women's role in mate selection connected eugenics in the public consciousness with the rise of the New Woman and the emerging feminist movement. This article breaks new ground by revealing the gendered anxieties underlying popular anti-eugenics sentiment.
In 1904, Francis Galton unveiled his vision of a new science of good breeding that he called eugenics at the newly founded English Sociological Society (Life, Letters 259). Americans were then introduced to eugenics through newspaper coverage of Galton's talk [End Page 2] that originated with the London Express but was subsequently reprinted and paraphrased. These articles laid the groundwork for how the American public would come to perceive eugenics as a sexual science. One quote from Galton's address became emblematic of the goals of eugenics. As the Anaconda Standard described it, "Dr. Galton, in explaining this science, which he may have said to have invented, said 'The passion of love seems to be so overpowering that it may be thought folly to try to direct its course. But plain facts do not confirm this view. Social influences have immense power. If suitable marriages, from the eugenic point of view, were banned socially, few would be made" ("Society to Study Heredity" 2). The Montgomery Advertiser included discussion of the new "love-regulating science" of eugenics alongside other "Scientific Miscellany" such as improvements in microscope technology and experiments in nutritionally enhanced vegetables. Similar to the other news coverage, the Montgomery Advertiser explained, "It [eugenics] will strive to regulate the passion of love, absurd as this may seem, and much toward this is expected from placing a social ban on unsuitable marriages" ("Scientific Miscellany" 18). From the beginning, then, eugenics was presented as a scientific program for modernizing love and marriage. Romantic love needed to be shaped, controlled, and rationalized so that Americans would only marry and reproduce with suitable matches.
Further complicating the newspaper coverage of the new science of eugenics was the inclusion of George Bernard Shaw's comments on Galton's address to the Sociological Society. Both Shaw and H.G. Wells attended Galton's lecture and offered support for his ideas as well as some measured critiques. Wells actually pointed out to Galton that eugenics was just a new word for stirpiculture and had been popular in America for decades, especially among sex radicals (Life, Letters 259). Shaw offered more unqualified support, enthusing that "there was now no reasonable excuse for refusing to face the fact that nothing but a eugenic religion can save our civilization." However, Shaw quickly moved beyond Galton's rather modest reforms for encouraging 'suitable' marriages, boldly declaring "what we must fight for is freedom to build the race without being hampered by the mass of irrelevant conditions implied by marriage" (Life, Letters 260). But the quote from Shaw that was picked up for American newspaper coverage of eugenics was his quip about the haphazard nature of selecting spouses: "In spite of all the romances, men and women are amazingly indiscriminate in their attachments; they select their wives and husbands far less carefully than they select their cashiers and cooks. I am afraid we must either face a considerable shock to vulgar opinion in this matter or let eugenics alone" ("Society to Study Heredity" 2). Shaw was already well known in the US as a critic of the sexual double standard, institutionalized marriage, and American "Comstockery" (Shaw 5). Therefore, the inclusion of his comments alongside Galton's served not only to reinforce that eugenics was a science concerned with reforming love and marriage, but also hinted that eugenics merged well with the ideology of sex radicals, who had for decades discussed how voluntary motherhood and free love would improve the race.[7] In fact, as William Leach documents in True Love and Perfect Union, late nineteenth century American feminists had been arguing for decades for a more rational approach to love as an alternative to what they saw as the pitfalls of Victorian sentimental culture (112). Because of this late nineteenth century context, eugenics was fused with the connotation of women's empowerment, especially sexual selection of mates, from the beginning.[8] This explains why, when the word "eugenics" first appeared as an entry in the Century [End Page 3] Dictionary in 1904, the definition stated, "the doctrine of progress or evolution, especially in the human race, through improved conditions in the relations of the sexes."
As it was described in American newspapers, eugenics was consistently presented as a scientific approach to love and relationships. The Duluth News-Tribune predicted that eugenics would eradicate the "reckless thoughtlessness of youth" and the "impulsiveness of love-at-first-sight" and replace it with "the wholesome influence of sober and thoughtful conscience in courtship" ("Science of Eugenics 6). Noting approvingly that the "new science of eugenics has therefore been evolved to direct and regulate the force of romantic love," the article went on to envision a future where young men and women would carry around eugenic certificates that attested to their hereditary and physical fitness (6). Taking this to absurdist lengths, the article teased that the imagined couple might then seal their engagement "not by a microbic kiss, but by swapping documents" (6). Playing on this theme of sanitizing love and making sexual acts hygienic, a cartoon that was featured with an article on Wisconsin's eugenic marriage law showed various methods for disinfecting kisses.
The Macon Daily Telegraph also had similarly harsh words about love at first sight, calling it "always in error" ("Love at First Sight" 8). Eugenics, as the editorial explained it, [End Page 4] was not opposed to love, but would instead help set the "boundaries of love" by "forming new channels through which love may flow" (8). As examples of the eugenic boundaries of love, the article approvingly noted that "[p]eople do not tend to fall in love with those who are in racial respects different in contrast to themselves; they do not tend to fall in love with foreigners; they do not tend to be attracted to the ugly, the diseased, and the deformed; nor do they, as a rule, fall in love out of their own class" ("Love at First Sight" 8). The author insisted that it was important to get these eugenic ideals instilled so that people would "love in the right direction, if not at first sight" (8). For this author, eugenics functioned to reinforce existing social mores and to strengthen them with the imprimatur of science.
But for others, eugenic love was a brand new innovation for the modern age. Dr. David Allen Gorton was an 82 year-old doctor who was so enthralled with eugenics that he selected a woman to marry purely on her presumed fitness. Newspaper coverage of Gorton relied on a common Progressive Era trope of the scientist so invested in his research that he would sacrifice himself for the greater good.[9] Gorton became the father of "eugenic twins" and used his public platform to declare that Valentine's Day would no longer be celebrated in the future. He pronounced the end of "love as we know it—the silly, unscientific love celebrated by penny romances and concoctions of lace paper and gauze ribbons." In its place would be a "higher love, which will be born of the logical mind and not of the fluttering heart" ("No Valentine's Day" 20). He minced no words by going even further, declaring that "romantic love leads to ill-considered unions and so is responsible for all the pauperism, for all the disease, and for all the crime that burdens the world" (20).
[End Page 5]
He then confidently predicted that "the breeding of children under a regime of scientific love, rather than a regime of redheart, paper lace love, will solve all our great social problems" ("No Valentine's Day" 20). For Gorton then, eugenic love did not just reinscribe pre-existing romantic customs, but completely replaced an antiquated system that was irrational and dysgenic.
As Francis Galton had hoped, eugenics in America became like a new religion, with its own set of moral precepts and codes of conduct. Central to this movement was the development of a eugenic conscience among young people that would compel them to take into account hereditary fitness when choosing a mate. Eugenic experts who lectured at college campuses reinforced this vision of eugenics. In a collection of twelve university lectures given on eugenics from the 1910s, a consistent theme was the rationalization and control of love and romance. Harvey Ernest Jordan, in a lecture to the University of Virginia, dismissed criticisms of eugenics as "this perennial 'human stock farm' idea" and instead explained "[e]ugenics recognizes love of the highest and noblest quality…But it would have love intelligent" (Eugenics 111, emphasis in original). Arthur Holmes, speaking at Pennsylvania State College, stated that "[e]ugenics does not teach marriage without love, but it does suggest the Herculean task of commanding love" (Eugenics 178). Charles Davenport stressed the same point: "The general programme of the eugenist is to improve the race by inducing young people to make a more reasonable selection of marriage mates, to fall in love intelligently" (Eugenics 235).
Calls for an ordered love found strong support among women's rights reformers, who saw in eugenics an opportunity to empower women with the power of scientific mate choice. Popular news coverage reinforced the notion that prominent women were leading the way to enact eugenic social reform. The Lexington Herald covered the founding of a new eugenics society endorsed by Washington society women, including "Mrs. Woodrow Wilson, Mrs. William Jennings Bryans, and Mrs. John Hays Hammond." The new organization, called the National Society for the Promotion of Practical Eugenics, established several goals, including sex education for children and the segregation or sterilization of the unfit. Primarily, though, the founders of this organization emphasized that women should "have a voice in the selection of a mate" and that men should have not just "worldly capital alone, but biological capital" in order to be marriageable ("Eugenics Now Society Work" 2). Dr. Elizabeth Hamilton-Muncie, a sex hygiene lecturer for the New York State Department of Health, instructed young people to "love with their eyes open and their brains active" ("Won't Banish Cupid" 4).
While presumably both men and women were expected to develop a eugenic conscience and to learn to fall in love wisely, popular eugenic literature emphasized that women, particularly college-educated women, must take the lead in this endeavor. Then, as Scott Nearing explained in Woman and Social Progress, "[a]s the demand grows, —and it is growing,—men will be compelled to meet the requirements of the college-woman standard" (113). Building on this vision of eugenics was La Reine Helen Baker, who wrote a popular treatment that had wide circulation. As she explained it, eugenics was primarily based on "the union of equality [between the sexes], two citizens joining together in love and wisdom" (97). Each of these popularizers, and several others, connected eugenics with the goals of feminism: namely, the equalizing of the marriage relation, the elimination of the sexual double standard, and, in many cases, voluntary motherhood. But none of these [End Page 6] popular writers had as much impact on shaping the eugenic vernacular as Charlotte Perkins Gilman.
In 1910, Charlotte Perkins Gilman was considered one of the foremost American feminists.[10] In her magazine The Forerunner, she published Moving the Mountain, which she called a "short-distance utopia", i.e. a novel that took place only thirty years in the future when the New Woman had taken over American society. As Gilman explained it, the world of the future where the New Woman ruled was thoroughly utopian, in large part because New Women were now empowered to institute a comprehensive system of eugenic reforms. The New Woman would revolutionize reproduction by making mating, pregnancy, birth, and child rearing scientific. The New Woman would no longer settle for a man of dubious genetic worth, but would instead claim the power of sexual selection to drive the species forward. Gilman's work helped to solidify the belief that eugenics entailed the New Woman creating a new breed of man. The double standard of morals would be vanquished and men would be subject to a uniform eugenic standard.[11]
Thus, as it was discussed colloquially, eugenics was increasingly presented as part of a battle of the sexes discourse in the Progressive Era. Anxieties about the changing status of women became fused with fears of the presumed eugenic reforms that they would implement. Many traditionalist men and women spoke out against the sanitized trend in courtship and pleaded for a return to a more natural, or divine, order. They connected the demands of feminism with the calls for a more scientific approach to love, and accused feminists of treating men like livestock. The eugenic standard that the New Woman was expected to uphold was pilloried widely in fiction, film, and newspaper editorials.
Much of the anti-eugenic sentiment simply took the form of rejecting modern science by defending common sense and tradition from the intrusions of self-appointed Progressive Era experts. One man complained in an anonymous editorial that "[t]he professors of the new science of eugenics would have us believe that the custom of marrying for love is a mistake" ("Scientific Marriage" 3). He insisted that based on his observations, "the choice of a wife on philosophical principles is most certain to end in failure" (3). Rather than listening to so-called experts, he passionately argued that a man should trust his instincts. The poet Franklin Pierce Adams also mocked the idea that love should be ruled by scientists. In his poem "Eugenic Love Lyrics," he satirized the decidedly unromantic vision of eugenic love with the refrain "Eugenevieve, Eugenevieve, The days may come, the days may go/But to each other we shall cleave, As long as Science tells us so" (120). The unhappy couple in the poem has a relationship built on clinical details, but no real emotions. The poem then concludes with the children of the couple rejecting the parents when they find out that they were merely the results of a breeding experiment. [End Page 7]
An example of the resistance and mockery of eugenic experts is seen in the image above. The professors of eugenics try in vain to make a perfect match, but are thwarted by good old-fashioned love, which is haphazard and unpredictable. The man and the woman both wind up with people who are physically dissimilar to them, to humorous effect. Another frequently used trope was to pit eugenics against Cupid, or as the Morning Oregonian mused, "Is the magical touch of Dan Cupid…to run second fiddle to the betterment of the race?" ("Ascendancy of Eugenics" 8). In the popular discourse, Dan Cupid was depicted as the archenemy of eugenics, doing battle for the hearts of men and women in a cold-blooded scientific age. Still other critiques invoked the Divine in opposition to making love and marriage scientific. An anonymous editorial in the Wilkes-Barre Times Leader declared that "[e]ugenics is a new name for an old folly…that men can be bred as animals are bred, by rules adopted by men." What this vision left out, according to the author, was the divine spark that guided two people together. The author continued, "When two people love each other, God has said to them that their children are demanded…Romance may not be important to the professional mind, but the great peoples of the world are those to whom children are born as the culmination of romances" ("Eugenic Marriage" 18). And for others, ignorance was preferable to cutting edge scientific knowledge, especially when that knowledge was construed as sexual knowledge. A folk wisdom column from the Cincinnati Enquirer fumed, "They can teach eugenics in the public schools and get away with it. But the old-fashioned boy who believed in the stork until he was 16 years old always managed to make a pretty good citizen" ("Luke M'Luke Says" 6). [End Page 8]
While much of the anti-eugenic sentiment took these forms, eugenics was more commonly connected with women's empowerment and both were critiqued together as two sides of the same coin. Much of this kind of anti-eugenics sentiment took on a sexist bent that connected eugenics to overbearing and masculinized women. An illustrated poem in the Salt Lake Evening Telegram entitled "A Eugenic Love Song" made this point with a young man enamored initially by the lovely Inez, his "fair eugenic dove" with whom he was excited to experience "cultivated, sanitated [sic], vaccinated love." But soon the suitor realizes that Inez is too domineering and has even imprisoned a previous man who courted her. Implying that eugenic love entailed a subversion of gender roles, the suitor abandons Inez for fear that if he married her she "would be the boss" (11).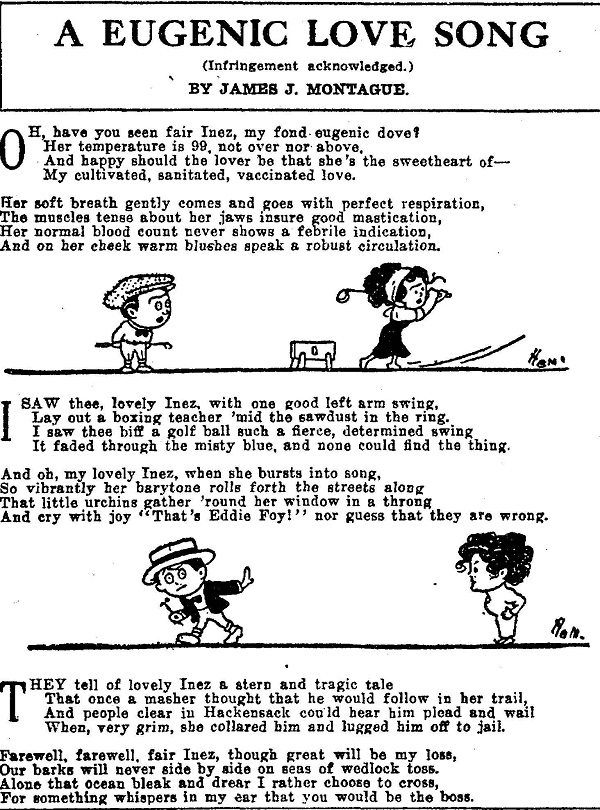 [End Page 9]
But perhaps the clearest example of the gendered nature of opposition to eugenic love and marriage is seen in The Gay Rebellion (1913), a novel written by Robert Chambers. Chambers, while most well-known for his 1895 collected volume of Gothic short stories, The King in Yellow, was one of the most popular writers of romantic fiction in the early twentieth century (Cooper 68). With a series of best-selling society novels that began with The Fighting Chance in 1906, Chambers earned a reputation for spinning stories that appealed to the modern woman, leading H. L. Mencken to dub him "The Boudoir Balzac" (Mencken 129). The Gay Rebellion is a satirical novel about a hostile feminist revolution in the United States. The feminists in the novel begin their revolution with the founding of the "New Race University and Male Beauty Preserve" (59). Hidden within the Adirondacks of New York State, the headquarters of the revolution is discovered by two male reporters, Langdon and Sayre, charged with investigating the disappearance of "four young and wealthy men who have…suddenly and completely disappeared" (12). Upon entering the forest, the two men discover messages carved on boulders saying "Votes for Women" (22).
[End Page 10]
After a few days without any further clues, Sayre spots a "young girl in full war paint and a perfectly fitting gown" named Amourette, who informs him that the men were captured by force, trained at the New Race University, and are now happily married to women as part of the eugenic revolution (27). Sayre scoffs with incredulity, claiming, "women don't run men off like cattle rustlers. Man is the active agent in elopements, women the passive agent" (50). Rushing back to tell his friend Langdon, Sayre describes the New Race University as "a reservation for the—the p-p-propagation of a new and s-s-symmetrically p-p-proportioned race of g-g-god-like human beings! It's a deliberate attempt at cold blooded scientific selection" (60). The objectives of this revolution, as explained by Sayre, illustrate the conflation of women's empowerment with eugenic mating and improvement: "Their object is to hasten not only political enfranchisement, but the era of a physical and intellectual equality which will permit them to mate as they choose and people this republic with perfect progeny" (61-62). Sayre and Langdon forge a plan to capture one of these militant suffragettes by force, but the plan backfires and Langdon is netted and taken prisoner. His captor, Ethra, explains to him, "We women have now decided to repeople the earth scientifically. We shall pick out, from your degenerate sex, such physically perfect individuals as chance to remain; we shall regard our marriages with them as purely scientific and cold-blooded affairs" (87-88).
[End Page 11]
Langdon's discomfort with this plan of eugenic breeding clearly stems from its subversion of men's and women's roles: "My position is undignified! Anybody'd think I was a prize animal. I don't like this poultry talk! I'm a man! …And if ever I marry and p-p-produce p-p-progeny, it will be somebody I select, not somebody who selects me!" (89, emphasis in original). Langdon is assessed by the Regents and given a conditional yellow ribbon for his hereditary worth. When he protests, he is told by one of the Regents that "it is a scientific matter to be scientifically recorded—purely a matter of eugenics" (112). The Gay Rebellion revels in the subversion of gender roles to comedic effect, but the underlying fear of impending loss of masculine privilege is palpable. The novel is illustrated throughout with scenes of men being chased and attacked by women.
As Chambers described it, "No young man who conformed to the standard of masculine beauty set by the eugenist suffragettes was safe any longer. Scientific marriage between perfectly healthy people was now a firmly established principle of the suffragette propaganda" (174). Tapping into broader anti-eugenic sentiments, the novel's title page shows a devastated Cupid, with a frightened and enfeebled young man cowering behind him. [End Page 13]
But ultimately, Chambers ends his novel with the traditional gender order being restored when hordes of men and women who were declared unfit rebel against the new eugenic order and bring down the feminist revolution.
Chambers was not alone in expressing eugenic anxieties about the consequences of women's newfound freedom and self-actualization. In a piercing essay entitled "The Blushful Mystery," H. L. Mencken asked whether romance could "survive the deadly matter-of-factness which sex hygiene and the new science of eugenics impose?" (200). The Gay Rebellion illustrated a key facet of the eugenic vernacular in the 1910s: the concern that the New Woman would demand a better, more eugenic, man. In addition to the loss of masculine privilege in the realm of sexual selection, men would be subject to objectification and scrutinized for their health, vigor, and hereditary worth. Within this eugenic vernacular, it seemed that the balance of power in Progressive Era America was decidedly shifting to women.
Martin Pernick has noted similar themes running through early American films that discussed eugenics. In the 1914 comedy Eugenics and the Bar 'U' Ranch (Selig 1914), the character named Martha is the eugenics enthusiast who heads out west to find a suitable male specimen. Similarly, in the same year, in Wood B. Wedd and the Microbes (Edison [End Page 14] 1914), the protagonist Wedd is told by the woman he wants to marry that he must first pass a rigorous series of eugenic tests. The tests included various poking and prodding, culminating in a three-hour steam bath, at which point he quits wooing her. The same theme runs through Eugenics versus Love (Beauty 1914), A Case of Eugenics (Vitagraph 1915), The Eugenic Boy (Thanhouser 1914), and A Foe to Race Suicide (Kleine 1912). Based on his survey of eugenic comedies, Pernick concluded that "eugenics is depicted as something imposed by emotionless professionals and rich fanatics, often women, in conflict with the feelings and choices of working-class men" (131).
The gendered anxieties about eugenics were not entirely unwarranted. Women's reformers advocated vehemently for eugenic marriage laws during this period, requiring a medical certification of health before issuing a marriage license. Professional eugenicists derided these laws, believing them to be not eugenic at all because the medical examinations necessary for certification only tested for venereal disease. Charles Davenport tried in vain to insist that "eugenics is to be distinguished from sex hygiene" and even went as far as to suggest that these laws could cause "many young women of good stock to fear the consequences of marriage, to refrain from it, and so to fail to perpetuate their excellent traits" (Eugenics 1). Nevertheless, women's reformers across the country eagerly lobbied for eugenic marriage legislation and saw these laws as a central component to women's advancement. In 1913, Jane Addams was interviewed by a Chicago newspaperman who asked her what the most important women's issues of the day were. She replied, "I favor strict eugenic marriage laws and woman suffrage." ("Fashions Not Degrading" 9). Charlotte Perkins Gilman even volunteered to act as a judge in a eugenic marriage contest sponsored by the Medical Review of Reviews in 1915.
Significantly, a survey of the major anti-feminism screeds of the 1910s reveals a strong anti-eugenic sentiment. Benjamin Hubbard's 1915 tract, Socialism, Feminism, and Suffragism: The Terrible Triplets, Connected by the Same Umbilical Cord and Fed by the Same Nursing Bottle devotes special ire to the eugenic endeavors of feminism: "They [feminists] have changed the word marriage to 'eugenic mating' and the bearing of children to 'breeding'" (215). Similarly, Frederick Merckx's Bolshevism of Sex warned of "the appointment of women inspectors of eugenics, who would have power to prohibit a man from procreating children, and would have him sent to prison, and his wife on the operating table, if he transgressed their orders…One may ask what has become of the manhood of the country if the nonsensical principles of WOMEN are written into laws" (185, emphasis in original). An editorial in the Waterloo Evening Courier explained, "A feminist state may be altogether just and perfectly eugenical. But it will be a hard scientific system from which love and loyalty will be lost." This editorial went on to threaten that men would violently resist such an imposition: "Urge feminism too far, smash the home, bring your children up like brooded stock, banish love, and such a terrible masculinism may arise as we have not seen since cave days. The brutal fact is that man is the master of the sexes" ("Feminism Again," 4). Felix Grendon described a character in his novel as a "young woman [who] seemed a walking embodiment of Votes for Women, Eugenic Marriages, Birth Control, Equal Incomes, Free Divorce, and other monstrous fruits of the unchecked growth of female madness in a feminist epoch" (107). Making love and marriage scientific for these opponents seemed a grave threat to not only the institution of marriage, but to the entire social fabric. That anti-eugenic sentiment was so closely tied to anti-[End Page 15] feminism adds a provocative new dimension to the emerging history of the First Red Scare.[12]
Whether viewed positively or negatively, modernizing and rationalizing love was understood to be one of the central goals of eugenics in the early twentieth century United States. The close examination of so many disparate cultural ephemera provides a finer-grained picture of how eugenics was woven into the public consciousness. Seeing eugenics as a sexual science highlights the ways that everyday Americans in the Progressive Era felt pressured to adapt their own romantic and sexual choices according to eugenic dictates. For some, eugenic love was embraced because it held the promise of a scientific match, guaranteeing life-long happiness and healthy children. For others, eugenic love was yet another intrusion of Progressive Era experts and reformers into their personal lives. And for many, eugenic love was part of a broader feminist social reform agenda that threatened to undermine masculine privilege in matters of love and marriage. Examining the eugenic vernacular not only confirms the existing historiography on the ubiquity of eugenic ideas in the early twentieth century, but also uncovers fresh insights into the complex interplay between eugenics, sexuality, and gender in America.
---
[1] For recent examples of this, see Mark Largent (2008) and Paul Lombardo (2010).
[2] In this article, I focus mostly on the concept of eugenic love, but I expand my analysis further to include eugenic marriage and reproduction in other research that is in progress.
[3] Katherine Pandora has developed the concept of vernacular science, which exists outside the bounds of professional scientific discourse and serves as an "intellectual commons" for everyday people (2001: 492).
[4] For an analysis of these themes in British fiction, see Angelique Richardson (2003).
[5] For a fascinating history of the rational eating movement in America, see Helen Zoe Veit (2013).
[6] For more on sexual science and women's rights in the 19th century, see Cynthia Russett (1991).
[7] Jesse Battan (2003 and 2004) details the history of American sex radicals. For more on eugenic discourse among sex radicals, see Susan Rensing (2006) and Wendy Hayden (2013).
[8] Erika Milam (2010) traces the history of scientific debates about sexual selection.
[9] Rebecca Herzig (2005) explores the connection between science and sacrifice in the United States.
[10] There is a voluminous literature on Charlotte Perkins Gilman and feminism. A good starting place is Judith A. Allen (2009).
[11] For an analysis of Gilman's feminist eugenics, see Susan Rensing (2013).
[12] For more on anti-feminism and the First Red Scare, see Erica Ryan (2015) and Kim Nielsen (2001). [End Page 16]
Bibliography
"Ascendancy of Eugenics End of Love?" Morning Oregonian 14 December 1913: 8. Newspaper Archive. Web. 7 June 2014.
"Eugenics Now Society Work in Washington." Lexington Herald 29 June 1913: 2. Newspaper Archive. Web. 7 June 2014.
"Eugenics." The Century Dictionary and Cyclopedia. New York: The Century Co., 1904. Vol. 3: 2024. Web. 7 June 2014.
"A Eugenic Love Song." Salt Lake Evening Telegram 5 July 1913: 11. Newspaper Archive. Web. 7 June 2014.
"Fashions Not Degrading Women, Jane Addams Says." Chicago Daily Tribune 26 September 1913: 9. Newspaper Archive. Web. 7 June 2014.
"Feminism Again." Waterloo Evening Courier 20 December 1913: 4. Newspaper Archive. Web. 7 June 2014.
"Love at First Sight Always Is in Error." Macon Daily Telegraph 1 December 1912: 8. Newspaper Archive. Web. 7 June 2014.
"Luke M'Luke Says." Cincinnati Enquirer 3 July 1913: 6. Newspaper Archive. Web. 7 June 2014.
"No Valentine's Day in Future." Wilkes-Barre Times Leader 14 February 1913: 20. Newspaper Archive. Web. 7 June 2014.
"Scientific Marriage—Love is of Little Importance." Olympia Daily Recorder 2 January 1909: 3. Newspaper Archive. Web. 7 June 2014.
"Scientific Miscellany." The Montgomery Advertiser 12 June 1904: 18. Newspaper Archive. Web. 7 June 2014.
"Society to Study Heredity: Eugenics is the Name Selected for a New Science by Its Founders." Anaconda Standard 25 July 1904: 2. Newspaper Archive. Web. 7 June 2014.
"The Eugenic Marriage." Wilkes-Barre Time Leader 14 March 1910: 18. Newspaper Archive. Web. 7 June 2014.
"The Science of Eugenics." Duluth News-Tribune 15 July 1906: 6. Newspaper Archive. Web. 7 June 2014.
"To Study Heredity." News (Frederick, MD) 17 June 1905: 8. Newspaper Archive. Web. 7 June 2014.
"Won't Banish Cupid: Dr. Elizabeth Muncie Defends the Purpose of Eugenics." Washington Post 7 July 1914: 4. Newspaper Archive. Web. 7 June 2014.
Adams, Franklin Pierce. By and Large. New York: Doubleday, Page, & Co., 1914. Google Book Search. Web. 7 June 2014.
Aldrich, M. Arnold, et al. Eugenics: Twelve University Lectures. New York: Dodd, Mead, and Co., 1914. Print.
Allen, Judith A. The Feminism of Charlotte Perkins Gilman: Sexualities, Histories and Progressivism. Chicago: University of Chicago Press, 2009. Print.
Bailey, Beth L. From the Front Porch to the Back Seat: Courtship in Twentieth Century America. Baltimore: Johns Hopkins University Press, 1988. Print.
[End Page 17]
Baker, La Reine Helen. Race Improvement or Eugenics: a Little Book on a Great Subject. New York: Dodd, Mead and Co., 1912. Print.
Battan, Jesse F. Sex Radicals and the Quest for Women's Equality. Urbana: University of Illinois Press, 2003. Print.
Battan, Jesse F. "'You Cannot Fix the Scarlet Letter on My Breast!': Women Reading, Writing, and Reshaping the Sexual Culture of Victorian America." Journal of Social History 37.3 (Spring 2004): 601-624. Print.
Chambers, Robert W. The Gay Rebellion. New York: D. Appleton and Company, 1913. Print.
Chicago Daily Tribune 21 February 1915: D6. Newspaper Archive. Web. 7 June 2014.
Cooper, Frederick Taber. Some American Story Tellers. New York: Henry Holt and Co., 1911. Google Book Search. Web. 7 June 2014.
Grendon, Felix. The Nixola of Wall Street. New York: The Century Co., 1919. Google Book Search. Web. 7 June 2014
Hayden, Wendy. Evolutionary Rhetoric: Sex, Science, and Free Love in Nineteenth Century Feminism. Carbondale, IL: Southern Illinois University Press, 2013. Print.
Herzig, Rebecca M. Suffering for Science: Reason and Sacrifice in Modern America. New Brunswick, NJ: Rutgers University Press, 2005. Print.
Hubbard, Benjamin Vestal. Socialism, Feminism, and Suffragism: The Terrible Triplets, Connected by the Same Umbilical Cord and Fed by the Same Nursing Bottle. Chicago: American Publishing Company, 1915. Print.
Johnson, Colin R. Just Queer Folks: Gender and Sexuality in Rural America. Philadelphia: Temple University Press, 2013. Print.
Kline, Wendy. Building a Better Race: Gender, Sexuality, and Eugenics from the Turn of the Century to the Baby Boom. Berkeley: University of California Press, 2001. Print.
Largent, Mark. Breeding Contempt: The History of Coerced Sterilization in the United States. New Brunswick, NJ: Rutgers University Press, 2008. Print.
Leach, William. True Love and Perfect Union: The Feminist Reform of Sex and Society. New York: Basic Books, 1980. Print.
Lombardo, Paul. Three Generations, No Imbeciles: Eugenics, the Supreme Court, and Buck v. Bell. Baltimore: Johns Hopkins University Press, 2010. Print.
Lovett, Laura J. Conceiving the Future: Pronatalism, Reproduction, and the Family in the United States, 1890-1938. Chapel Hill, NC: University of North Carolina Press, 2007. Print.
Mencken, H. L. Prejudices: First Series. New York: Alfred A. Knopf, 1919. Google Book Search.Web. 7 June 2014.
Merckx, Fernand J. J. The Bolshevism of Sex: Femininity and Feminism. New York: The Higher Thought Publishing Co., 1921. Google Book Search. Web. 7 June 2014
Milam, Erika Lorraine. Looking for a Few Good Males: Female Choice in Evolutionary Biology. Baltimore: Johns Hopkins University Press, 2010. Print.
Nearing, Scott. Woman and Social Progress: A Discussion of the Biologic, Domestic, Industrial and Social Possibilities of American Women. New York: Macmillan, 1912. Google Book Search. Web. 7 June 2014.
Nielsen, Kim E. Un-American Womanhood: Antiradicalism, Antifeminism, and the First Red Scare. Columbus, OH: Ohio State University Press, 2001. Print. [End Page 18]
Odem, Mary E. Delinquent Daughters: Protecting and Policing Adolescent Female Sexuality in the United States, 1885-1920. Chapel Hill, N.C.: University of North Carolina Press, 1995. Print.
Pandora, Katherine. "Knowledge Held in Common: Tales of Luther Burbank and Science in the American Vernacular." Isis 92.3 (September 2001): 484-516. Print.
Passet, Joanne E. Sex Radicals and the Quest for Women's Equality. Urbana: University of Illinois Press, 2003. Print.
Pearson, Karl, ed. The Life, Letters, and Labours of Francis Galton. Cambridge: Cambridge University Press, 1930. Volume IIIa. Print.
Peiss, Kathy. "'Charity Girls' and City Pleasures: Historical Notes on Working Class Sexuality, 1880-1920." In Powers of Desire: The Politics of Sexuality. Ed. Ann Snitow et al. New York: Monthly Review Press, 1983. 74-87. Print.
Pernick, Martin. The Black Stork: Eugenics and the Death of Defective Babies in American Medicine and Motion Pictures since 1915. Oxford: Oxford University Press, 1996. Print.
Rensing, Susan. "Feminist Eugenics in America: From Free Love to Birth Control, 1880-1930." PhD dissertation.. University of Minnesota, 2006. Print.
Rensing, Susan. "Women 'Waking Up' and Moving the Mountain: The Feminist Eugenics of Charlotte Perkins Gilman." MP: An Online Feminist Journal, 4.1 (Spring 2013): 96-120. Web.
Richardson, Angelique. Love and Eugenics in the Late Nineteenth Century: Rational Reproduction and the New Woman. Oxford: Oxford University Press, 2003. Print.
Russett, Cynthia. Sexual Science: The Victorian Construction of Womanhood. Cambridge: Harvard University Press, 1991. Print.
Ryan, Erica J. Red War on the Family: Sex, Gender, and Americanism in the First Red Scare. Philadelphia: Temple University Press, 2015. Print.
Shaw, George Bernard. Editorial. New York Times 26 September 1905: 5. Newspaper Archive. Web. 7 June 2014.
Stern, Alexandra Minna. Eugenic Nation: Faults & Frontiers of Better Breeding in Modern America. Berkeley: University of California Press, 2005. Print.
Veit, Helen Zoe. Modern Food, Moral Food: Science, Self-Control, and the Rise of Modern American Eating in the Early Twentieth Century. Chapel Hill, University of North Carolina Press, 2013. Print. [End Page 19]

Bryan and David sitting in a tree
K-I-S-S-I-N-G
First comes love, then comes inability to marry
Then comes a stranger and an invasive medical procedure
Then comes the baby in the baby carriage
[End Page 1]
This modified version of the children's nursery rhyme, featured in the first episode of The New Normal (NBC, 2012-2013), epitomizes contemporary television's depictions of gay romance: different, but the same.[1] During its short run, The New Normal was hailed as wildly subversive and predictably normative, but its declaration that two men could find happiness by marrying (albeit not legally) and having a baby (by a surrogate) is one that echoes the dominant themes for both contemporary LGBT[2] causes and traditional romance. Prior to its broadcast, The New Normal gained notoriety when the Mormon-owned Utah NBC affiliate announced it would not air the show, citing its insidious content (Skoloff). In response, NBC released the pilot online before the broadcast premiere, and the response among viewers was surprise and relief at how protagonists Bryan and David were just like regular people: "When Bryan and David show physical affection […] they look and feel natural together, like a couple should" (Busis). Through its title as much as its plot of love-marriage-baby carriage, which I will call the normative trajectory, the series both valorized traditional romantic conventions and subverted them by allowing them to be enacted through a gay couple.
Across forms of popular entertainment, narratives like Bryan and David's are becoming more prevalent. According to the annual survey conducted by the Gay and Lesbian Alliance Against Defamation (GLAAD), LGBT characters and storylines peaked in the 2012-2013 U.S. television season (Gouttebroze). The reality of this proliferation must be reconciled with the traditional economic model for television, which relies on advertising revenue and reaching the broadest possible audience for success. For this reason, television tends to "reflect, refract, and produce dominant ideologies" (Joyrich 133), and its messages "either directly or in the guise of entertainment serve to create, confirm, and cultivate" social values (Raley and Lucas 21). The presence of LGBT stories, including gay romance, must therefore say something about American culture.
At first glance, romance and television would seem to be at odds because of the former's dependence on narrative closure (happily ever after) and the latter's need to sustain conflicts in order to continue broadcasting. Gay romance would especially seem out of place on mainstream television given its reliance upon mass appeal, yet gay romance flourished on television during the 2012-2013 season. As I demonstrate in this article, this was at the expense of true queerness. In this article, I examine three series that foregrounded gay romance: Glee (Fox, 2009-2015), The New Normal (NBC, 2012-2013), and Husbands (CW Seed, 2011- ). By charting how the traditional romance plot leads to the normative trajectory for the couples in these series, I argue that there can be no queer romance on television.
Homonormativity and the Romance Plot
The normative trajectory of love-marriage-baby carriage followed by gay couples on Glee, The New Normal, and Husbands fits the pattern of heterosexual romance. Although scholars debate which qualities are necessary for a work to be called a "romance," most agree that romance emphasizes characters living "happily ever after" (HEA) or "happy for now" (HFN). Catherine Roach, for instance, argues that across various subgenres, the "core genre message" of romance is always to "find your One True Love – your one-and-only – [End Page 2] and live happily ever after" (¶1). This happiness is often, though not always, achieved through betrothal of some sort. Pamela Regis defines a romance novel as a work that "tells the story of the courtship and betrothal of one or more heroines" (19). Roach's definition of the core genre message privileges monogamy, and Regis, studying popular romance novels, excludes men from the position of the one being courted. Even if we expand Regis' ideas to include male heroes, these common conceptions of what formulates romance culminate in normativity: engagement, marriage, or some form of monogamous commitment leads to happiness.
In the early 1990s, after a significant number of gay men had lost their lives to AIDS, a "new strain of gay moralism" advocated monogamy and marriage as safer alternatives to the promiscuity traditionally associated with the "gay lifestyle" (Duggan 53). Rather than confrontational politics in opposition to hegemonic heterosexuality, assimilationists encouraged the upholding and sustaining of heteronormative values, but this came at the cost of a "demobilized gay constituency, and a privatized, depoliticized gay culture anchored in domesticity and consumption" (50). Concomitant with the rise of neoliberalism in the United States, the juggernaut of LGBT advocacy organizations, the Human Rights Campaign, was formed, and "[i]mages of angry protesters shouting, 'We're here! We're queer! Get used to it' were replaced by photos of suit-clad gay leaders…hobnobbing with the likes of Ted Kennedy" (Becker 43).[3] Because neoliberalism extends beyond the free market to "every sector of culture" (Ferguson and Hong 1057) and is "deeply implicated in shaping, taming, and domesticating sexualities and genders" (Elia and Yep 879), homonormativity was a logical end result: greater visibility of gay and lesbian couples whose lives look like those of their straight counterparts.
Organizations like the Human Rights Campaign and the National Center for Lesbian Rights have historically championed a number of causes, but none so fervently as same-sex marriage. Polls in August 2010 indicated that acceptance for same-sex marriage had reached a majority of Americans (Gelman et al), and this was shortly followed by several crucial legal and judicial milestones. First, the Obama administration announced it would no longer defend the Defense of Marriage Act (DOMA), which defined marriage on a national level as between one man and one woman. In particular, during the 2012-2013 television season, same-sex marriage was a topic impossible to avoid on television, as candidates for election to all levels of the American government espoused their views and as same-sex marriage appeared in various fictional and nonfiction television shows featuring gay couples. Most significantly, the United States Supreme Court heard arguments in two cases regarding the legality of same-sex marriage, United States v. Windsor and Hollingsworth v. Perry. As that television season ended, the Supreme Court issued a ruling that paved the way for certain national benefits to same-sex couples (and culminated in national legal same-sex marriage as of June 26, 2015). Thus, while same-sex marriage had been foregrounded among LGBT rights causes for nearly twenty years, it reached a particular apotheosis in 2012-2013.
Alongside the development of homonormativity as a preferred political position in the LGBT rights movement, queer theory became increasingly popular in academia. The term "queer" in popular usage often serves as a catch-all for LGBT as well as other identities and sexualities, but its academic and political meaning is usually in counterpoint to the binaries of heterosexual/homosexual and gay/straight, and in counterpoint to homonormativity. Michael Warner, for instance, argues that "normal" marriage, even [End Page 3] among same-sex couples, stigmatizes other lifestyles and identities, like those who wish to engage in open relationships, polyamorous groups, and asexual people (81-148). In response to homonormativity's privileging of parenthood, Lee Edelman argues that adults are constantly subordinating their desires for children, and that this subordination is laden with homophobia (for instance, the claim that laws against gays and lesbians "protect our children"). For Edelman, same-sex marriage and parenthood thus participate in an internalized homophobia; queerness is therefore a desire against propagation and futurity (33-66). These two examples demonstrate the extent to which queer theory is "committed to challenging and troubling ideological norms" (Joyrich 133). In other words, it is easier to understand what "queer" is not or is anti-, rather than what "queer" is. As Eve Sedgwick explains, "queer" can refer to the "open mesh of possibilities, gaps, overlaps, dissonances and resonances, lapses and excesses of meaning when the constituent elements of anyone's gender, of anyone's sexuality aren't made (or can't be made) to signify monolithically" (Tendencies 8, emphasis original). Later, Sedgwick concedes that "queer" also refers more simply to same-sex sexual desire, before she determines that "queer" is best used to signify identities, including race and ethnicity, intersecting with sexual desire and gender performance (8-9). While these example definitions and applications of "queer" vary, they all remark upon what queerness stands in opposition to: hegemonic identities, including whiteness, maleness, and normativity. If the most important aspect of the romance plot is its culmination in marriage, and the most important aspect of queerness is its opposition to the normative trajectory, queerness and romance are irreconcilable concepts.
Queer Television: Broadcast's Gay Eunuchs and Cable's Sex Gods
"Queer television studies" has its own set of varied meanings, given television's (and television studies') emphasis on the mainstream and queer theory's position as anti-normative, or the "tension between the articulation of the mainstream and the unsettling of the mainstream" (Joyrich 133). Television's articulation of the everyday in both content and its constant presence in the home is the normativity that queerness stands in opposition to (Aaron 69). Television's broadcast schedule, for example, reinforces normative values of family and home. Although many of us now stream series online or record them with a digital video recorder (DVR), television networks still presuppose heteronormativity through the "temporal coordination of the nuclear family" by broadcasting around the "life timetables of children and child rearing activities….and eventually [having] the family united every evening in front of the box during prime time's evening hours" (Needham 145). Television's reliance upon the succession of episodes to create a season and seasons to create a series and its tendency toward copycat series and spinoffs to capitalize on the popular are examples of television's own investment in reproduction (Joyrich 136). Content within particular series, however, may challenge hegemonic normativity by allowing for a subtextual reading of certain characters as queer (Doty 2). By the 2012-2013 season, plenty of characters on broadcast television were openly gay or lesbian, though few would identify as queer, and a reading of the television series and storylines featuring these characters reiterates the normative. [End Page 4]
In one night of television watching during the 2012-2013 season, the average American could watch national or local news coverage of pending LGBT rights legislation, an episode of Modern Family (ABC, 2009- ) with gay parents Mitch and Cameron, an episode of any series on HGTV in which a gay couple achieved their HEA through the purchase of a new home, and an episode of Glee in which young, newly out teenagers celebrated their diversity. Across broadcast and cable, fictional and nonfictional television, gay couples fell in love and set up house like any other romantic couple.
Gay and lesbian characters have arguably always existed in popular culture, but the recognition of them was only possible through an understanding of gay semiotics. Part of the difficulty in ascertaining and asserting sexual identity is that it is not a visible identity but one shaped through emotions and behaviors. As Sedgwick explains, race, gender, age, size, and physical abilities are identities that are "visible in all but exceptional cases," while sexual identity requires one to publicly assert his or her marginality (Epistemology 75). Absent a public declaration, others may read into clues in speech, behavior, and attitudes; for instance, Sedgwick describes how readers might decode particular adjectives and phrases in nineteenth century literature to understand a character's homosexuality (94-97). Many of the semiotics that identified particular characters as gay men and lesbians to audiences were portrayals as "funny clowns, flaming queens, fairies, fags and flits" (Raley and Lucas 24). Looking through television history, we may read a particular character as gay based on the flamboyancy of his fashion, mannerisms, and interactions with the opposite sex. Felix Unger of The Odd Couple (ABC, 1970-1975) exhibits many of the characteristics traditionally associated with gay men: he is tidy, dresses well, likes to cook and clean, and is far more invested in his relationship with his roommate Oscar than any romantic relationship with a woman. While The Odd Couple flirted with the "bromance" between Felix and Oscar, the series never explicitly declared Felix's homosexuality; it is only by decoding particular cultural signs with the series that one can assume Felix might be gay. Queer readings of characters have historically been possible, but these characters were not allowed to participate in the traditional romance plot or normative trajectory.
In recent decades, gay and lesbian characters in film and television have openly identified as such but were typically relegated to the role of humorous sidekick or sexless character on a failed quest for love. The rise of gay characters on television in the 1990s reflected broadcast networks' attempt to compete with the growing cable market for hip, young, affluent viewers (Becker 80-107). The titular character of the sitcom Will and Grace (NBC, 1998-2006) was a gay man whose unending quest to find the love of his life left him in an ersatz marriage with his heterosexual female roommate and best friend Grace. During the few times that Will Truman was romantically involved with men, sexual activity – even kissing – was rarely depicted, in contrast to the more explicit depictions of Grace's heterosexual couplings. The success of Will and Grace may be attributed to many factors, including stellar writing and acting and a competitive time slot, but one important reason for the show's success was due to the lack of gay romance it depicted. By relegating Will to the role of funny gay eunuch, he became non-threatening and easier to have in one's living room once a week.
Concurrently, the premium cable channel Showtime aired Queer as Folk (2000-2005), a one-hour drama about a circle of gay and lesbian friends loosely modelled on a UK series of the same name. Because premium cable channels like Showtime work on a subscription model and do not rely upon cautious advertisers to fund their programming, [End Page 5] the series they offer tend to titillate and push cultural boundaries more than series on broadcast television or basic cable. Queer as Folk challenged the "gay eunuch" trope through its constant depictions of sex between men. In 2004, the network debuted The L Word, a similar series featuring a group of lesbian friends. With fewer restrictions on sexual content in its programming than broadcast networks, Showtime counted on gay and lesbian subscribers to tune into these two series for graphic depictions of sex.
In spite of all the sex, the normative trajectory is something most of the characters in these two series strive for. Both series featured storylines about going to Canada to get legally married, and at least one couple on each series has a child. Infidelity and promiscuity were plotlines used to sustain drama and conflict, but the treatment of infidelity in these story arcs was unsympathetic. Brian of Queer as Folk and Shane of The L Word are the lone figures in their social circles who favor anonymous sexual encounters and disavow marriage and monogamy, yet their character arcs assert the value of normativity. When Shane leaves her fiancée Carmen at the altar, her life spins out of control. Shane drinks, takes drugs, gets into a car accident, and only cleans up when her little brother is thrust into her care, thus forcing Shane to follow the normative trajectory she had arduously avoided. Although at first skeptical of her role as caregiver, Shane soon thrives as big sister/guardian, and, in the seasons that follow, has much less indiscriminate sex and more success with long-term relationships.
Queer as Folk's Brian is "someone who has completely liberated himself from the repressive conventions of heterosexuality," the "ultimate gay hero" (Robinson 154), but he is also narcissistic, relentlessly chastised by his friends and family for not "growing up" and "settling down." Brian undertakes a five-season, on-again, off-again romance with Justin, a man more than ten years his junior, and during most of their relationship, the two agree that they are free to engage in extrarelational sex. Rodger Streitmatter argues that this is one of the "most intriguing sexual plotlines" of the series: "how two men who aren't monogamous can, nevertheless, have an emotionally committed relationship" (129). By the series' final season, Justin has grown tired of their clubbing, drug-using, sexually indiscriminate lives, and in order not to lose him completely, Brian reluctantly proposes marriage. Like Shane and Carmen, Brian and Justin do not make it to the altar; they recognize that marriage will limit their freedom and mutually call off the wedding. In the final moment of the series, Brian dances alone at their favorite nightclub after Justin has moved away. This conclusion to their romance is the antithesis to Regis' notion that romance culminates in marriage or betrothal, and may be read as queering of the traditional romance plot: the ultimate act of love is not marrying your beloved, but letting him go.
This reading of the conclusion to Brian and Justin's story, however, is at odds with the series' repeated emphasis on "settling down" and the increasing number of challenges to Brian's queer perspective (Demory 75). Brian's body suffers the consequences of his active sex life. He develops testicular cancer, which is not a direct result of sex but which threatens his performance and his physique. Later, he catches syphilis as a direct result of an unprotected oral sex act. As Brian and his friends grow older, their lives move on while Brian clings to the life of clubbing, recreational drug use, and casual sex. His solitude as he dances in the final moment of the series may be true to his independent spirit, but it is also coded as sad and possibly pathetic.[4] [End Page 6]
Rather than offering a genuine alternative to homonormativity, Shane and Brian serve as cautionary tales that reiterate the value of marriage, monogamy, and parenthood. Although the other characters in Queer as Folk and The L Word may not always succeed at maintaining their relationships or staying faithful to their partners, the normative trajectory is lauded by them, and, by extension, the series as a whole. Although Showtime's status as a premium cable channel enabled more vivid depictions of gay and lesbian sex, Queer as Folk and The L Word persisted in privileging the sequence of love, marriage, and baby carriage.
Popping the Question on Primetime
These earlier examples of gay eunuchs and gay sex gods striving to follow the normative trajectory on broadcast and cable respectively are echoed in the 2012-2013 primetime broadcast series that foregrounded gay romance. The 2012-2013 season was especially significant in the development of LGBT representations on television not only because of the swell in representations charted by GLAAD, but because for the first time the number of LGBT characters on screen was roughly equivalent to the number of Americans who identified as LGBT, around four percent (Gouttebroze; Gates and Newport). Additionally, the storylines for characters on Glee, The New Normal, and the web series Husbands mirrored stories on the evening news of gay couples marrying and becoming parents, elements typically present in fictional romance. In particular, the marriage proposal serves as the key trope that marks the narrative of these series as romance.
As the central gay couple on Glee, Kurt and Blaine have also flirted with proposals of their own. A deleted scene from the 2011-2012 season features Blaine giving Kurt a promise ring and pledging his love. As soon as Kurt sees the jewelry box, he interrupts Blaine's speech to declare: "If that's an engagement ring, my answer is yes!" This scene, dubbed "box scene" by fans, was uploaded to YouTube later in 2012 after fans read the episode script, realized the scene had been cut, and pestered Fox and series creator and executive producer Ryan Murphy to see it. It reached its peak in fan discussions and YouTube hits at the beginning of the 2012-2013 season, which would see plenty of stories about the tortuous evolution of Kurt and Blaine's relationship.
In the fourth season of Glee, broadcast in 2012-2013, Kurt moves to New York to pursue his dreams, a move encouraged by Blaine. Once Kurt is gone, however, the two break up and date others. When they are finally reconciled, Blaine becomes determined to propose to Kurt and is aided by two older lesbians who discuss with him the increasing acceptance for same-sex couples – or, to use Regis' terms, the barrier between the couple and its subsequent fall in order to achieve romantic narrative closure in betrothal. In the first episode of the fifth season, which was written and shot only a few weeks after the Supreme Court's decisions in United States v. Windsor and Hollingsworth v. Perry, Blaine formally proposes to Kurt.[5] In the series finale, set five years in the future, Kurt and Blaine are married, and – like Bryan and David of The New Normal – are expecting a child via surrogate mother.
As evidenced by its title, The New Normal lauds the normative trajectory. Bryan and David are introduced as quasi-married: they have been in a committed relationship for [End Page 7] years, and they own a home and dog together. In the pilot, they decide the next step is having a baby via a surrogate. As if Bryan and David were not normative enough, they quickly become engaged. Bryan, who watches the bridal gown shopping television series Say Yes to the Dress (TLC, 2007-), dreams of having an elaborate wedding, but David believes the ceremony is meaningless if it is not attached to the same legal rights as heterosexual marriage. Nevertheless, he gives in and proposes. The proposal takes place at an OB/GYN office, with their surrogate Goldie in the examination chair and a sonogram of their unborn baby in the background. David kneels before Bryan and puts a candy Ring Pop on Bryan's finger. Bryan says the magic "yes," then David rises, they kiss, and the camera quickly pans to the sonogram. While traditional heterosexual proposals do not involve a surrogate or a sonogram, these additional elements only serve to reinforce the extent to which Bryan and David embody homonormativity as they embark upon parenthood. That the proposal occurred after the couple decided to have a baby together but prior to the baby's arrival serves an implicit reinforcement of the notion that having a baby out of wedlock is immoral. This notion is visually manifested in the camera panning away from the potentially controversial image of two men kissing and toward the sonogram, as if to ask the audience if it really wants the baby to grow up in a household with unmarried parents.[6] Bryan echoes the sentiment that having children out of wedlock is immoral in a later episode. While this is an argument for same-sex marriage, it is also a conservative one.
Both Glee and The New Normal were the brainchild of creator and director Ryan Murphy, an openly gay Hollywood executive, and as such, their particular view into gay romance could be chalked up to Murphy's own worldview. The characters Bryan and Kurt are both loose fictional versions of Murphy; Bryan, for instance, is a television producer who works on a musical series called Sing, clearly a fictional version of Glee. However, the emphasis on the normative trajectory in gay romance is not unique to these series and is reflective of larger social and cultural values. The tremendously popular Modern Family also depicts a gay couple who are parents in what Steven Edward Doran calls a "homodomestic" relationship (95-104). Perhaps most revealingly, the web series Husbands, which was first released online for free viewing, depicted a homonormative (homodomestic) couple. Its status as independent media meant it did not rely upon advertising revenue and mass appeal in order to succeed, and could, in theory, depict genuine queerness.
Like The New Normal, the web series Husbands begins with its couple, Brady and Cheeks, already betrothed. The premise of the series is that Brady and Cheeks, after only a few weeks of dating, got married in Las Vegas while drunkenly celebrating (fictional at the time) nationwide marriage equality. Because they are a famous professional baseball player and reality TV star, Brady and Cheeks are pressured by LGBT advocacy organizations to set a good example for same-sex marriage. From this beginning, the series follows the couple learning to cohabitate and serve as role models for the marriage equality cause, and, finally, having an elegant wedding to make up for the one they were too drunk to remember.
Part of the charm and noteworthiness of Husbands is its awareness of its place in the history of sitcoms and LGBT media.[7] Its narrative reinterprets newlywed sitcoms for a gay couple. Plots involve the flamboyant and comedic Cheeks causing scandals while straight-acting Brady is left to wag his finger, as Ricky Ricardo might have on I Love Lucy (CBS, 1951-1957). In the second season, which was released in the fall of 2012, Cheeks [End Page 8] tweets a photo of himself and Brady kissing, and within minutes conservative religious organizations protest what they perceive as the couple's flaunting of sex and sexuality. While Brady and Cheeks debate whether they have indeed done anything controversial, television screens throughout their home display some of the images of heterosexual sex that inundate television with little complaint from conservative groups. Brady and Cheeks grant an interview that explains how "normal" their lives are, and during the interview they revisit their courtship, thus allowing the audience to enjoy a romance in reverse.
This media-frenzy storyline calls attention to the pushback series like Glee and The New Normal have received for their portrayals of gay sexual intimacy, even when they are tame in comparison to scenes of heterosexual couplings – pushback that results in Modern Family's Mitch and Cameron rarely showing physical affection. Husbands depicts Brady and Cheeks as a couple with a healthy sexual appetite; however, their sexuality is always expressed within the confines of marriage, and only kissing and lying in bed together are seen on screen. The final episode of the series shows Brady and Cheeks remarrying to reiterate that their sexuality is restricted to marriage. Although this episode was not intended to be the conclusion of the series, no additional episodes have been produced, and the wedding-as-finale neatly concludes the romance narrative.
In her study of proposals in heterosexual romance novels, Laura Vivanco finds that engagement rings typically get more attention than wedding bands, a phenomenon she attributes in part to the more elaborate design of engagement rings. The private nature of the proposal, as opposed to the public ring exchange at a wedding, makes the engagement ring more meaningful (100). Though the Ring Pop in The New Normal references a joke from earlier in the episode, its uniqueness as an engagement ring for Bryan fits this pattern. Likewise, the promise ring Blaine gives Kurt is made from the wrappers of his favorite brand of gum, folded into a bow tie to reflect his love of fashion. Just as the cut, size, and setting of the engagement ring diamond should be reflective of a woman's unique personality, these unusual rings demand attention – perfect for the flamboyant Bryan and Kurt. The offering of each ring emulates heterosexual proposal scenes: man on bended knee, ring offered to the woman (here, the more effeminate partner), and a kiss to seal the deal.
"Gaycism" and Exclusion
Series like Glee and The New Normal present gay couples to a wide audience, but do so by making the couples as normative and nonthreatening as possible. Gay couples on these series look and behave like many of their straight counterparts on other television series. Bryan and David, Kurt and Blaine, Mitch and Cameron, and Brady and Cheeks are all white and middle- to upper-class. One partner is more masculine and one more effeminate, so that the pair further mirrors the traditional gender roles within a heterosexual couple. The couples' desire to remain monogamous, marry (legally or symbolically), and have children reinforces their normativity. Through their romantic storylines, these gay characters seem like "regular people" and act "like a couple should."
These depictions of homonormativity, while opening romance up to gay couples, do not represent the full range of experiences within the LGBT community. Despite increasing [End Page 9] numbers of LGBT characters, television scholar Kelly Kessler complains that "much of television remains relatively static and predictable" (140). This predictability is indicative of the same-but-different quality found in all romance. The success of romance, according to An Goris, lies in its ability to grant "both comfort and surprise," to appear "both familiar and new" (76). Likewise, broadcast television relies upon familiar tropes and conventions enacted through new characters. Stories of gay romance embody the same-but-different, familiar-but-new quality so necessary for success in both romance and television.
The corollary to that familiar, satisfying feeling is that there is a lack of romance for those who identify as queer, trans, or bisexual on television. Even lesbians are "more deeply coded by invisibility" than gay men (Walters 161). This can partly be attributed today to economics; gay men tend to have more disposable income than lesbians and so make a more attractive target audience for which television series are crafted (Streitmatter 147).[8] While white lesbians have not been as visible on television as white gay men, they have certainly been seen more frequently than racial minorities of any non-heterosexual identity and more than those who identify as queer or trans. A lesbian in a committed relationship is more easily likened to a white heterosexual than a queer person of color. Although recent series on alternative platforms, notably Orange Is the New Black (Netflix, 2013- ) and Transparent (Amazon, 2014- ), feature trans characters, the stories about these characters are about acceptance for their identities and the transition process, not love and romance. While "social tolerance and legal equality have improved the lives of many…the privilege of white, middle-class lesbians and gay men appears to have become entrenched" (Brown 1065). Homonormative white gay men can achieve more power and visibility while other racial and sexual identities have been pushed farther into the margins of popular culture.
Since "neoliberalism does not appreciate fluidity, hybridity, or any other shades of grey" (Kimmel and Llewellyn 1087), then it follows that television today would have little appreciation for anything other than homonormativity. Additionally, by featuring gay characters on their series, some television executives may consider inclusivity a fait accompli. The vernacular term "gaycist" has been used by television critics in reference to series like Glee and The New Normal, not because of their unfair treatment of gay characters (as the rhyming term "racist" suggests) but because investment in gay characters enables television producers "carte blanche to cut PC corners elsewhere" (Bans). For instance, Bryan and David of The New Normal seek their HEA through the use of a lower-class woman's body, yet the series does little to examine the economic inequalities that lead Goldie to agree to serve as their surrogate. In a flashback to his single life, Bryan is horrified to learn he is on a date with an intersex person; his love for David is "normal" by comparison. Read through a politically queer lens, gay romance "appropriates an ongoing U.S. narrative around the pursuit of equality, freedom, and liberation as cover for the same old American traditions of racism, sexism, heterosexism, and general social inequality" (Henry). In a "gaycist" (or homonormative) television landscape, depictions of queerness are more obscure, neatly disregarded by gay men in order to better align themselves with the hegemony. In other words, those intersectional and multivalent identities so important to Sedgwick's understanding of queerness are largely absent on television featuring gay romance.
Gay romance narratives are "both resistant and recuperative," sites for working out "contesting ideologies circulating" throughout our culture (Therrien 165). The progress [End Page 10] made by opening romance up to gay couples on the one hand coincides with the subsuming of alternative sexualities and identities into the normative trajectory on the other. The prevalence of homonormativity on television is a double-edged sword. Gay romance depicts stable, loving relationships, but its emphasis on HEA and betrothal reinforces the idea that the ultimate life goals are monogamous marriage and procreation. Gay romance on television may be new and reflect social progress, but as the examples I have used here demonstrate, gay romance is often not queer.
---
[1] I am grateful for the feedback previous versions of this essay received from Tasha Oren, Stuart Moulthrop, Gilberto Blasini, and the anonymous peer reviewers. Earlier versions of this essay were presented at conferences for the International Association for the Study of Popular Romance, Society for Cinema and Media Studies, and the Fan Studies Network.
[2] I use the acronym LGBT (lesbian-gay-bisexual-transgender) deliberately. My elimination of additional letters, such as I (intersex), Q (queer or questioning), or A (asexual) is not intended to neglect those groups, but rather to demonstrate how certain facets of culture and politics exclude them. Likewise, I use the terms "gay" and "lesbian" only to reference homosexual men and women respectively, not as catch-all terms for the larger LGBT+ community.
[3] The Human Rights Campaign was recently exposed for its own neoliberal practices: namely, that women and people of color have been systematically excluded from raises and promotions. See Brydum, Sunnivie, "Pride at Work Tells HRC: 'Enough Is Enough,'" The Advocate, 30 Aug. 2015. Web.
[4] The club at which Brian is dancing and which he owns has been bombed by anti-gay activists. The scene begins with Brian dancing among the wreckage and cuts to a vision of the club restored and full of men. It is possible to read this as a moment in the future, after the club has been renovated and reopened, or as a fantasy that Brian clings to as his friends and even his business have moved on.
[5] Production on the fifth season was delayed due to the death of actor Cory Monteith, but this had little effect on the gay romance storyline between Kurt and Blaine that I discuss here.
[6] Bryan and David are certainly more physically affectionate than previous gay couples on broadcast primetime television, but their expressions of love are still far fewer than those exhibited by heterosexual couples. Their kissing is limited to light touches of lips, and cuts to commercial breaks and pans to other images are often used when the two are being playful or affectionate in bed.
[7] Importantly, both Brady and Cheeks are played by openly gay actors, Sean Hemeon and Brad Bell (also creator and executive producer for the series). On other series with gay romance, at least one of the actors playing a gay character identifies as straight.
[8] This is, of course, a reiteration of the wage gap disparity between all men and women in the U.S. [End Page 11]
Works Cited
Aaron, Michele. "Towards Queer Television Theory: Bigger Pictures Sans the Sweet Queer-After." Queer TV: Theories, Histories, Politics. Eds. Glyn Davis and Gary Needham. New York: Routledge, 2009. 63-75. Print.
Bans, Lauren. "Your New TV Term of the Month: 'Gaycism.'" GQ. 4 September 2012. Web. 1 December 2012.
Becker, Ron. Gay TV and Straight America. New Brunswick: Rutgers University Press, 2006. Print.
Brown, Gavin, "Homonormativity: A Metropolitan Concept that Denigrates 'Ordinary' Gay Lives." Journal of Homosexuality 59.7 (2012): 1065-1072. Print.
Busis, Hillary. "The New Normal Sneak Peek: Five Takeaways." PopWatch. 29 August 2012. Entertainment Weekly. Web. 1 December 2012.
Demory, Pamela. "True Love Queered: Sex, Melodrama, and Romance in Queer as Folk." Queer Love in Film and Television. Eds. Pamela Demory and Christopher Pullen. New York: Palgrave Macmillan, 2013. 69-82. Print.
Doran, Steven Edward. "Housebroken: Homodomesticity and the Normalization of Queerness in Modern Family." Queer Love in Film and Television. Eds. Pamela Demory and Christopher Pullen. New York: Palgrave Macmillan, 2013. 95-104. Print.
Doty, Alexander. Making Things Perfectly Queer. Minneapolis: University of Minnesota Press, 1993. Print.
Duggan, Lisa. The Twilight of Equality?: Neoliberalism, Cultural Politics, and the Attack On Democracy. Boston: Beacon Press, 2003. Print.
Edelman, Lee. No Future: Queer Theory and the Death Drive. Durham: Duke University Press, 2004. Print.
Elia, John P. and Gust A. Yep. "Sexualities and Genders in an Age of Neoterrorism." Journal of Homosexuality 59.7 (2012): 879-889. Print.
Ferguson, Roderick A. and Grace Kyungwon Hong, "The Sexual and Racial Contradictions in Neoliberalism." Journal of Homosexuality 59.7 (2012): 1057-1064. Print.
Gates, Gary J. and Frank Newport. "Special Report: 3.4% of U.S. Adults Identify as LGBT." Gallup. 18 October 2012. Web. 1 December 1, 2012. http://www.gallup.com/poll/158066/special-report-adults-identify-lgbt.aspx
Gelman, Andrew, Jeffrey Lax, and Justin Phillips. "Over Time, a Gay Marriage Groundswell." New York Times. 22 August 2010. WK3. Print.
Goris, An. "Loving by the Book: Voice and Romance Authorship." New Approaches to Popular Romance. Eds. Eric Murphy Sellinger and Sarah S.G. Frantz. Jefferson: McFarland, 2012. 73-83. Print.
Gouttebroze, Max. "GLAAD's Where We Are on TV Report: Highest Percentage Ever of LGBT TV Characters on Broadcast TV." GLAAD. 5 October 2012. Web. 1 December 2012.
Henry, Jon. "A New Filth." Gay RVA. 18 September 2012. Web. 1 November 2012. http://www.gayrva.com/arts-culture/a-new-filth/
Joyrich, Lynne. "Queer Television Studies: Currents, Flows, and (Main)streams." Cinema Journal 53.2 (2014): 133-139. Print.
Kessler, Kelly. "They Should Suffer Like the Rest of Us: Queer Equality in Narrative Mediocrity." Cinema Journal 50.2 (2011): 139-144. Print.
[End Page 12]
Kimmel, Michael S. and Cheryl Llewellyn, "Homosexuality, Gender Noncomformity, and the Neoliberal State." Journal of Homosexuality 59.7 (2012): 1087-1094. Print.
Needham, Gary. "Scheduling Normativity." Queer TV: Theories, Histories, Politics. Eds. Glyn Davis and Gary Needham. New York: Routledge, 2009. 143-158. Print.
Raley, Amber B. and Jennifer L. Lucas, "Stereotype or Success? Prime-Time Television's Portrayals of Gay, Lesbian, and Bisexual Characters," Journal of Homosexuality 51.2 (2006): 19-38. Print.
Regis, Pamela. A Natural History of the Romance Novel. Philadelphia: University of Pennsylvania Press, 2007. Print.
Roach, Catherine. "Getting a Good Man to Love: Popular Romance Fiction and the Problem of Patriarchy." Journal of Popular Romance Studies 1.1 (2010). Print.
Robinson, Paul. Queer Wars: The New Gay Right and Its Critics. Chicago: University of Chicago Press, 2005. Print.
Sedgwick, Eve Kosofsky. Epistemology of the Closet. Berkeley: University of California Press, 1990. Print.
Sedgwick, Eve Kosofsky. Tendencies. Durham: Duke University Press, 1993. Print.
Skoloff, Brian. "The New Normal Banned by Utah TV Station." Huffington Post. 27 August 2012. Web. 1 November 2012.
Streitmatter, Rodger. From Perverts to Fab Five. New York: Routledge, 2009. Print.
Therrien, Kathleen. "Straight to the Edges: Gay and Lesbian Characters and Cultural Conflict in Popular Romance Fiction." New Approaches to Popular Romance Fiction. Eds. Eric Murphy Sellinger and Sarah S.G. Frantz. Jefferson: McFarland, 2012. 164-177. Print.
Walters, Suzanna Danuta. All the Rage: the Story of Gay Visibility in America. Chicago: University of Chicago Press, 2001. Print.
Warner, Michael. The Trouble with Normal. Cambridge, MA: Harvard University Press, 2000. Print.
Vivanco, Laura. "One Ring to Bind Them: Ring Symbolism in Popular Romance Fiction." New Approaches to Popular Romance Fiction. Eds. Eric Murphy Sellinger and Sarah S.G. Frantz. Jefferson: McFarland, 2012. 99-107. Print.
[End Page 13]